---
Itinerary
Day 1 : Arrive in Joshimath
Arrive in Joshimath at anytime during the day. Check into hotel. Team introduction in the evening.
Day 2 : Joshimath to Dhak to Tali via Gulling (6 Kms)
Today we start early morning, around 7 am, from our accommodation in Joshimath and reach the last point on road for the trek, Dhak Village. The village comes after a short (30 mins) but very picturesque ride of around 10 Kms from Joshimath where you get beautiful views of peaks like Dronagiri on your left. We gear up to start the trek by around 9 am from Dhak, after having a hearty breakfast and collecting the pack lunch. With Himalayan villages & their beautiful step farms on our left, we move up the dusty trail that offers a consistent and moderate incline. After 1.5 Kms, we will pass Karachi village on our left. As we keep moving up, one can see water streams managed by the villagers for irrigation purposes. For a person who sees such infrastructure, the lush green step farms (mostly paddy) along with the small canals with pure mineral water gushing through, for the first time, the scene can be mesmerizing. After hiking up further for around 500 mts, we pass through Tugashi village. One can witness the typical mountain village lifestyle here like the way they store their agricultural produce, their cattle & cattle houses, the unique structures of wooden Himalayan houses, and much more that is probably difficult to mention in words. As we move up from Tugashi, the dusty & rocky terrain makes way for much greener terrains. The forest area kicks in and civilization reduces its presence gradually from here onwards. The hike from here till the campsite at Gulling is a steady incline up through the jungle and moves along with a small water stream on the left. After a total walk of 4 Kms (from Dhak) we reach our lunch spot, at Gulling. Gulling is a nice campsite with Oak, Rhododendrons, and some pine trees around. It's time to start serious hiking business now as the trail moves through the jungle with Oak trees in abundance on the way. In winters, one should be careful of the Ice formation that can start melting as the day progresses to form mud on the trail. After a steady ascent of 2 Kms we will reach campsite of Tali. The campsite of Tali is surrounded by dense forest & is any trekkers delight. The site is ideal for camping with a water source nearby. During winters, most of the camp site is snow covered and one might have to camp on snow as well.
Day 3 : Tali to Kuari Pass to Tali (12 Kms)
Start early today. Walk Half a km southwards through the jungle consisting of patches of snow in the months of winters. After half km we enter an opening called Chitrakantha. The view which was constrained by the Jungle starts opening from here. After a steady ascent we reach the fake Kuari pass. Why fake? A flag has been hoisted after 2 Kms from Tali on the trail leading to Kuari pass which can be mistaken for Kuari Pass. But the real Kuari pass is 4 Kms further from here. The trail curves gradually westwards as we move closer to Kuari Pass. Beware of ice formations on the trail in the months of winter. Some of the prominent peaks which are visible today are Chaukhamba, Mt. Kamet, Neelkantha and Bharirathi 1,2,3,. The highest altitude on this trek which is 3876 M is reached about 700 Meters before the Kuari Pass (3504 M). After spending some time at the pass we retrace the same route to reach Tali by late afternoon
Day 4 : Tali to Auli (10 Kms Trek). Drive to Joshimath.
We break camps early today. 800 Meters of steady climb from camp & we are out of jungle. Spot the small pond here which is the real Tali campsite but is not frequently used because of lack of nearby clean source of water. Trail from here climbs onto a narrow ridge. The narrow ridge continues for one and half Kms till we enter the Gorson Bugyal. Next 5 kms is through Gorson Bugyal. The views of peaks like Vasudhara falls, Mana, Mandir, Ghodi, Hathi, Barmal, Lampak Massif, Dronagiri, Nanda-Devi, and Bertholi can leave you humbled. Podiyar Temple, situated at the tip of Gorson Bugyal, is also a good camping spot that is generally used by people doing this trek from Auli. Take a small halt at Podiyar temple & head towards Auli Ski resort which is about a Kms from here. In winters you will see lot of tourists in Auli who come to experience snow here. Reach the Auli road head & board the vehicle for Joshimath.Arrive in Joshimath & checkin to hotel for the night. The trip ends here. You can plan your return tomorrow morning.
Day 5 : Travel from Joshimath to Dehradun
Road journey from Joshimath to Dehradun. Arrive in Dehradun by late evening.Board overnight Volvo bus from Dehradun for Delhi.
---
Take A Virtual Tour
---
---
Trek FAQs
All you need to know about Kuari Pass Trek
Why Bikat?
Learning Experience:

We do not just focus on completing the trek but

also help you develop basic trekking skills like:
Morning Yoga & Evening stretching

Packing a rucksack

How to pitch and dismantle a camping tent and properly use a sleeping bag

Ascend and Descend on a mountain trail

How to ensure camp safety and hygiene
Special for this Expedition:

Circular itinerary - Start from Dhak and end in Auli, cover all important milestones of the Lord Curzon Trail - Tali Kund, Kuari Pass, Gorson Bugyal, Auli Ski Resort, etc.
Loyalty Program

s: Join Bikat community and enjoy benefits of our vouchers and referral programs.

Personalized attention

: We have small batch size (max. 15) and we maintain a healthy ratio of 8:1 (Participants: Leader) on all our batches to enable individual focus and monitoring.

Best Expedition Leaders:

Our leaders are advanced mountaineering course qualified, specially-trained in rescue procedures from NIM and certified first-aid responders. Even our local guides are certified first-aid responders.

Safety norms

: We have mapped every region with an emergency evacuation plan and safety protocols maintaining a zero accident record so far. We carry an extensive first-aid kit including oxygen cylinders and high altitude medicines.

Safety equipment

: Our trek leaders carry UIAA certified rescue equipment like static rope, ice axe, harness, carabiners, jumar, pulley, short and long slings.
Is this trek good for me?
Kuari Pass is an easy level trek ideal for both beginners and experienced trekkers. For a novice, it is a great start to enter the world of trekking. It can get a bit rigorous for the first timers. Therefore, it is recommended to the first timers to maintain a good physical stamina and read extensively about the trek.
Any experienced trekker would love to go on this trek for the love of its views and trekking.
Experience required
Requisite Skills
Know campsite basics like how to use a sleeping bag, sleeping tent, toilet tent.

Ascending & Descending technique for mountain trails

Basic mountain mannerisms
Fitness Benchmarks
Jog/Run for 4 Kms in 35-40 mins or walk continuously for 8 Kms (with 3-4 small breaks) on plain terrain (slight incline is better)

Hold your breath for 25-30 seconds
If you are not meeting these benchmarks, please use the preparation schedule to improve your fitness till you achieve the above benchmarks.
What to Pack
Here is your checklist for this trek. Make sure you pack all these items for a comfortable trekking experience.
Trekking Gear

A rucksack with rain cover

A water bottle or a hydration pack

A Hand/Head Torch with spare batteries

UV Protection Sunglasses

A trekking pole
Clothing:

Since it is a high altitude trek, at least 3 layers of clothing is mandatory. A full sleeve shirt, a fleece jacket, and a padded jacket are imperative. An additional layer (Thermal bodywarmers) for the evenings in the high altitude campsites are strongly recommended.

Quick Dry Warm lower or Track Pants - 2

Full sleeves T-shirts - 2

Thermal Bodywarmer Upper & Lower - 1

Fleece Jacket - 1

Padded Jacket -1 (Goose down or feather is preferable)

Full sleeves sweater - 1 (Needed if you feel cold at high altitudes despite 4 layers)

Rainwear (Jacket & Pants) - 1

Thick woolen socks - 1 pair

Cotton socks - at least 2-3 pairs

Undergarments - 1 for every day of trekking

Pair of Warm Gloves - 1

Woolen cap - 1
Footwear

Non-skid deep trod hiking shoes (Preferably ankle high) - 1 pair

Pair of lightweight Slipper/Sandals - 1 pair
Sunscreen lotion, lip balm, toothbrush, toothpaste, hand sanitizer, toilet roll, cold cream, small towel.

Anti-fungal cream: Carry an antifungal cream if you are sensitive to sweating and prone to skin irritations around genitals or groin area due to lack of bathing.

For women:

Tampons or sanitary napkins,

2-3 zip pouches to dispose off non-biodegradable waste

Vaginal wash to avoid any irritation due to lack of bathing.
Utensils

A small size, lightweight, leak-proof lunch box - preferably aluminum

A plate and a spoon

A mug - preferably aluminum
Camera (optional)

Personal medicine kit. Though our trek leaders carry a fully equipped first-aid kit, make sure you consult your doctor before the trek in case you have any special ailment.

Epi-Pen - If you are allergic to a common ingredient and have a history of reaction, then please inform us. Carrying an EpiPen helps in case of any accidental intakes.

Dry fruits, energy bars
How to reach
Dhak Village is the last point on road for the trek which is a kilometer away from Joshimath. Joshimath is a small town, 290 km away from Haridwar, Uttrakhand. There are no direct buses to Joshimath. One has to hire a private taxi from Haridwar, Rishikesh, or Dehradun to get to Joshimath.
Haridwar is easily accessible through road, rail, and air transport.
By Road
There are no direct buses to Joshimath from Delhi. There You can take overnight UKRTC buses and Volvos available from ISBT Kashmere Gate, Delhi to Haridwar. The distance from Delhi to Haridwar is about 222 km. You can also hire a taxi or outstation cab from Delhi to Haridwar.
By Rail
The nearest railway station to Joshimath is 187 km away in Haridwar. There are a number of trains running between Delhi and Haridwar like Dehradun Express, Nanda Devi Express. It is advisable to make your train bookings a month in advance.
By Air
The nearest airport from Joshimath is Jolly Grant airport in Dehradun which is 272 km away from Joshimath. You can reach Dehradun from New Delhi by flight.
Nearby Attractions
Once your trek is completed, there are many places in Joshimath that you can visit. Nanda Devi National Park, a UNESCO Heritage site, is where you get to spot some of the endangered species. Narsingh Temple is a sacred place in Joshimath visited by pilgrims in huge number. The temple is a part of Sapt Badri. Visit Shri Shankaracharya Math which is one of the four monasteries founded by famous Adi Jagadguru Shankaracharya. Kalpvriksh in Joshimath is a 1200-year-old Mulberry is considered to be the oldest in India. The tree remains evergreen throughout the year and never sheds a leaf.
Cellular Connectivity
Joshimath and Auli have good network connectivity. You would also get connectivity in Dhak (BSNL most probably). The network will become erratic as you proceed. However, BSNL may have coverage at a couple of spots in Tali as well.
Trek Blog
Explorer's Diary : 5 Pages to Kuari Pass
29th Dec 2015
It's been a while since I went for a trek, last was the Khauli Pass trek that concluded in October. Got up early morning, feeling excited, called up Girish to know how many are accompanying us for the recce to Kuari Pass. He told me that while couple of people are trying but one guy, Ankit, is surely coming. He has been with us previously as well, on Har Ki Doon trek, around the same time last year but this year he did not want to go along with a regular group. We sorted out some transition related things during the day so that we board the bus relaxed. That's the thing with being founders of a small company; we don't have a team reporting in, who can take up whatever we leave. Whatever an individual manages at Bikat Adventures is only for him to manage. So, whenever we travel for exploration, at least a day needs to be dedicated for proper transition of routine tasks.
When we met on the Bus Stand (ISBT Kashmiri gate), it was late in the night..around 2300 Hrs. I just love the excitement of standing at the platforms, waiting for the journey to begin. All doubts, tensions, situations move out of hand & mind and the line of focus becomes thinner as the bus starts moving. I am off to my favorite place on earth - The Himalayas; and thankfully! telecom companies have not been as successful in penetrating here or maybe there is no market for them to do so. Either ways, I feel happy for I won't be getting calls, mails, or even general 'hi/hellos'. I came from home after having a nice meal and was carrying one box full of 'Gajar Ka Halwa' for the road journey. Things are looking so prosperous! Going to make the last call of the night now, which is not part of the disturbance I talked about J, and putting my diary to rest (going off the record).
30th December 2015
The Volvo to Dehradun always reaches a bit earlier than you expect (only if you travel by Govt transport system). Volvo bus service in Himachal & Uttarakhand is one of the few areas where you see great functioning of state machinery and it proves how state run entities can beat the shit out of competition if they just work sincerely. As we reached, we needed to find a mode to move to Joshimath. We enquired at the bus stand to know that there is a direct bus to Joshimath from DDN at 5 am. After getting freshened up at the bus stand itself, we grabbed three seats in the bus and marched to the starting point of the trek. The journey was a torture! Motion sickness on the hills is a terrible experience but one has to go through the pain, if short cut is desired. I truly believe that motorized vehicles are no good means of travel because they give us unnecessary sense of speed that is not natural but such is our addiction to short cuts that I have not been able to surrender to my temptation of riding my MTB to cover the road distance in hills. Hell, so I suffer! By the time we reached Joshimath, it was already evening. We wanted to quickly find a reasonable room for our stay and get started with our meetings with potential vendors. A recce is a bit different compared to an organized batch trek. We have more variables to play with here and I enjoy it. Nothing is fixed when you start your journey, no transport, no guides, no food joints, no acco, nothing is booked. We just move and see what goes best. There are pros and cons of this approach. One may say logistics like transport and hotel acco may not be such a value add, so why waste your time exploring them when you are going for a recce. Well, I agree but only when you have less time and a significant trekking route to explore. We knew that Kuari pass is a small trek and we had 4 days, so enough time. Now the pros of this approach are that you allow yourself to go fully local and believe it or not Amazon has not hit the mountain regions yet. So, you find some very nice & genuine people only when you explore locally and internet (or should I say Sir Google) are not always fair!
So we made some phone calls and met some people to finally shortlist one guy who was really nice to us and I am sure we would not have found him online. Once we were set to move early morning tomorrow, with transport, guide and ration sorted, we enjoyed the evening in our room, feeling the chill in the air. Now I go to sleep, at an extremely high level of peacefulness.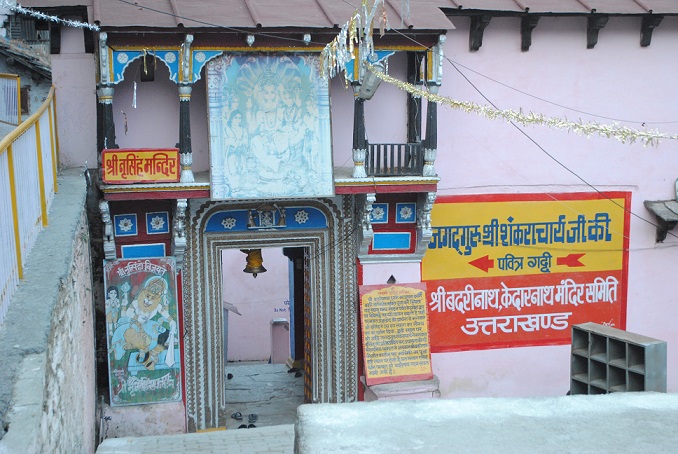 31st Dec 2015
The day started a bit late, compared to mountain standards because we had to wait for the forest office to open and get required permissions for moving ahead. I woke up to find that Girish was up & running since early morning, exploring the local cuisine and temples of Joshimath. He discovered some nice anecdotes as well. Can't remember in detail now but they offered interesting explanations for the nomenclature prevalent in the region. The plan for the day was to drive till Auli from where we would start trekking to Tali. The drive was only 30 mins long (around 10-12 Kms). The views along the road were picturesque with Hathi Ghodi massif on our left for most part of the drive. Our guide was not a certified mountaineer but a richly experienced fellow with a huge knowledge database in his memories. He told us to mark the Hathi Ghodi massif because they are going to be with us for some time now. Soon, we reached Auli and quickly started moving forward, walking beside the ski slopes that were completely dry. The snow is expected to cover them soon for the skiing season to kick start but as of now, it was a dry trail, with pastures laid neatly for the snow to settle down. Our guide shows some machines that were set up for creating artificial snow on the route but were not operational. Meanwhile I did not notice that Ankit was struggling a bit on the very first hike of the day. Maybe the breakfast we had was not so suitable to his taste..he vomited and it worried our guide because he started judging the man who was carrying an odd shape rucksack. Well I am sure this is the last trek he is doing with this rucksack! But both, I & Girish, knew that this is temporary and Ankit was strong enough to complete the day. We gave him some water mixed with a few words of motivation and he was good to go. After an hour of climbing straight up, we reached the trolley point where tourists were enjoying snacks and luxury of sunlight in chilled air. We took a 5-10 minute rest and started moving up the jungle trail, towards Tali. The route had snow laid on the dense forest trail, having pine trees on both sides, and was a bit slippery because of the low temperature & lack of sunlight. In another hour, we were at Podiyar temple which is also a nice camping site but it was too short a hike for us to stop for the day. So, we had some water and dry fruits to prepare for the next part of the hike for the day. From this point, the view starts opening up and soon we enter the Gorson Bugyal. The view from this meadow was almost 270* and we could see many peaks like Vasudhara falls, Hathi Ghodi, Barmal, Drona-Giri and few more. However what got me hooked was Nanda Devi! A massive mountain that looks like a structure built with strong foundation (broad) and sharply rising Gumbads (peaks). Sheer beauty!
We kept moving ahead while I was almost lost in my own world and Girish kept shouting at me to click pictures for record purposes. Now here's another thing with recce trips, you are out to record a lot of stuff, trail routes, pictures, and videos. I may not like this part but can't really avoid it because Mr. Google has made things objective enough for people wanting to be visible on his platform. Call it 'organic search' that recognizes "content". All this while, I had a recurring thought occurring every now and then – "Gajar Ka Halwa". At around 1300 Hrs, we ate it. Delicious lunch. All sweet. I love it!
The hike through Gorson Bugyal is an easy one (around 5 Kms), with vast stretches of snow visible all around. This must be a very different place in the summers like all meadows are. Meadows have a dual nature (like light) but sadly, not to be observed simultaneously. They are green as well as white (summer & winter). We kept moving for the next 2 – 3 hours and by the time Gorson Bugyal ended, we reached the narrow ridge leading into the dense forest area. It was around 5 in the evening and we wanted to cover the remaining distance quickly to reach the camp site before it gets dark. As we reached the real Tali, where we spot a small frozen pond, it was almost dark. Just a few meters ahead, we saw the camping site where at least 70 people were camping. I was a bit unhappy to see so many people but nonetheless, we pitched our own tent in a corner, futilely trying to be away from crowd. The plan for tomorrow was to split in two teams where I, Girish and our guide move to attempt Pangarchulla summit early morning (around 0400 hours) and Ankit along with another guide goes to Kuari Pass. The plan was a bit ambitious because we wanted to cover both routes in one day itself but we were confident of execution. We went to our tents at around 2000 hrs to get some nice sleep.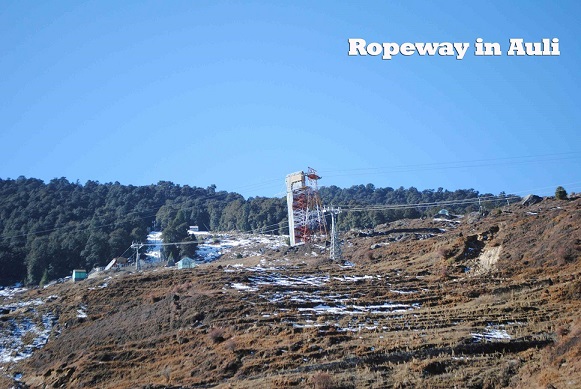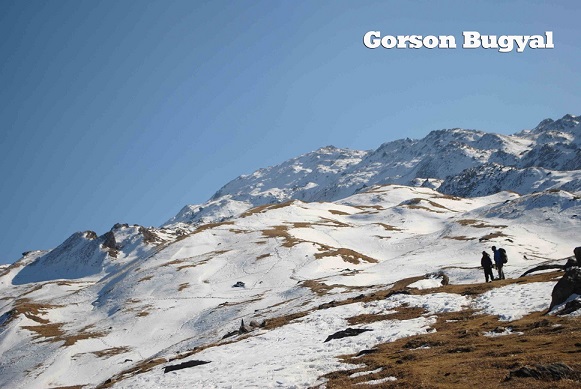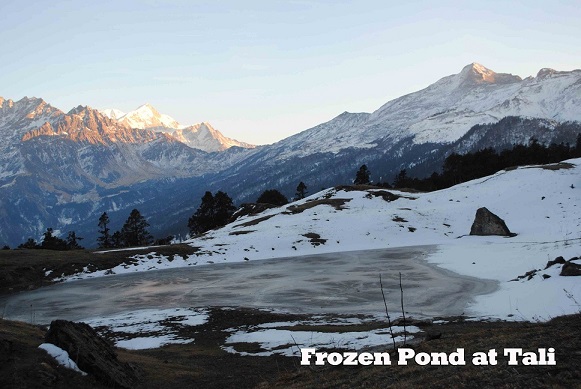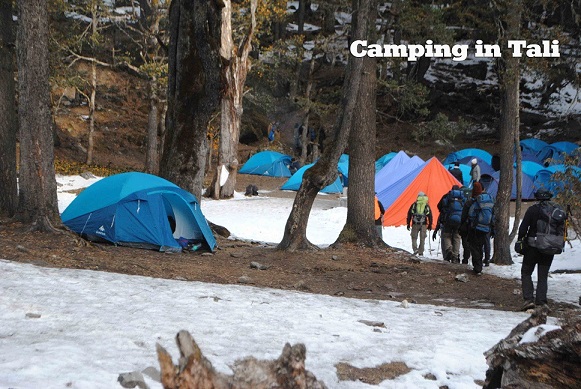 1st Jan 2016
Is this not just a date? What the fu** does this signify? We have our finances going by Apr – March, seasons going by Holi/Diwali, lifecycles going by anniversaries, then what the hell does this date signify for all of us to start dancing & jumping around. I am sorry to sound rude here but that's how the day been for us. We went inside the tents last night to get some good sleep for our early morning hike today but to our nightmare, we realized that it was New Year eve! The demons were out and everyone wanted to get drunk and party till late in the night, which is totally fine, but they also wanted to play music, loud music, and shout all night. We spent the whole night, at least till 0100 hrs, abusing all those 70 people around us making the mountains sound like Connaught Circus! I can understand the enthusiasm of a group and even I would have spent similar nights enjoying with friends during treks but I find it extremely annoying when people start bringing their Bluetooth enabled, Loud speaking gadgets to the mountains, completely rupturing the natural silence and sound system of the mountains. Anyhow, the resultant was that we had to drop all plans of split and Pangarchulla summit. All three of us started at around 0900 hrs for Kuari Pass and knowing that the target for the day is again going to be fairly easy, we moved slow and relaxed, making so many videos, and clicking pictures. Some videos have been released for public audience (see the videos on this page) but some others are only for private circulationJ. First milestone of the day was Chitrakantha, an awesome point where the view opens up again since we entered the narrow ridge yesterday (after Gorson Bugyal).
This trail is also called Curzon trail because Lord Curzon was the first white man/woman to walk down this path and we must show gratitude by remembering the trail by the name of his holiness!
We climbed gradually to a point that looked like a pass (with 2 valleys visible from the cross over point) but this was not Kuari Pass. We named it Mini Kuari. From here, a steep climb takes us to the Fake Kuari pass. This is the first time when we spot some rhododendron plants on the trail, might have been present earlier also but we spotted for the first time. No flowers at this time of the year but I could imagine the place going colorful, 3 months down the line (March – April), full of red and white flowers all around. Soon we reached fake Kuari Pass. We call the point like this because I don't know the name of the pointJ Just kidding! Actually our guide told us that this point, which looks to be the highest point around, is shown as the Kuari Pass to some of the groups that come here and struggle during the climb. Well for all those who come here or for that matters go to any other pass should know that a pass is always a point where you see two distinct valleys meeting. It may not be the highest point all the time but it would always be a point from where you would see 2 distinct valleys on either side. Passes are the most trusted traditional routes for trade and movement in the mountains. Read this article if you feel like knowing more on mountain features.
Anyhow, after a few clicks and some rest, we moved ahead towards the real one. From here, the trail was full of snow and at places the snow was hard and slippery. We were walking westwards, either over spurs with steep slopes or narrow ridges with steep slopes on either side or crossing the snow laden re-entrants. So, we were very careful and slow in our movement. On our way, we also met a group that was doing this trek in a circular manner, starting from Dhakwani and ending in Dhak/Auli. Meanwhile, Ankit was finding it really adventurous today because it was his first date with such sharp, icy, and dangerous curves of the Himalayas and he was also new to using his tool – "the 3rd leg of a Mountaineer" – "The Ice Axe". For all who come here in winters and don't know how to use ice axe, I think wearing micro or mini spikes would be a better option. However, since we did not have one for Ankit, I, Girish and the guide covered him from front and back, cutting the ice from a couple of places on the way but he learned fast and was soon feeling comfortable.
Within the next 2 hours, we reached the highest altitude point of this trek, just before Kuari Pass. My watch was reading 3876 Mts. After a few steady breaths here, we moved to the Kuari Pass (3754 Mts). There are anecdotes on why the pass is called "Kuari" but somehow I could not really digest them, so not making any attempts here to record. Once again, some clicks for all of us here and we started moving back soon. It was already 1430 hrs by now and we had to move faster on our way back to reach Tali before dark. The way back was much faster and we reached our camp at around 1800 hrs. As we stretched & warmed down in the campsite, we met a new group (10 -12 friends) attempting the trek in alpine style. We had some lovely time in the evening interacting with these guys. Alpine style is the best way to do treks but I think groups that don't have a highly experienced or certified or appropriately skilled member who can handle emergencies, should always hire a certified guide.
I was feeling sleepy by 2000 hrs and we went off to our tents soon. The day did not start on a very good note but ended quite nice & relaxed.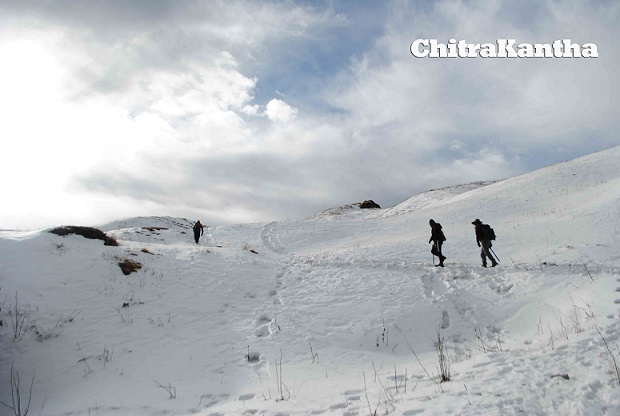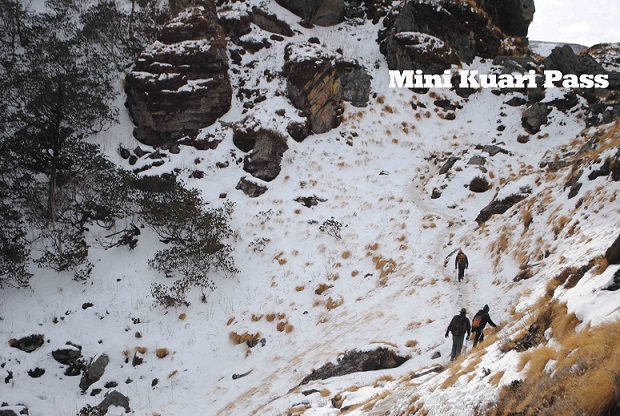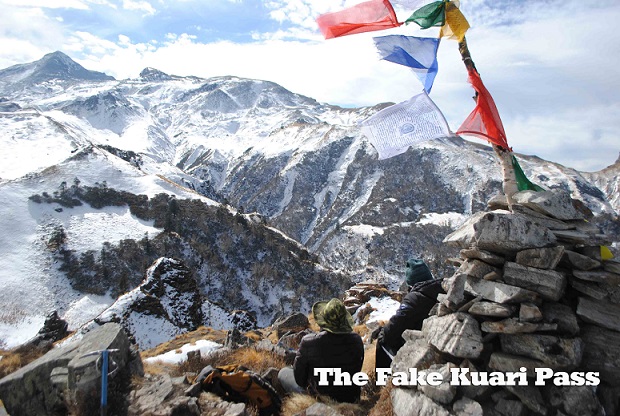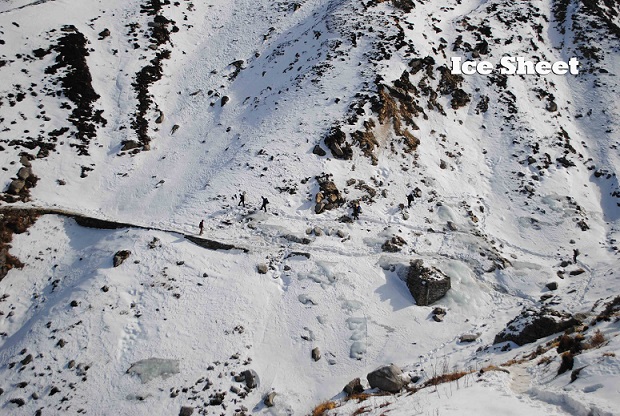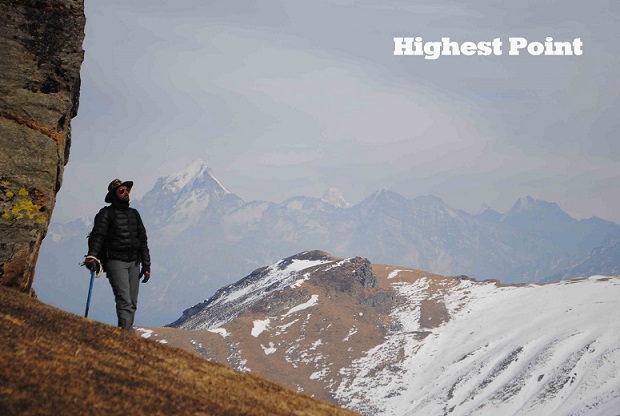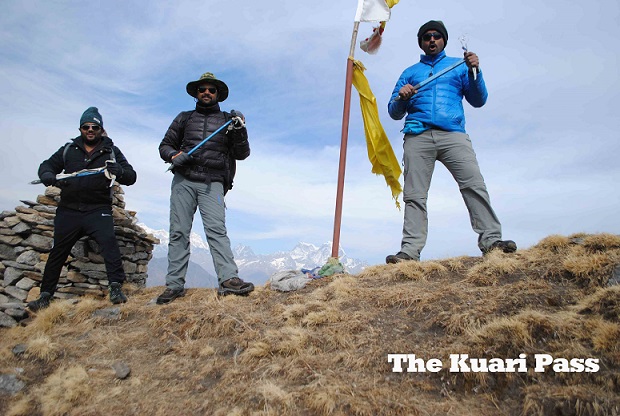 2nd Jan 2016
Today was an easy and sleepy day. We started at around 0800 hrs from Tali and covered the small descent of around 6 Kms to Dhak via Gulling, Tugashi & Karachi. Gulling is a beautiful camping site, 2 Kms away from Tali (downhill). With water stream readily available and good cover of Oak & Deodar trees, the site makes for a cozy camp if you are climbing from Dhak side to Tali. From Gulling, the last 4 Kms were not much fun due to the dusty trails that moved along the villages. The only solace was the soothing views of the green step farms and Himalayan people. One must try and feel the peace (creating an aura) around the people of mountain villages. You would feel that all the rush in cities is futile and totally unnecessary!
We met our local vendor again in Joshimath who greeted us with tea. After finalizing the details for any groups that we plan in future to this side, we moved in a vehicle to Dehradun. My target was to keep sleeping all day in order to keep myself away from that terrible & sick feeling of moving in a diesel truck over the mountain curves. So I did that and got up only when we reached closer to Rishikesh. Our driver was a fun person with loads of attitude and dozens of stories. We had a great time in the car. With a nice dinner at an unusual hotel suggested by our driver, we are feeling completely relaxed now, waiting for our Volvo bus to start and take us back to the "land of opportunities". I am always sad before starting the return journey from the Himalayas, especially when I am coming after a short outing.
This journey was a bit different because this was the first time when we got almost everything as per plan of the recce. By the end, we have all necessary contacts, some nice images & videos for the record, and a very good friend in Ankit. He has promised to do a business audit of our processes some day (he's a Chartered Accountant by profession)..hopefully free of cost :)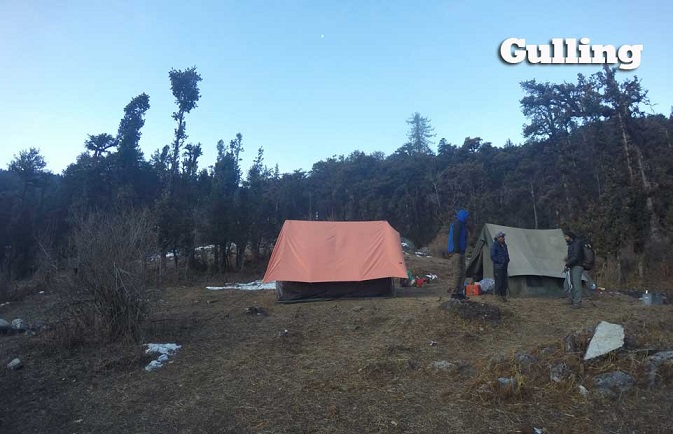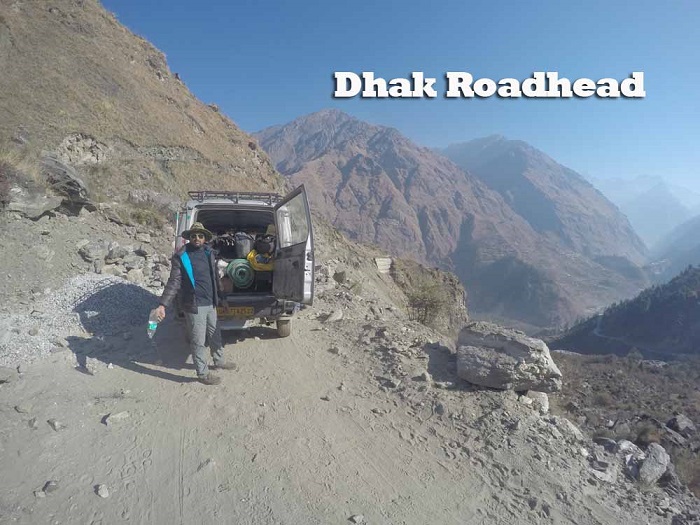 ---
---