---
Itinerary
Day 01: Reach Leh . Rest & Acclamatization .
Today is for rest & acclimatization. Explore the local market of Leh.
Day 02: Drive to Spituk . Spituk - Zingchen trek (4-5 hours)
In the early morning hours we will go by jeep to Spituk. The trek will begin along an old jeep road into a parched and exposed region, so water and sunscreen are absolutely vital! After plodding through the shattered land we will enter the lush Zingchen Valley, where the Rumbak River flows into the mighty Indus. Further into the valley lies our campsite, in the two-house hamlet of Zingchen (meaning 'big field').
Day 03: Zingchen - Ganda La base (3-4 hours)
Today we will enter Hemis National Park where we may be fortunate to glimpse wildlife. The National park homes snow leopard, lynx, Ladakhi Urial (a type of goat), arghali (great Tibetan sheep), Bharal (blue sheep), red fox, Tibetan wolf, dhole (wild dog), marmot and mountain hare. After paying the entrance fee, we will climb gradually through a beautiful gorge before reaching the valley leading to the village of Rumbak. Here we will stop at a tented teahouse run by women from the village. After a cup of warm tea we will continue past the house of Yuruche before reaching camp at the base of Ganda La (4545m). From the campsite there are spectacular views of Stok Kangri and the whole Stok range.
Day 04: Ganda La base - Skiu via Ganda La 6-7 hours
After a light breakfast, we will begin our 2-hour ascent towards Ganda La (4900m). The usual chorten and prayer flags mark the top of the pass, where one may see blue sheep, marmots and arghali roaming the hills around. Views of the lofty Zanskar Range and the distant Himalaya Range are great as well. After a short rest, we will make a gradual descent to Shingo and break for lunch. We will finish the day by hiking for 2-hours through a spectacular gorge before making camp at Skiu (3300m). Within this idyllic village lies an old monastery and ruins of an old castle, once a rest stop for the Royal family on their way to Srinagar.
Day 05: Skiu - Markha (7-8 hours)
Following the Markha River, we will hike through the lovely valley on a fairly level path. The trail crosses the river at various points, and passes winter settlements that contain Lhatos (religious shrines for local deities) and Mani walls (stones inscribed with Buddhist prayers). During peak season a number of tented teahouses will be open for refreshment. Markha (3800m) is the largest village in the valley, consisting of around 20 houses, an old monastery and a ruined fort.
Day 06: Markha - Thachungtse (5-6 hours)
The Markha valley trail continues pass old stone-mills, a ruined castle and the auspicious monastery of Techa, which proudly perches upon a cliff that looms above Markha. The path then intersects the river several times before cutting through the last hamlets in the valley. After leaving the village of Umlung, we will be afforded our first view of mighty Mt. Kang Yatse (6400m), which will stay in sight until we cross Kongmaru La. After we break for lunch in the village of Hangkar (the last one in the valley), we will continue onward to the lovely green pasture of Thachungste (4100m), where we will make camp.
Day 07: Thachungtse - Nimaling (4 hours)
Today the trail will lead us up to the beautiful plateau of Nimaling, where the people of the Markha Valley bring their herds to graze during the summer months. At 4700m, Nimaling is the highest camp (4600m) on the trek, giving us spectacular views of the huge peak of Kang Yatse to the right.
Day 08: Nimaling - Shangsumdo via Kongmaru La (7 hours) . Drive to Leh
After a hearty breakfast, we will cross Kongmaru La (5200m), the highest pass on the trek, and from here we will have a wonderful view of the Indus Valley and Ladakh Range. The descent is quite steep, but will gradually level out as we enter Shang Gorge, with its fascinating rock formations. More river crossings bar our way before we arrive at the sour-spring of Chuskurmo (used in traditional medicine by the Amchi doctors). Camp overnight in Shang Sumdo. Drive from Sumdo to Leh takes about 2 hours. Reach Leh by evening. Trip ends here.
---
A Trek to Markha Valley
Ladakh was pending for too long in my plans and as you get more involved into your corporate job it becomes even more difficult to find people who are looking in for some adventure in unknown territories of remote place like Ladakh.
To satisfy my adventure genes and to add one more star in list of places I have visited, I decided to go for a trek in Ladakh and it turns out to be the most beautiful trip of my life. I contacted my Friends at BIKAT adventures who shares the same bug and can help me in my trip.
As they say, it's not adventure if everything happens as per plans, after making all the booking with BIKAT adventure, out of 6 folks 4 of them backed out and it was decided me and one more lost soul is up for this trek, thank God he did not drop his plans and thanks to BIKAT adventures for not shelving the trek as there were only two folks left for the trek.

Day 1: Delhi to Leh

Day 1 was acclimatization, so I took a morning flight from Delhi, I was arranging my backpack with the efficiently planned list of items by Bikats till late night and my excitement couldn't make me sleep. After getting a power nap on plane, I was all charged up when I saw a breath taking view of Zanskar range from my window seat(you need to get your boarding pass as early as possible for window seat). After this point I was very active and did not want to blink an eye and miss the spectacular view.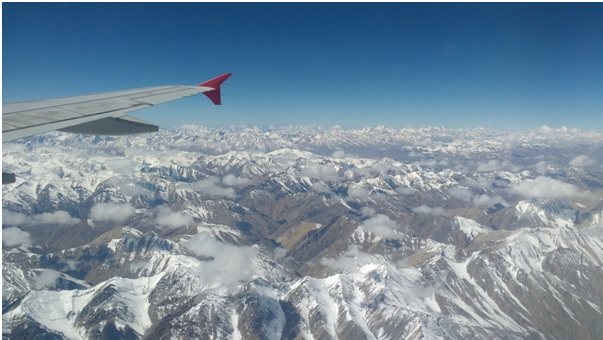 View from plane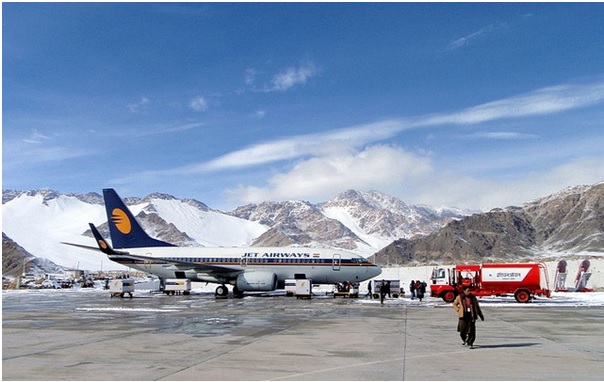 Leh airport
I took a taxi from airport to Rahela Guest House; my room was very comfortable and had a beautiful view of mountains. After settling in, I ordered a big breakfast and I directly went to the roof for getting the 360 degree view of the peaks, I could see the highest peak of the region-STOK KANGRI, OMG it was great, I thought maybe next time I will go up there, it's a difficult trek and you need Practise a lot for it.
I bought some chocolates, dry fruits and Glucon-d from local market for my 100 km in next 6 days!! We had our lunch at local Punjabi restaurant, well we get our food anywhere you know.... :), lot of Chinese and Tibetan option is also available in the market that we decided to go after completion of trek.
We met our guide in the guest house over tea; he gave us full details of the terrain to calm our nerves and made sure that everything would go fine.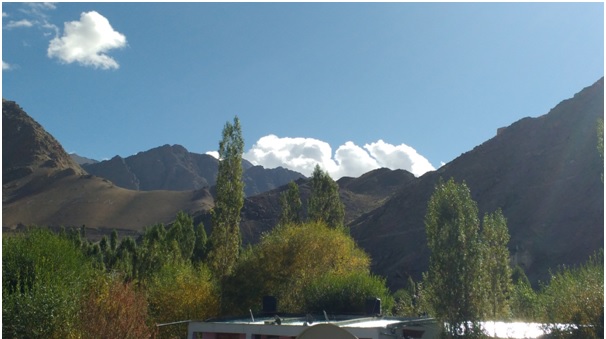 View from the roof of Rahela guest house
Day 2: Zingchen to Yurutse

After having ourbreakfast we drove in Innova to Zingchen as tarmac road is now extended from Spituk to Zingchen, our guide took care of transport and taxes, we were enjoying the beauty and vastness of the place and were getting mentally prepared of our trek ahead.

From Zingchen to Yurutse the trail follows the river until a point comes when you have to cross a bridge. There was a small concrete structure but it was locked and had one parachute tent which used to serve Maggi.
We started our hike on the trail adjacent to river bed. It was pretty straightforward till the pastures, later it diverges to a trail which goes upwards.
There was a mild ascent and you cross the 4000m mark pretty soon. The trail keeps going up. I began to breathe heavy and took a lot of breaks. I kept myself hydrated whenever I took a stop. Prayer flags are the first thing that gives you relief that your destination is in sight and we reached Yurutse after 17km of walk and gained the altitude of 725m.
We were at 4100m altitude campsite. We had some soupy noodles and tea, after clicking some pictures from at homestays, we had dinner with fellow international and national trekkers, the place was really cosmopolitan (French, German, Swiss, Indians were represented)
I had some tough time sleeping due to high altitude, drank lot of water every time I woke up because of heavy head.
Day 3:Yurutse to Shingo

After sporadic sleep, I left my bed around 6am, I roamed around the place and enjoyed the cold winds and stillness,I was happy that my head was not spinning anymore and my body has adapted to the height. I was in my mojo after having big cups of tea.
We had our breakfast which consists of butter, jam, Ladakhi bread and tea, took our packed lunch and started our trek around 8:30.
Sun was all out and we were happy and warm, first half of the trek was easy till the altitude 4600m, after that, every step was a struggle till GandaLa(4940m).
After every 40 steps I stopped for the breath, our guide was very good and helped us at every step and motivated us for our trek ahead.
With our every stoppage, I was kind of lost in the beauty of the place, with the Zanskar Range on one side and the Karakoram Range on the other. I saw the StokKangri peak in all its glory radiating from the sunlight glow.
I found snow on the trail to Ganda la and was all excited and nervous walking on it.
Ganga la was very cold and extremely windy, we decided to click some pictures and rest for a while but wecan't stay longer there as it made us very cold, best way to get warmer was to start waking and we reached Shingo around 3PM where we had our packed lunch and rested and had good discussion with the cosmopolitan crowd .
Today we covered 11 km and reached highest point of 4950 m and gained 950 m height-pretty impressive haan....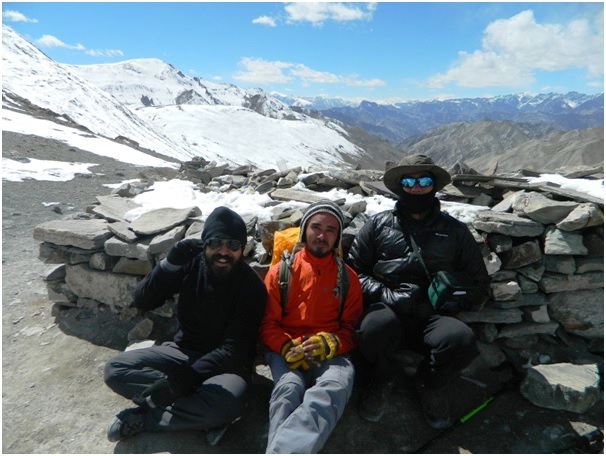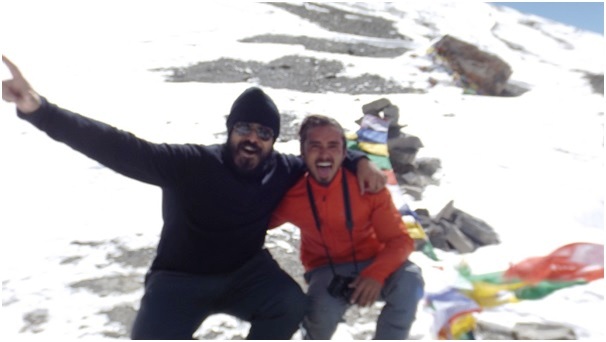 Day 4:Shingo to Sara

Woke up at 6 am and left Shingo around 8 am with somewhat tired body of a city boy. The trail zigzagged along the Shingo River with various ascents, descents and level walks. Difficulty was easy gradient but the distance was very long. The trail from Skiu ran parallel to the river with the same occasional ascents and descents. If you follow the river, you can't go much wrong except missing an easy trail for a walk on the boulder filled river bed. I found few boys painting on the side of river bed and were engrossed in the beauty like us.
Today I found grand views, picture perfect valleys, blue river, rising peaks and endless trails.we reached Sara around 4 pm, we walked 7 hours today and covered 18km , today was comparatively easier walk thanks to the loss of altitude.
Sara stands at 3450m height, lowest campsite so far. it's been 4 days I was not in touch with the rest of the world. I slept after gazing in star studded sky with nebula clouds, night was equally amazing scenery as the days.
Day 5:Sara to Hangkar

I woke up, re-structured my bag to balance weight and had tea. We left Sara around 9:15am , in 2.5 hours we reached Markha village, the trail from Sara to Markha is stunning , it was along the river as there was not much flow of the river and many small bridges are created, river crossing is not difficult, it was only once we need to remove our shoes at the last river crossing, water was cold and relaxing, when you look around the place, you forget everything and the beauty of the place take over your mind, the plain grass meadows, the red flowers and the river was a picture perfect scenery, I clicked many pictures ,but i don't think any camera can capture the beauty of this place like our own eyes.
Markha village is the most developed village of them all, it has a school, telephone line and monasteries, after having our packed lunch at Markha,I called my parents and listened to some scolding for calling them after 5 days and got to know that I am famous among my office friends as being lost.
We started our journey towards Hangkar, took many stoppages, the sun was harsh and trail was mostly dusty with long stretch of dried river beds.
We covered 17km in 7 hours and now were at 4000m height at Hangkar,this was the last homestay . I sat on the porch for 2 hours having lot of coffee and admiring the vastness of the place and changing colors of the scenery.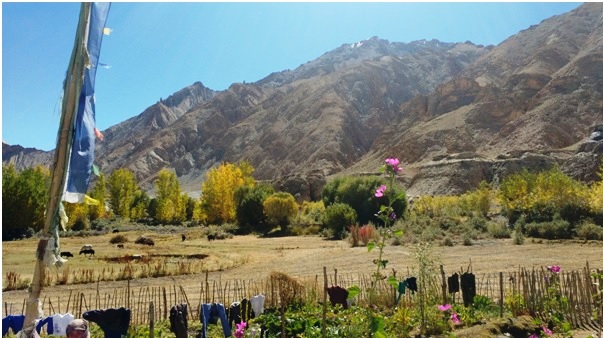 Markha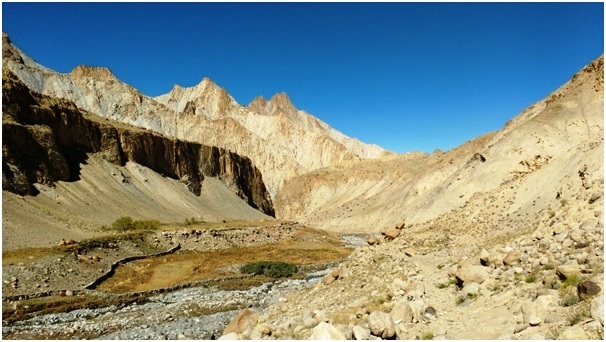 Day 6:Hangkar to Nimaling

We started for Nimaling around 9 am and reached our first checkpoint-Thochuntse around 1130 am after an easy walk as no river bed was involved. It had a parachute tent which was closed during this season and we had some snacks on the level meadow ground.
After Thochuntse the trail became steep climb. The air got noticeably thin and I was struggling after every few steps, views were magnificent though, especially the one looking back from Thochuntse. After a long monotonous climb till an altitude of 4750m, I reached a lake where we had our lunch of ladakhi bread jam cheese sandwich, juice and chocolate with the Swiss trekkers who reached there before us.
We saw the magnificent 6400m Kang-Yatse peak for the first time and it truly was a breath-taking moment. We took an hours rest here, knowing that Nimaling was nearby.
From the lake, it took us 2 hours to reach Nimaling. Nimaling is just a huge plain area which is rare on this trail, surrounded by mountains from three sides. The trail from the lake goes around the kang-yatze peak and descends to the huge pasture area.You can spot Nimaling from about 2 kms far, since it's just a very long flat land but it took us around 1hr to reach it from when I spotted it.
I was spellbound by kang-yatze, it looked like big snow covered bat,and it's also a technical peak of altitude 6400m so one needs to have good training to be on that.
Nimaling was very cold and windy, sleeping tent was pitched near the parachute tent and mats and rugs were provided. The view was amazing at Nimaling, it was like you are in the painting with snow covered peaks and green ground on the sides. You get the feel of wind inside the tent by the rattling sound it produced.
I was feeling little dizzy so my guide gave me ginger lemon honey tea, I drank 3 cups of it and felt good but one will feel little heavy head out here as we were on 4700 m altitude , i was very happy with the trek and was admiring myself and was contemplating that how many folks would have slept so high.
I met many groups in Nimaling and the numbers kept increasing as the time passed, so we had, Australian, Swiss, French, Germans, English and Indians out here. We got acquainted with them all, socialized and shared each other's experience over some drinks and Maggi, it was like best night ever.
Nimaling has best food in the whole trek, I was eating my heart out today, I also met some very experienced climbers today who has to shelf their plan to climb Kang-yatze because their Italian party decides to not try it and moved down from Nimaling without telling anyone at camp and they need to go out and search for them now in this cold ,pitch darkness, the thought itself gave me goose bumps, they took our guide with them on their search mission. In the place like this everybody helps each other, you never know what will happen next moment and you'll need help.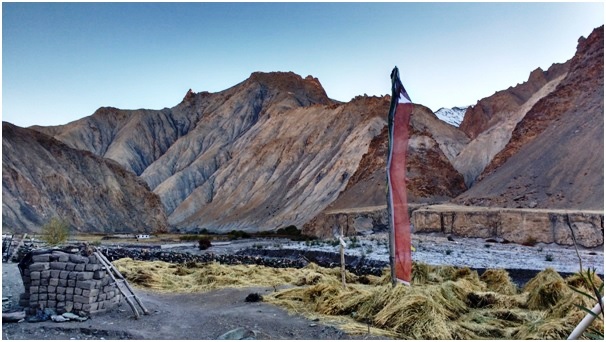 Hangkar village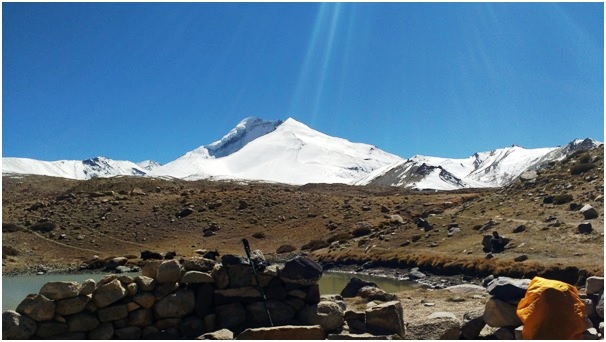 First sight of Kang-Yatze
Day 7: Nimaling to Shang Sumdo to Leh

This was the judgement day, the kang-yatze climbers had shown us the video of the Kong-mura-la pass which they crossed on their way to Nimaling. There was no trail as snow covered it and we will be creating our trail today.
The ascent to Kong-mura-la was very tiring, after every 20 steps we were stopping for breath. The only thing that we were still admiring was the beautiful Kang-yatze and the breath-taking scenery. We reached Kong-mura-la pass in my longest 2 hours having steepest hike of my life and it became my highest point of life, i was standing at 5250 m above sea level. I sat with my fellow trekkers and guides for more than anyone else and as I was in the company of most experienced men of the groups and had Coke for instant energy.
Wordscan't describe the views of this place; I can definitely say it was heaven.
Every time the descent was easier than the ascent on this trek, but not today, we were in most dangerous soft snow covered trail of our life.
Descent after the snow was easy for a while and then our guide decided to take a short cut and we started following the river terrain while and moving up and down and slipping some time on wet rocks as were tired and not able to concentrate well and crossing some very interesting river crossing, so after punishing our legs for an hour, we decided to move on the side of the river knowing that it will take us long.
We passed Churkismo and Chok-do camps on the way to Shang Sumdo. Chok-do in particular was a very beautiful village with huge homestays.
Hereafter you will start noticing the electricity poles. Just before reaching Shang Sumdo, the trail beautifully winds into various twists and turns. You can spot Shang Sumdo from a long way. from Shang Sumdo our taxi took us back to civilization.
So now I had two days in Leh for some city sightseeing and celebrating my successful trek which I did full throttle.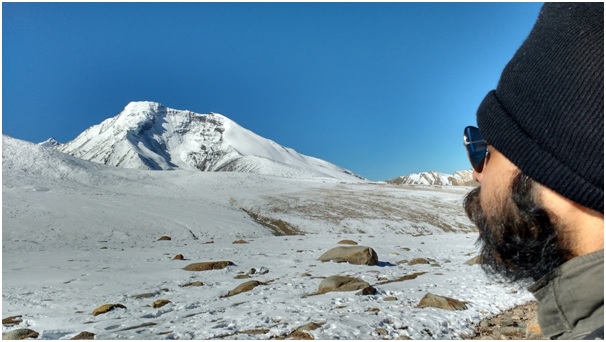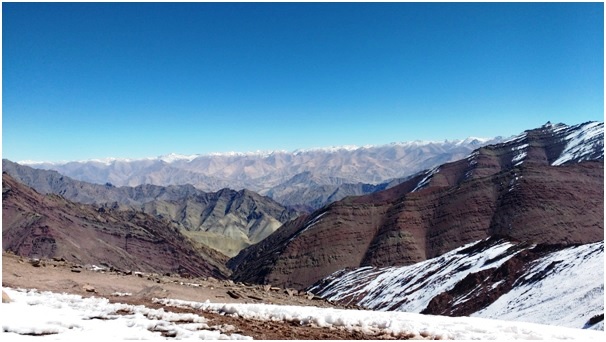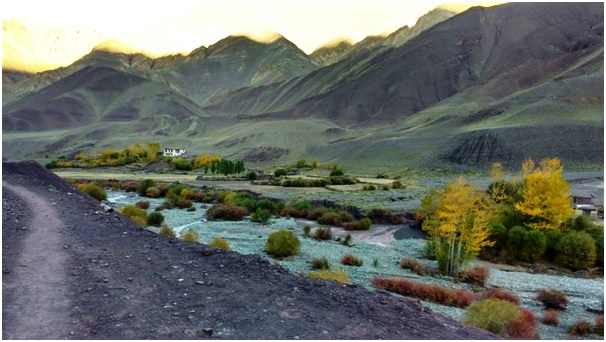 ---
---