---
Itinerary
DAY 1: Arrive in Sankri
Report in Sankri by 5 PM. Sankri is 196 Kms away from Dehradun. You can get a shared taxi or public transport for Sankri early in the morning from Dehradun bus stand. It will take 7-9 hours for you to reach Sankri from Dehradun. Night stay in Hotel / Guest house.
* You can book Dehradun to Sankri Transportation with us. In case you would like to do that, please select this option while booking.
DAY 2: Sankri- Taluka (12 Kms by Road ), Taluka- Seema (12 kms trek)
Early morning drive from Sankri to Taluka in a Taxi .Taluka is the starting point of our trek.After Breakfast in Taluka, we will Start trekking with packed lunch to Seema (2260m)on an even surface through thick forests of chestnuts, walnuts, willows, chinars and a variety of conifer trees, with a few waterfalls on the way.You could either opt for the steep climb of Dhaatmeer village, or just trek along the Karmanasha stream. Both the routes meet at Gangaar village.Reach Seema Camps by late afternoon.Overnight stay in tents.
DAY 3: Seema- Kalkattiyadhaar (7 kms trek)
The trail from Seema initially continues on the true left of the valley, goes past fields followed by crossing a anging bridge over river Rupin, to the true right of the valley. The trail now ascends, go past through fields and pastures with huts. The coniferous flora on the opposite side of the valley is awesome and much adorable. The trail climbs to the ridge locally named as Kalkattiyadhar. After a short descent from the Kalkattiyadhar, we arrive at our campsite.
DAY 4: Kalkattiyadhaar-Har ki Dun (7 kms trek)
From the Kalkattiyadhaar camp the trail traverses to give you an awesome view of Har Ki Dun valley. Initially the trail climbs gradually and later gets steeper & goes past through beautiful meadows to the campsite at Har Ki Dun. The campsite is by the small stream, with peaks of Har Ki Dun and Swargarohini towering above. Overnight in the camps/guesthouse.
Day 5: Har ki Dun - Seema (14 kms trek)
In the morning spend some quality time appreciating the view of Swargarohini Peaks from Har ki Dun. In winters the morning temperature can be quite cold (-2 degree approx.) here. After an early breakfast head back to Seema. Start with crossing the Har ki Dun Bridge and a small walk along the river. Initially there is gradual climb upto Kalkati dhar. From Kalkati dhar its all the way downhill upto Seema. If time permits we will take a short halt at Osla village, wheere you can see typical Gharhwali Houses tucked at high point. Like most mountain village the location of Osla is such that it gets Sunlight all the day. So you can just sit and relax for some time. After a short while, descend to Seema where we stay for the night.
Day 6: Seema- Taluka (12 kms trek), Taluka- Sankri (15 kms by road)
From Osla (where we halted yesterday) ,there are two ways to get down. First is via Seema for which we have to descend to the river and cross it from the bridge at Seema. The second route which is shorter (but steeper) goes via Puani. It meets the main trail at a point where there is a watermill. Spend sometime here to understand how these watermills work. From this point we enter the forest. The trail is all the way along the river. The last few minutes of trek is over cemented trail. We arrive in Taluka by afternoon. Rest in Taluka for while till your trek mates catch up. We board our vehicle and reach Sankri in about an hour or so. Check into the guest house. In the evening we have small celebration for the successful trek completion. All ideas invited :)
Day 7: Sankri - Dehradun (196 Kms by Road)
This day applies only in case you have booked your road transportation with us. After breakfast we start our journey back to where we started from "Dehradun". It will take about 7-8 hours to complete this journey. Please keep a margin of atleast 4-5 hours with you while planning your return travel from Dehradun as the mountain road can be quite unpredictable. We will drop you at Bus Stand or Railway Station as per your plan.
---
Video
---
Trek FAQs
Why Bikat?
Learning Experience:

We do not just focus on completing the trek but

also help you develop basic trekking skills like:

Morning Yoga & Evening stretching

Packing a rucksack

How to pitch and dismantle a camping tent and properly use a sleeping bag

Ascend and Descend on a mountain trail

How to ensure camp safety and hygiene

Special for this expedition

: Complete this trek in 5 days with us and enjoy the Homestay experience in Sankri.

Loyalty Program

s: Join Bikat community and enjoy benefits of our vouchers and referral programs.

Personalized attention

: We have small batch size (max. 15) and we maintain a healthy ratio of 8:1 (Participants: Leader) on all our batches to enable individual focus and monitoring.

Best Expedition Leaders:

Our leaders are advanced mountaineering course qualified, specially trained in rescue procedures from NIM and certified first-aid responders. Even our local guides are certified first-aid responders.

Safety norms

: We have mapped every region with an emergency evacuation plan and safety protocols maintaining a zero accident record so far. We carry an extensive first-aid kit including oxygen cylinders and high altitude medicines.

Safety equipment

: Our trek leaders carry UIAA certified rescue equipment like static rope, ice-axe, harness, carabiners, jumar, pulley, short and long slings.
Is this trek good for me?
Har ki Dun is an easy level trek ideal for both beginners and experienced trekkers. For a novice, it is a great start to enter the world of trekking. It can get a bit rigorous for the first timers. Therefore, it is recommended to the first timers to maintain a good physical stamina and read extensively.
Any experienced trekker would love to go on this trek for the love of its views and trekking.
Experience required
This trek is apt for the first-timers. Those coming for the first time should prepare and read extensively about the trek. A basic knowledge of how to use a sleeping bag, toilet tents, sleeping tents, and mountain mannerisms will help.
Requisite Skills
How to

choose a right rucksack

: It is essential that you choose a right rucksack for the trek since you are going to carry it all the time while trekking. Make sure you don't make these

common mistakes while buying a rucksack.

How to

pack a rucksack:

Trekking in mountains become more fun when your rucksack is well-organized. It also makes it easier for you to carry without being much load on your shoulders. Follow the guidelines on

how to pack a rucksack

.
Fitness Benchmark
Jog/Run for 4 Kms in 35-40 mins or Walk continuously for 8 Kms (with 3-4 small breaks) on plain terrain (slight incline is better)

and

Hold your breath for 25-30 seconds
If you are not meeting these benchmarks, please use the preparation schedule to improve your fitness till you achieve the above benchmarks.
What to Pack
Here is your checklist for this trek. Make sure you pack all these items for a comfortable trekking experience.
Trekking Gear

A rucksack with rain cover

A water bottle or a hydration pack

A Hand/Head Torch with spare batteries

UV Protection Sunglasses

A trekking pole
Clothing:

In summers, the temperature can drop below 0-degree Celsius in the night. In winters it can go down to -7 in the night. Hence, it is important you carry a maximum of 3 layers in summers and 5 layers in winters.

Quick Dry Warm lower or Track Pants- 2

Full sleeves T-shirts- 3

Thermal Bodywarmer Upper & Lower- 1

Fleece Jacket-1

Padded Jacket-1 (Goose down or feather is preferable)

Full sleeves sweater- 1 (Needed if you feel cold at high altitudes despite 4 layers)

Rainwear (Jacket & Pants) -1

Thick woolen socks- 1 pair

Cotton socks - at least 2-3 pairs

Undergarments - 1 for every day of trekking

Pair of Warm Gloves - 1

Pair of synthetic (water resistant) gloves- 1

Woolen cap - 1

Balaclava-1
Footwear

Non-skid deep trod hiking shoes -1

Pair of lightweight Slipper/Sandals -1
Sunscreen lotion, lip balm, toothbrush, toothpaste, hand sanitizer, toilet roll, cold cream, small towel.

Anti-fungal cream: Carry an antifungal cream if you are sensitive to sweating and prone to skin irritations around genitals or groin area due to lack of bathing.

For women:

Tampons or sanitary napkins,

2-3 zip pouches to dispose off non-biodegradable waste

Vaginal wash to avoid any irritation due to lack of bathing.
Utensils

A small size, lightweight, leak-proof lunch box - preferably aluminum

A plate and a spoon

A mug - preferably aluminum
Camera (optional)

Personal medicine kit. Though our trek leaders carry a fully equipped first-aid kit, make sure you consult your doctor before the trek in case you have any special ailment.

Epi-Pen - If you are allergic to a common ingredient and have a history of reaction, then please inform us. Carrying an EpiPen helps in case of any accidental intakes.

Dry fruits, energy bars
How to reach
The base camp of Har Ki Dun Trek is Taluka which is a 10-minute walk from Sankri. Sankri is a small village in Uttarakhand which is a base camp for Uttrakhand treks. It is 180 km from Dehradun. There are public buses and shared jeeps running between Dehradun and Sankri. You can also take a shared taxi that will cost you around INR 600.
Dehradun is easily accessible through road, rail, and air transport.
By Road
There are no direct buses to Sankri from Delhi. There You can take overnight UKRTC buses and Volvos available from ISBT Kashmere Gate, Delhi to Dehradun. The distance from Delhi to Dehradun is about 247 km. You can also hire a taxi or outstation cab from Delhi to Dehradun.
By Rail
The nearest railway station to Sankri is 187 km away in Dehradun. There are a number of trains running between Delhi and Dehradun like Dehradun Express, Mussoorie Express, Nanda Devi Express. It is advisable to make your train bookings a month in advance.
By Air
The nearest airport from Sankri is Jolly Grant airport in Dehradun which is 213 km away from Sankri. You can reach Dehradun from New Delhi by flight.
Nearby Attractions
Dehradun is the beautiful capital city of Uttrakhand with a number of attractions to visit. Sahastradhara, a 'thousand fold water spring' is a famous tourist spot in Dehradun. The waters of the spring are believed to have medicinal properties. Robber's Cave or Guchhi Pani is a famous picnic spot for fun-loving enthusiasts. Visit the holy Tapkeshwar Temple on the bank of Asan River which is believed have one of the oldest Shivling.
Enjoy the splash at much touted Kempty Falls in Mussoorie. The highest place in Mussoorie, Lal Tibba is where you can enjoy the panoramic views of the snow-capped mountains. Admire the Kumaon and Garhwal Art & Culture at SOHAM Heritage and Art Centre.
Cellular Connectivity
There is no mobile reception after Sankri. Even in Sankri, you get only BSNL network. There are a few landline booths in Sankri that can be used on paid basis.
A Participant Experience : Har Ki dun Trek
Day One - From Taluka to Seema : Trek begins with a ride to Taluka from Sankri where we had spent the previous night. Jeeps are the only mode of mechanized transportation between these two points. There is no road for the better half of the journey, but that doesn't stop the drivers from zipping along the treacherous path. It is insane how they zoom around hairpin curves without a second thought. Taluka is smaller than Sankri, but it seemed toovmodernized to be called a village. In small shops with thatched roofs they were selling all kinds of consumer products-maggi, soap bars, toffees-but no mineral water bottles. After a cup of tea we heaved our rucksacks and began the real journey.
Trekking began with a stretch of cemented track. I remember it quite distinctly because it gave me the (absolutely wrong) impression that the rest of the trek would be similar to the first kilometre. But it would not have meant what it means had it been a trek on a cemented track all the way. It was as if the rocks which ached my soles at night, made an impression on my mind as I gingerly found my way over them.
I had expended my energy after the first two or three hours. So I don't recall much of the scenery. Wherever we went we had mountains on one side and a steep river valley on the other. If you slipped, you would end up in the river. The real question then would be whether you would drown to death or freeze to death or freeze and then drown.
On Day One my emotional state was intimately connected with the track we were walking on. If the track ahead of me was plain, I would feel at ease. If it rose steeply, frustration grew steeply in my mind and I had an existential crisis.
But the moment of reckoning came, ironically, towards the end of the Day One, when we were very close to our destination-Seema. We had been walking since the past six hours and our guest house was nowhere in sight. The night was approaching rapidly as the sun had set beyond the mountains. Of the nine members of our group, four had some lead over the rest five, of which I was one. The five of us had the guide with us. His name was Chaen Singh. Chaen Singh and I were leading the way in the falling darkness. I could barely see beyond ten metres now. The track was a bit tricky so Chaen Singh left my side and went back to help the others. It was then I felt a wave of doubt. As I stood there, miles away from home, disoriented, dependent entirely on the guide, like a blind person is dependent on his stick, I asked myself-what the hell am I doing here. I felt vulnerable and suddenly all the horror stories about people getting lost in the woods came rushing to me. To make matters worse I saw a light bobbing up and down in the distance and growing brighter every moment. I was sure it was the panther Sushant mentioned last night. Of all the things my mind could have done, it reminded of a random clip I saw on NGC in which a lioness pounces upon its prey even before it has stopped breathing. Funny how our brain works.
Lucky for me, it wasn't a man-eating panther. It was just a guy-which makes so much sense since felines are not known to own torches.
When we reached Seema, we were welcomed with hot tea and delicious pakoras. As we sat around the fire and ate, I decided to not to go further. I felt broken in body and spirit. My legs hurt. My back hurt. I had not expected this trek to be this tough. It was so tough! The climb was tough! The ice was tough! The cold was tough!
I told Sushant I won't go any further. I would spend the next two days here at the guest house at Seema. I didn't care about what anyone would say or think. I didn't care if anyone teased me or pulled my leg for it. I simply couldn't endure this trek any longer. Neither would I complete this trek nor would I go for any more...EVER!
I had said all these things and more, and then repeated it a few times before going to bed.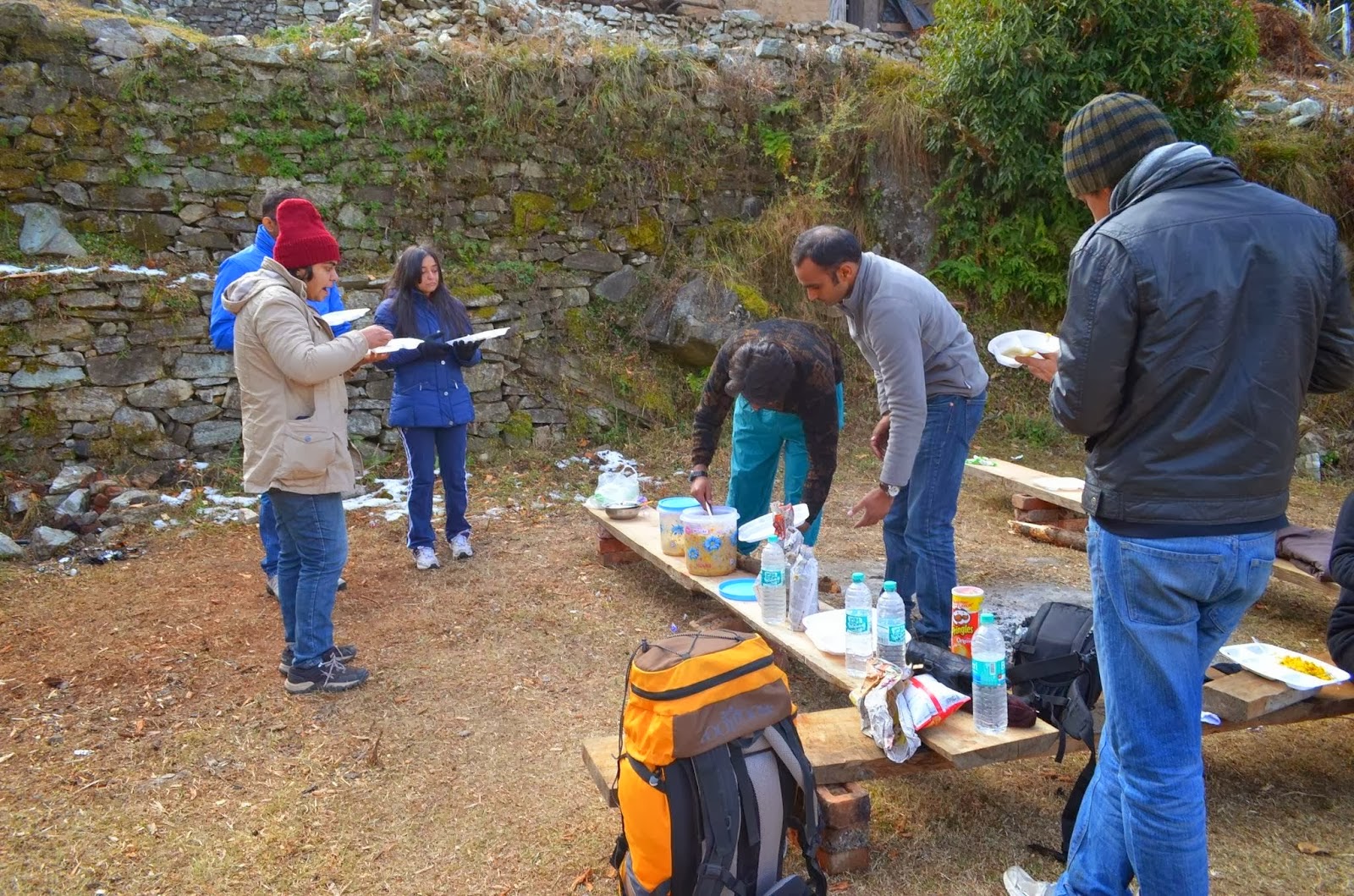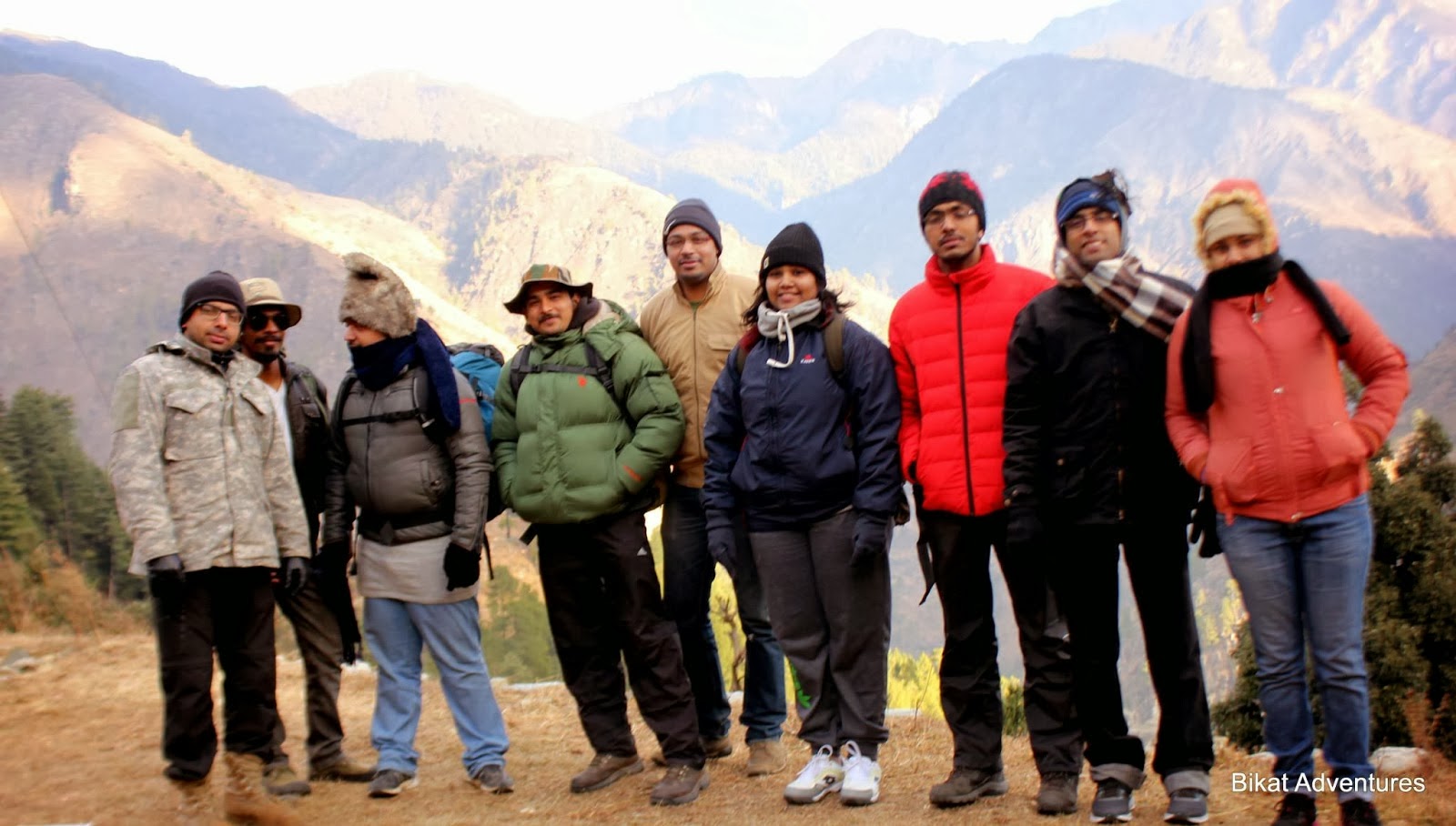 Day Two (part one) - At the top! From Seema to Har ki Dun : A good sleep is therapeutic. No sore feet. No back ache. No cranky Adi. When I woke up I felt so charged up that I was the first to freshen up. I strolled out of the guest house and took in the first sights of Seema.
Seema, I was told was an extension of a (relatively) bigger village called Osla. It was just a collection of buildings, of which our double storey yellow guest house was perhaps the biggest. The cook told me there was a Shiv Mandir nearby. I could also go down to the stream, he told me. It had nothing else. Nothing. Else. It was then that a dawn of realisation hit me. What on earth would I do for two freakin' days while the others went to the top and came back?! I would go insane!
When the guys woke up and came down, the conviction to continue only grew stronger. As we sipped warm morning chai, standing on the porch, six guys and the guide took upon themselves the task of, according to Amandeep, brainwashing me. And as he later observed, it did not take much time. In about an hour's time I was struggling with a steep climb on my way to Har Ki Doon!
The first couple of hours to Har Ki Doon were especially enjoyable. Walking slowly on the well treaded track, I absorbed the view beholding me. The mountains were imposing. Since it was the dry month, they were devoid of a forest cover. The bareness added to their grandeur and made the mountains look dead, mummified. The river flowing through the valley was the exact opposite. You could hear it gush, especially if the currents were fast, as it made its way across rapids and small waterfalls. It was lively, sounding young and energetic, unlike the desolate mountains. (It is quite ironic since geologically speaking himalayan rivers are older than the mountains).
But my personal favourite part of Day Two was the stretch across the flat plains. You wouldn't have expected it all, more so because it lay right after a very steep climb. You're standing at the base and all that you see, as you throw your neck back, is boulders-nastily angled. You ask the guide where the track is(twice) and he finds your questions amusing. The climb drains you and you're panting hard, you're sweating and as you haul yourself across the last tiny bit of the stretch you realise it was worth it. Lush green plains! You are mighty relieved! You haven't seen land so flat in the past two days! You wonder if you can talk Sushant into camping here but before you can actually he orders everyone to start walking again.
Everyone started walking - I didn't.
I confess. If this trek was an exam, I passed only because I cheated. I was on a mule for the rest of the journey. I think it is cheating(and I am not proud of it either). I nursed my ego by telling myself that since I hadn't cheated in any exam I ever wrote it was okay to cheat here. (I know it's a screwed logic, but..ya know).
The mule was officially christened Audi by Ankit. The ride was an experience. Embarrassing and disgusting(when the mule infront of Audi would pause to poop-apparently mules do that a lot.), but a legitimate experience.
After lunch we made quick progress and on Audi I was quite ahead of others. When we were an hour away from our destination, the sky clouded.
"It's snowing", the guide announced.
Where?! Where?! Where?!
I turned my head around wildly. The first snowfall of my life! I expected it to be dramatic-like when it rains, with thunders and all. But snowfall isn't like rainfall. What you see is air around you being filled by some really teeny weeny white particles-like very fine white dust in the air. But in few minutes, you see there are millions and millions of them floating merrily in the air. They settle on your cap, on your gloves. They stick to your eyelashes and you try to catch them on your tongue. And only when your sleeves are covered with a white powdery substance are you convinced that indeed it was your first snowfall!
I got another high when I finally set my eyes on our destination. Har Ki Doon was here! An enormous valley in the midst of enormous mountains. The view was stunning. The brown lifeless hills had given way to white ones. The sheer size of the valley was mind blowing. To realise that we were the only human beings for many, many miles before us...was a humbling. At Seema I had said-there is nothing here. I don't know how to describe the nothing of Har Ki Doon valley. There was so much of space and so much of time that it would be really easy to lose track of both.
Our guest house was located atop a rather flat place. It comprised three structures-kitchen, main house for sleeping and an office space. I got down from Audi and walked a few paces towards the edge of the flat place. A few more steps down and I would have been walking in the cradle of the river valley. I didn't. I was scared but not of slipping and getting hurt.
I was scared of walking down the valley and getting lost-getting lost in the timeless beauty. Having lived in a city for all my life, the quiet of Har Ki Doon had a calming effect on me. I could have spent hours staring at the valley-the trees, the twisted tracks of mud, smoothened rocks. The guide told me it was a British who discovered this valley. I wonder what drove him to this edge of the world. How intense the spirit of adventure would have been in him to make him walk for so long, to bring him here...so far away from any civilization.
Two mountain chains wound around the valley. From where I stood I could only see for a few kilometres. The mountains turned west, out of sight. There would be a world beyond that turn I thought. A world as beautiful as this one... existing, flourishing... waiting to be discovered. I can only imagine...
---
About Author
Name : Aditi Vijayan
Aditi is a member of the species Homo Sapien who likes to trek but likes it more to blog about it afterwards. Apart from trekking and blogging, she enjoys Coldplay, hot coffees, Chinese food and good jokes which make her laugh aloud.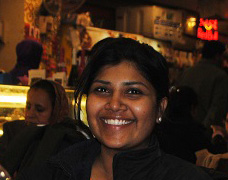 ---
Check Our Top Winter Treks
Chadar Trek
Kuari Pass Trek
Brahma Tal Trek
Kedarkantha Trek
Nag Tibba Trek
---
---