---
Itinerary
Day 1: Drive from Manali to Jobra & Trek to Chika
Report at Manali bus stand at 9 AM. After freshening up & breakfast in Manali, board Taxi for Jobra. The trek initiates from Allain Guhugal Hydel Project site. Get down from the vehicle at the project site & across the main road. Take the narrow trail that leads to the forest of pine trees. A variety of trees like maple, deodar, toss and oak can also be spotted on this trail. The sight is very refreshing. The gradient of today's trail is easy and ideal for a first day hike. Twenty minutes into the trek, you will reach a clearing from where the view opens up. This spot overlooks the lush green meadow strewed with small rocks with Rani Nallah flowing in centre of valley closed from two sides. Cross the Rani Nallah by the wooden bridge & from here trail is on the true right of Rani nallah. You can spot the horses grazing in this meadow which make a perfect setting for some beautiful photographs. Chika camp site is a huge, flat & spacious green patch. With Rani Nallah flowing by the side makes it a perfect spot for setting up the tents.
Day 2: Trek from Chika to Balu-Ka-Gera
Today's trek is pretty thrilling with a couple of water crossings on the way. The trail stays on the true right of the river for most part of the day. The initial climb is through boulders .Walk along the Rani river into a valley dotted with tiny multi-coloured flowers which can give a tough competition to Valley of flowers in the post monsoon months. The green trail turn brown & rock strewed as we near Balu Ka Gera. Balu ka gera is the point from where the steep climb to Hampta pass begins. It is a level ground made up of the sand and dust brought down by the river. In the vicinity is a huge pool of water made from the glacial melts. The site is windy which make the temperature feel even lower than actual. Pitch your tents and camp at Balu Ka Gera, 11,000 feet above sea level.
Day 3: Trek from Balu-Ka-Gera to Sheagoru via Hampta Pass
Start very early to have the advantage of time. This pass is one of the nasty one & weather can be very unpredictable. The trek begins by encircling the pool of water to enter the partially dried up glacial river bed. The climb is strenuous all the way upto Hampta pass. Walk at steady pace with few breaks. The pass is not easily identifiable so ask your guide about it. As you cross the pass you enter the Lahaul region & change in the scenery is very contrasting. The trail is completely downhill from the Pass. This trail is steep & not clearly identifiable. Be extra careful while descending. After some walking you will be able to spot the campsite of Shea Goru far in the distance in the direction of river flow. The last km to the site is mostly flat. Shea Goru in local means "Cold Street". It is indeed very cold here owing to the winds. Camp & overnight stay in Shea Goru.
Day 4: Trek from Sheagoru to Chatru, Drive to Chandratal ( If weather permits ) & Return to Chattru, Camp in Chhatru.
Break camps early in the morning. Trek begins with the crossing of river which is flowing by the campsite. Now crossing this river is one hell of an experience in itself. Lets keep it as a surprize for the trek. Almost half of the trek is easy & full of descent. After descending you will see the large valley of river Chandra. Reach Chhatru which is the road head. From Chatru ,board taxi for a road journey to Chandratal. Reach Chandratal by late afternoon. After spending some time at Chandratal return to Chhatru by the evening. Camp in Chhatru .Please note that the road to chandratal is closed at times due to landslides or snow. In case the road is found closed the Chandrataal drive will not be done.
Day 5: Drive from Chattru to Manali . Drop in Manali by 4 PM Approx.
We break camps early to avoid traffic jam at Rohtang Pass. After breakfast start road journey for Manali over rohtang Pass. Reach Manali by 5 PM Approx.
---
Trek Video
---
Trek FAQs
All you need to know about Hampta Pass
Why Bikat
Learning Experience:

We do not just focus on completing the trek but

also help you develop basic trekking knowledge & skills like:

Morning Yoga & Evening stretching

Packing a rucksack

How to pitch and dismantle a camping tent and properly use a sleeping bag

Ascend and Descend on a mountain trail

How to ensure camp safety and hygiene

Includes

camping near Chandratal
Loyalty Program

s: Join Bikat community and enjoy benefits of our vouchers and referral programs.

Personalized attention

: We have small batch size (max. 15) and we maintain a healthy ratio of 8:1 (Participants: Leader) on all our batches to enable individual focus and monitoring.

Best Expedition Leaders:

Our leaders are advanced mountaineering course qualified, specially trained in rescue procedures from NIM and certified first-aid responders. Even our local guides are certified, first-aid responders.

Safety norms

: We have mapped every region with an emergency evacuation plan and safety protocols maintaining a zero accident record so far. We focus on acclimatization We carry an extensive first-aid kit including oxygen cylinders and high altitude medicines.

Safety equipment

: Our trek leaders carry UIAA certified rescue equipment like static rope, ice axe, harness, carabiners, jumar, pulley, short and long slings.
Is this trek good for me?
Hampta Pass is a moderate level trek i.e. it requires more strength and endurance than easy level treks. It is recommended that you first gain an experience of trekking to altitudes higher than 3000 meters, and then move one level up with this trek. However, if you are a beginner but committed to preparing well, then you need at least 2-3 months to prepare physically & mentally for this trek. For details on trek difficulty level, please read on Bikat Rating Scale
Experience required
Should have done a small trek of 3-5 days before

Hiked to an altitude of more than 3000 meters
Requisite Skills
Know campsite basics like how to use a sleeping bag, sleeping tet, toilet tent

Ascending & Descending technique for mountain trails

Basic mountain mannerisms
What to Pack
Here is your checklist for this trek. Make sure you pack all these items for a comfortable trekking experience.
Trekking Gear

A rucksack with rain cover
A water bottle or a hydration pack
A Hand/Head Torch with spare batteries
UV protection Sunglasses
A trekking pole - optional
Clothing:

Since it is a high altitude trek, at least 3 layers of clothing is mandatory. A full sleeve shirt, a fleece jacket, and a padded jacket are imperative. An additional layer (Thermal bodywarmers) for the evenings in the high altitude campsites are strongly recommended.

Quick Dry Warm lower or Track Pants - 2

Full sleeves T-shirts - 2

Thermal Bodywarmer Upper & Lower - 1

Fleece Jacket - 1

Padded Jacket -1 (Goose down or feather is preferable)

Full sleeves sweater - 1 (Needed if you feel cold at high altitudes despite 4

layers)

Rainwear (Jacket & Pants) - 1

Thick woolen socks - 2 pairs

Cotton socks - at least 2-3 pairs

Undergarments - 1 for every day of trekking

Pair of Warm G
Footwear

Non-skid deep trod hiking shoes with high ankle protection -1 pair
Pair of lightweight Slipper/Sandals - 1 pair
Sunscreen lotion, lip balm, toothbrush, toothpaste, hand sanitizer, toilet roll, cold cream, small towel.
Anti-fungal cream: Carry an antifungal cream if you are sensitive to sweating and prone to skin irritations around genitals or groin area due to lack of bathing.
For women:

Tampons or sanitary napkins
2-3 zip pouches to dispose off non-biodegradable waste
Vaginal wash to avoid any irritation due to lack of bathing.
Utensils

A small size, lightweight, leak-proof lunchbox - preferably aluminium
A plate and a spoon
A mug - preferably aluminum
Camera (optional)
Personal medicine kit. Though our trek leaders carry a fully equipped first-aid kit, make sure you consult your doctor before the trek in case you have any special ailment.
Epi-Pen - If you are allergic to a common ingredient and have a history of reaction, then please inform us. Carrying an EpiPen helps in case of any accidental intakes.
Dry fruits, energy bars
How to Reach
The base site for Hampta Pass Trek is Jobra. The trek begins from Allain Ghugal Hydel Project Site. Jobra is one & a half hour drive away from Manali (20 Kms)
Manali is well connected to Delhi with through road and air. There are no direct trains from Delhi though.
By Road
The road distance from Delhi to Manali is 536 km. There are overnight HPRTC buses and Volvos available from ISBT Kashmere Gate, Delhi for Manali. It is a 14-hour journey by bus. You can book your bus tickets online through hrtchp.com or any other bus services available. You can also hire a private taxi or an outstation cab from Delhi.
By Rail
To reach by train, take a direct train from Delhi to Pathankot. Some of the trains that run on this route are Delhi-Pathankot Express, Jammu Tawi Express, Delhi-Dhauladhar Express. You can then take a bus from Pathankot to Manali. Or you can take a connecting train from Pathankot to Joginder Nagar which is the nearest station to Manali. There are buses running frequently between Joginder Nagar and Manali.
By Air
The nearest airport is Bhuntar airport which is located 50 km from Manali. There are taxis available at the airport which will take you to Manali. You can also take local buses that keep running from Bhuntar to Manali at a regular frequency. Buses are decent and very cheap compared to a taxi that can cost you around INR 2000 to 2500 depending upon the season.
Nearby attraction
Manali is the gateway to Solang Valley where you can participate in adventure activities like paragliding, and zorbing in the summer months when the snow melts. Visit the ancient Hadimba Devi Temple which has an interesting mythological tale associated with it. Walk through the charming lanes of Old Manali. Visit the bazaar to buy some souvenirs. Jogini Fall and Vashisht Temple are other famous attractions in Manali. You can also visit Rohtang pass while you are in Manali.
Trek Blog
Last few steps to the Hampta Pass & beyond there is Barren Beauty & Chandratal!
We arrived at Dehradun early in the morning. Deciding to eat light for the hilly journey ahead, we had a cup of chai and biscuits and hired cabs to take our group from the town of Dehradun to the starting point of our trek- Dhaula. During the eight hour journey on the hills, we enjoyed the picturesque views Uttarakhand had to offer, stopping to grab some lunch on the way. We entered the Govind Pashu Vihar National Park and Sanctuary and proceeded to Dhaula late in the evening, where we camped for the night next to the lovely Rupin river. The noise of the gushing river water had a surprisingly calming influence and the moon light gave us a glimpse of all that nature was going to offer us on this trek. We retired early for the night taking a long night's sleep to prepare us for the first day of the trek ahead of us.
---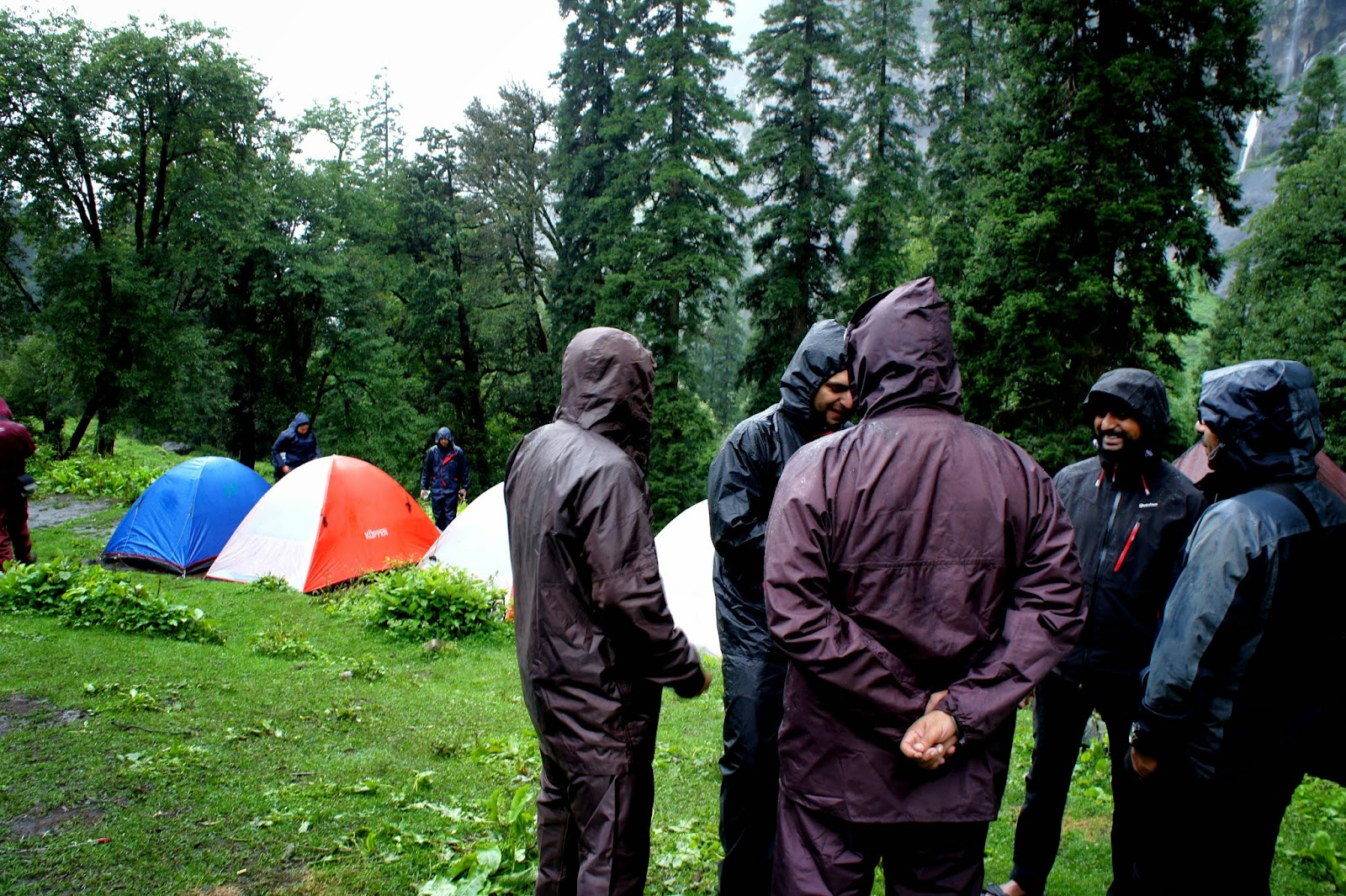 Day 1 : Balu ka Ghera : We started at 08:00 AM sharp from Jobri nala. The trek is pretty straight forward, just walk along the nala on the right bank towards north. After 1 hour of walk we reached a small wooden bridge and within an hour from the bridge we were at Chikka which was supposed to be our camping site for yesterday had we not been sitting in that bus for extra 10 hours. Chikka is a beautiful camping site with large camping ground with a large waterfall towards the west of it, towards north-east you can see snow covered mountains which makes you believe that it is the Hampta Pass but it is not. We stopped for a small break at Chikka may be around ½ hr. We started from Chikka at 10:30. The trails takes a turn to south-east from north after 30 minutes of walk. There is a steep climb after Chikka till you reach the river crossing after around 2 hours of trek. It was bright and sunny and the valley looked so amazing, you could actually see the sun reflecting from the raindrops on the grass. Only down side is the 2 hours of relentless climb and you are always gasping for breath instead of enjoying the beauty of the valley. We reached the river crossing around 12:45 PM and the last member arrived at 2:45 PM. Steep climbs separates the experienced trekkers from novices like wheat is separated from chaff. Its not that the new trekkers lack stamina, its the technique. Whenever you face steep climbs keep walk slow down doesn't matter but keep on walking, focus on the next step instead of looking at the highest point and cursing yourself why you signed up for this. We crossed the river by holding each other's hand (human chain they call it), water was pretty cold and knee high. We had our lunch there at around 3:15. After the crossing the valley opens up and you can see couples of miles up the valley. After 1 hour of almost flat walk there is again as steep climb of around 45 minutes to reach Balu ka Ghera. Balu ka Ghera got its name from the river sand that Hampta Nala brings along with it. Hampta Nala breaks into 4-5 smaller streams at this place and you actually camp on this sand. Elevation is 11000 ft and scenery is again amazing.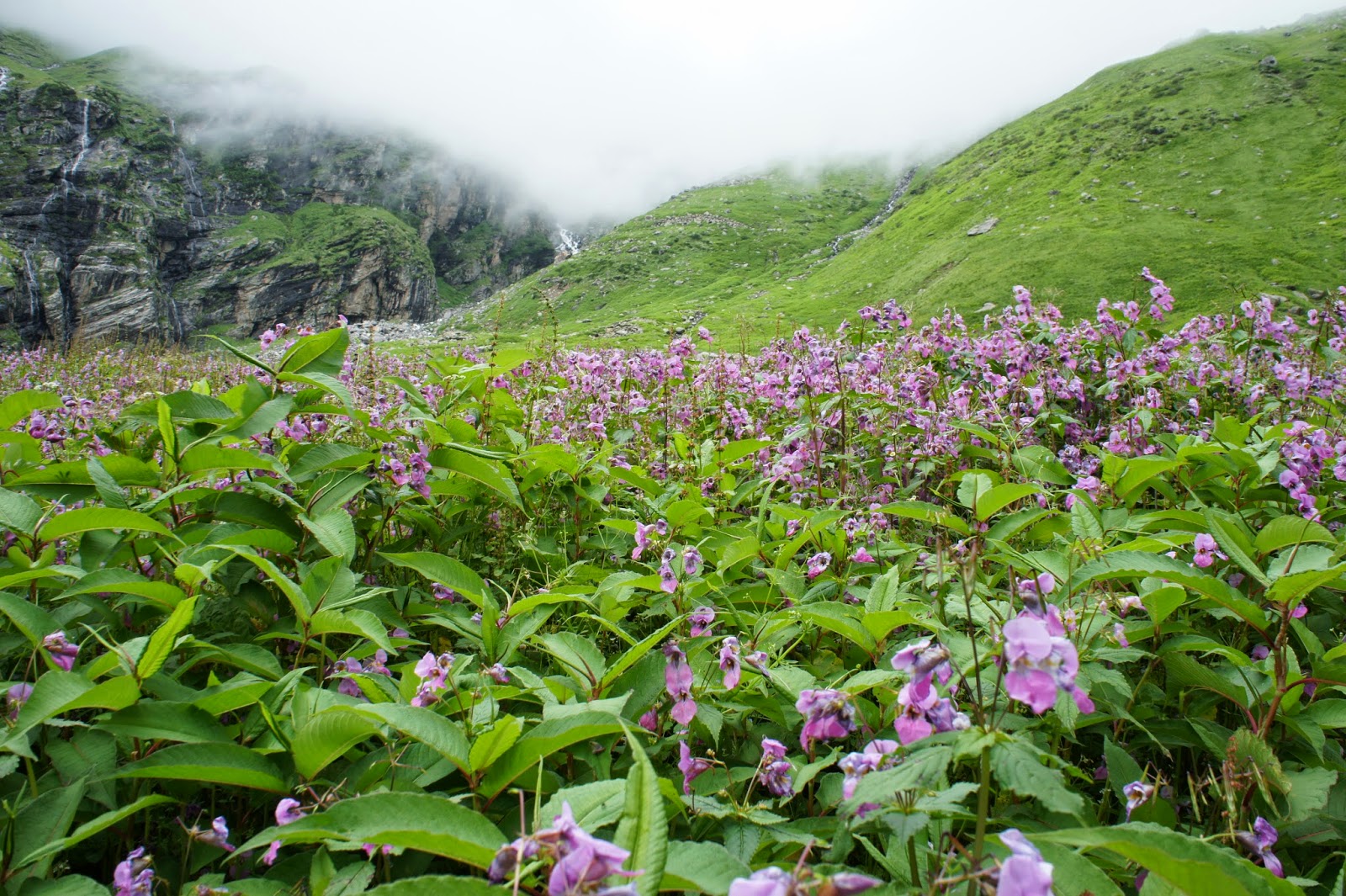 Day 2 : Hampta Pass : Today we started at 08:30 AM and after an hour of mild ascent we reached second Balu ka Ghera, it is also a beautiful camping site, so if you camp on Chikka on your first day this is the actual camping site you should target. From here there is a continuous steep climb till the pass. Terrain is rocky and climb is difficult. After an hour of climb from the second Balu Ka Ghera you hit the snow but the climb is easier than on the rocks. It takes around 1-2 hours to negotiate these glaciers. First of our batch reached the top at around 12:00 and the last at around 3:00. As far as pass is concerned the view is not that great as the view is blocked by mountains on all the sides. But there is majestic Indra-aasan and Deo Tibba towards the south. Also you can see the natural rock formation which looks like a castle known as Indra-Quila towards north from the pass. Once you cross the pass entire trek is north east till Sha-Guru the next camping site. The decent is pretty steep and it took some members of our group around 4-5 hours to reach Sha-Guru, but a good trekker can reach Sha-Guru in about 2 hours once pass is crossed. Sha-Guru is a river bed, lush green and with some of the most amazing views. We were in Spiti, though it was barren and rock but it has its own charm.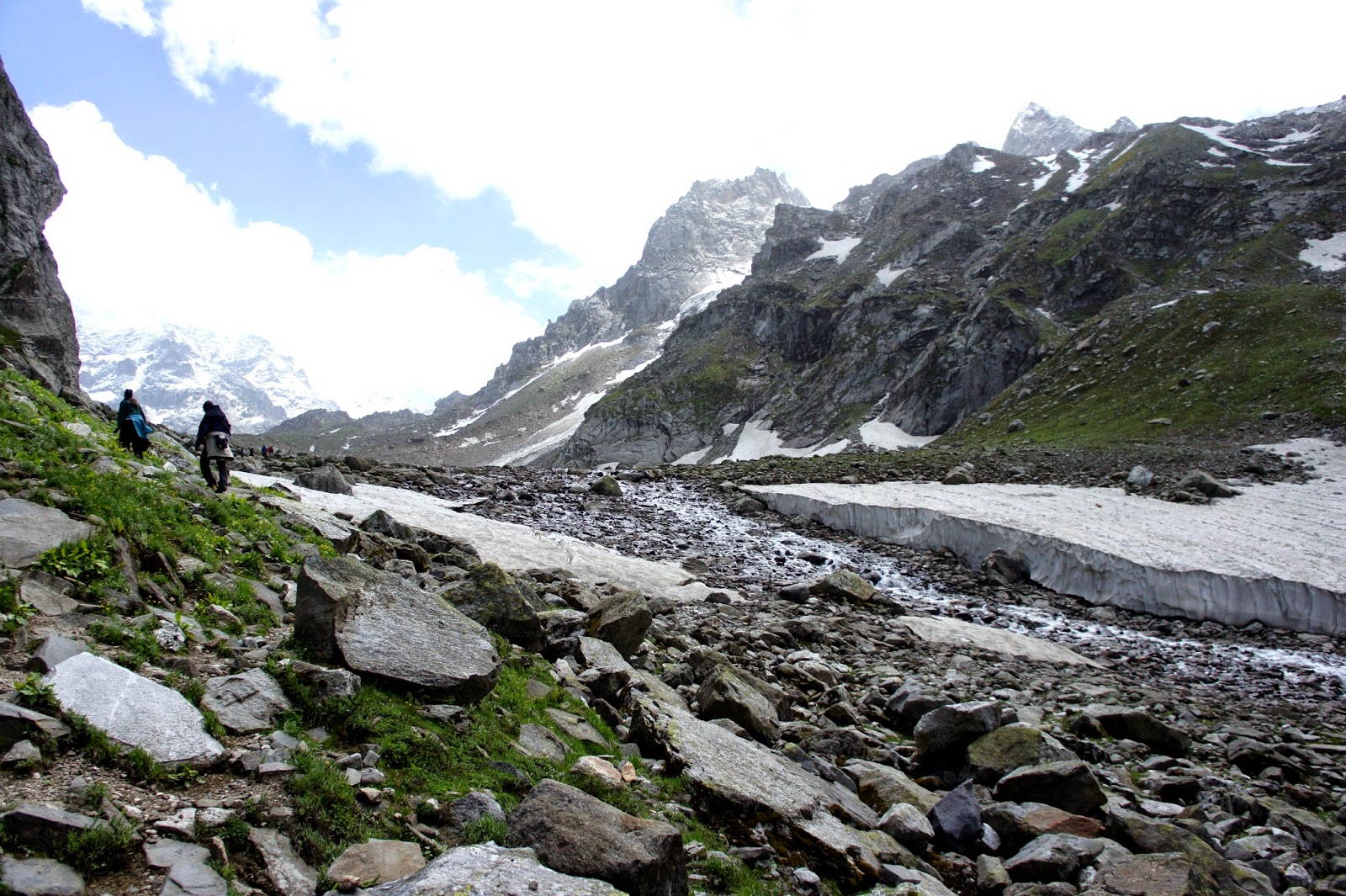 Day 3: Chattru- Chandertaal. : We started at 08:30 from Sha-Guru. Today we were supposed to get down to Chattru and from there to Chandra-Taal. It is mild descent till Chattru in the valley, we crossed the river and took a right flank of the river. After about an 1 and ½ of walk the trail descents sharply to the bed of Chandra River. Once you are at the river bed there is another hour of trek till Chattru. Entire trail is on the left bank of Chandra River. Today was the day of photography. Couple of guys in the group had those heavy DSLRs and along with those big lenses and they could not take those out as all those climbs sucked all their energy but today it was much more relaxed and everybody was a photographer today. Moreover Spiti is photographer's paradise. First of the batch reached Chattru aroud 12:00 and the last reached at around 2:00. Our taxis were waiting, after having something at the Dhaba in Chattru we started off to Chanrataal. It was a two-three hour drive from Chattru to Chandrataal. We took a small stop at Batal, here there are couple of Dhabas and a satellite phone. Entire road is non-metalled/gravel/jeepable whatever you call it and one vehicle can pass at a time. We reached our camping site which is 15 minutes before Chanrataal. We dumped our camping equipment there and started off to lake, didn't want to miss the sun-set there. After 15 minutes of drive we reached the base of Chandrataal. There is a 10 minute walk from here till the shore of the lake. Blue water of Chandrataal (13000 ft) looked spectacular under the backdrop of those brown mountains. It took our breath away. There couldn't be a better culmination of a 3-days (which was supposed to be 4 days) arduous trek at those dizzying heights. After a group photo, I took a walk around the circumference of the lake, it took us 2 hours but was a heavenly experience. We reached our camps at around 09:00 in the night and by this time winds had died down but it was cold as hell. Although you can hire a cab directly from Manali to Chandrataal but the way we did, took all the pain and sweat to reach there, it was lot sweeter than had we chosen the earlier option.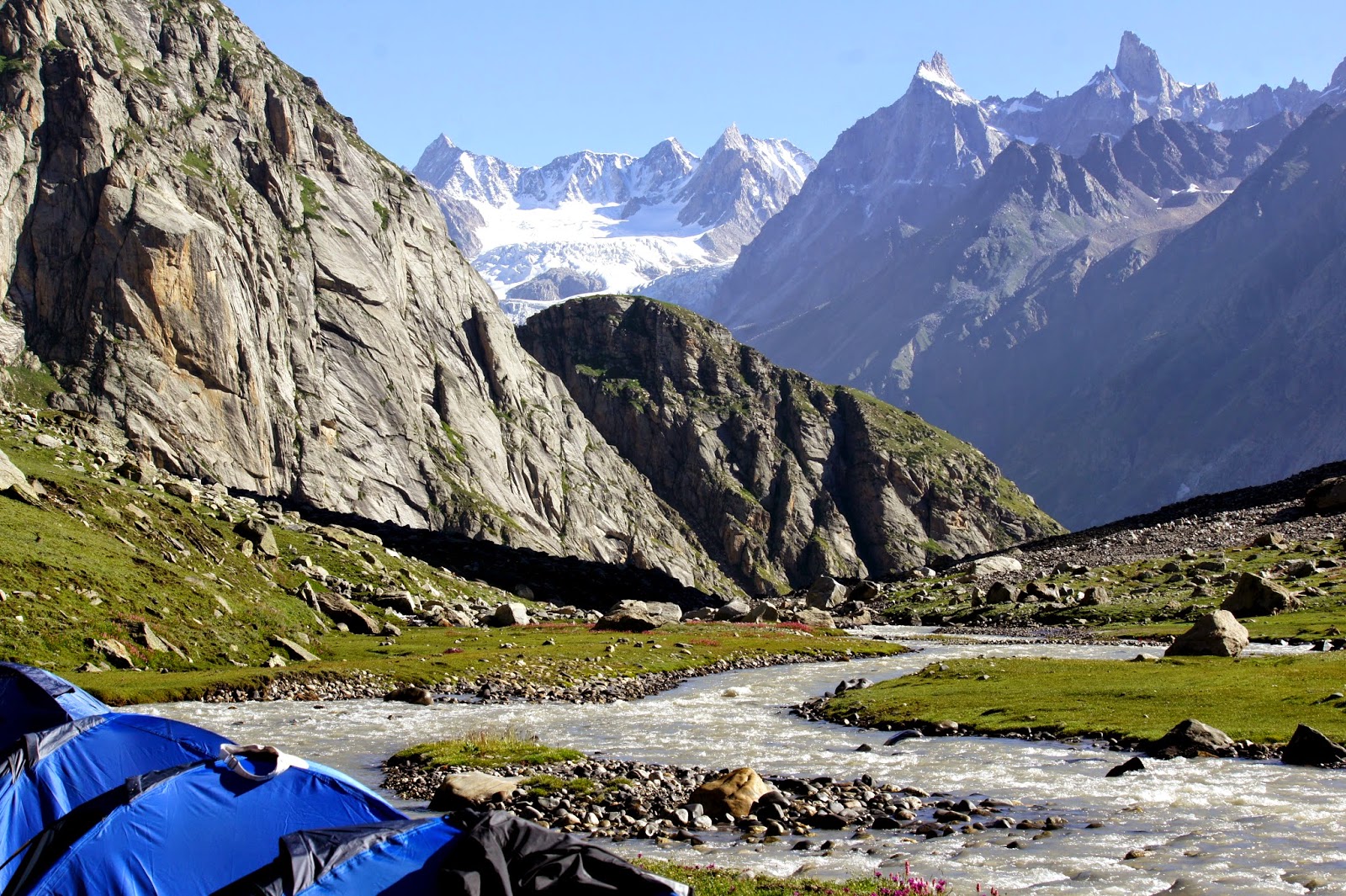 Day 4: Now came the last and final day when everybody was planning to go home and join their respective offices next day. Day started with a bang, one of our vehicles broke down in the morning and it took us 02 hours to get it working. I wasn't bothered as I knew we had time in hand. Finally we started at 10:00 AM from our camping site and reached Batal around 10:45 AM. Everything was looking great, scenery was amazing with Chandra flowing along the road and you could easily think that you are on your way to Leh. But fate took turn for worse, when we were 15 kms from Chattru at 01:00 PM one of our vehicle got punctured and it took us another 30 mins to start again. We had hardly covered 2 kms we saw a truck parked in the middle of the road. We honked and hoped for the truck driver to respond but nothing happened. After waiting for 15 minutes we got down to have a look. As we reached the truck we saw key still inside and driver nowhere in-sight. Keys inside the vehicle and no sign of the driver its is unbelievable on the plains but in mountains you can believe it. You leave a thing on the road and you can pick it up the next day. We walked 100 mts further down the road and saw a truck has broken down and the truck in the middle of the road was giving cover fire to that truck. We enquired about the condition of the vehicle and came to know that it's not gonna be mobile as axel is broken. In circumstances like this you take a chill pill and wait for this to happen. Its quite natural in mountains to wait for things to happen as nature has it there not humans. But we decided to take up this challenge and build a road around that truck so that our vehicles could pass. It took us another 2 hours to build that small patch and we started again at around 3:30 from there. Everybody thought its gonna be an easy day, we will reach Manali sleeping in the taxi. But in the mountains you don't decide anything but mountains themselves decided everything, probably that's why people in hills are so calm and have a laid back attitude. We finally reached Manali at around 07:00 PM. At the end of everyday on a trek you feel a sense of accomplishment after completing the day's trek. On that day there was no target for the day and we were just supposed to relax sitting on our arses but nature gave us our target for the day, there is a patch of road in Spiti which we built together and all of us were so proud of it.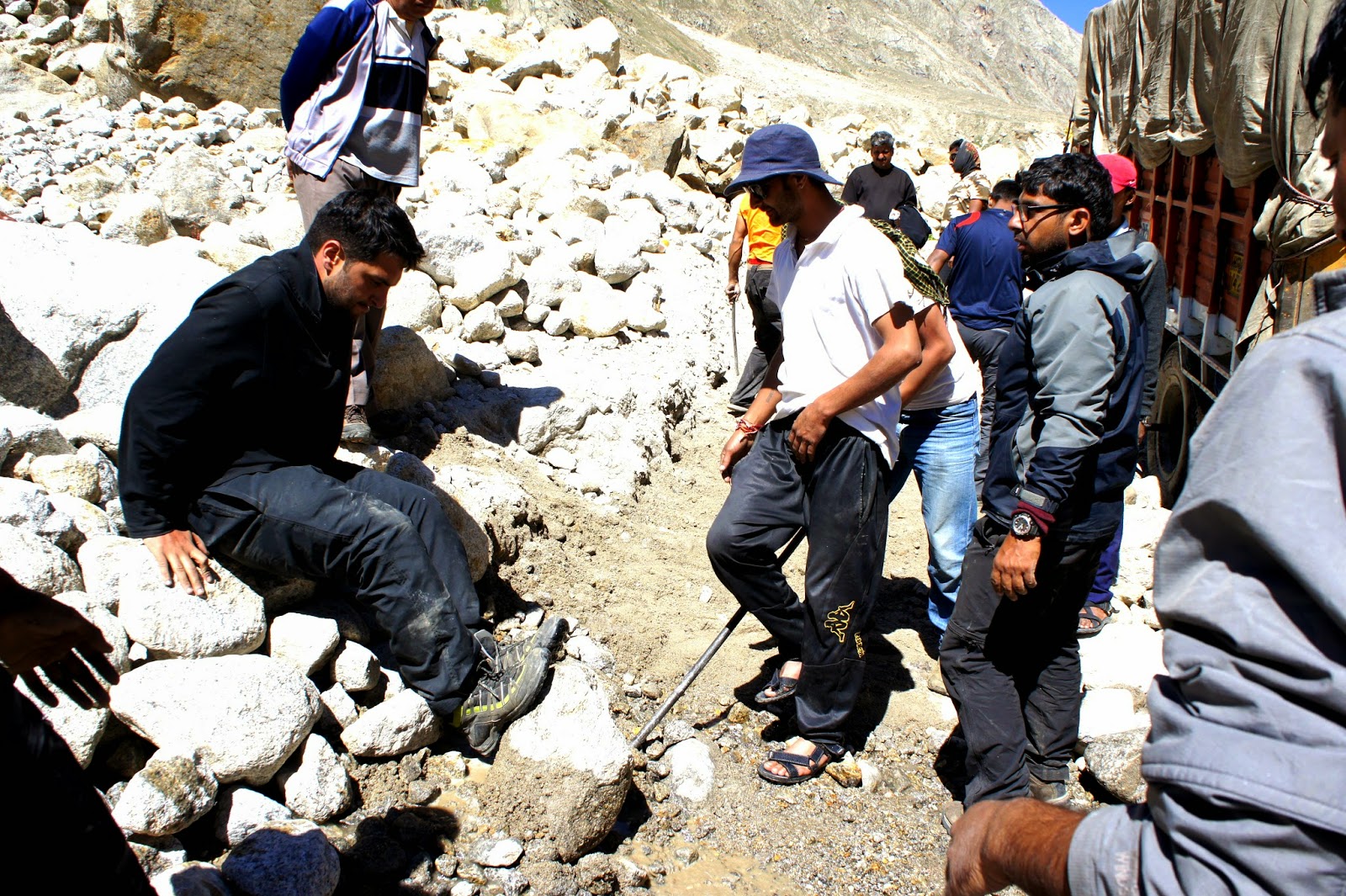 Suggested Reading
Solitude ki maa ki aankh - hampta pass trek
List Of Essential Items For Trekking
How You Can Prepare Yourself For A Hiking Trip
5 Surprises You Should Expect On A Trek
How To Select A Rucksack
---
---