---
Itinerary
Day 01: Arrive in Barsu (7450 ft)


Arrive in Barsu by late afternoon. Stay will be in Guest House on Sharing basis. In the evening enjoy the view of Mighty Himalayan Peaks from the Pond in Barsu.
Day 02: Barsu - Dayara Bugyal (11,600 ft)


After breakfast start trek to Dayara Bugyal . The bugyal, spread over 28 sq kms, are grazing grounds for sheep and cattle and have a 360 degree view of the Himalayas. Reach Dayara Bugyal by afternoon. Spend rest of day exploring the meadows.
Day 03: Dayara Bugyal - Dayara Top (12300 ft) - Dayara Bugyal


The day is easy. Get up comfortably. After breakfast trek to the top point to Dayara Bugyal. In winter the trails can consist knee deep snow. It will take about 2 hours to reach the top point. Spend some time appreciating the excellent Himalayan view. Descend to the camp by afternoon.
Day 04: Dayara Bugyal - Raithal (7400 ft)


Get up early & get ready. After breakfast start descend to Raithal. The descend is easy & will take about 2-3 hours. If you have your return transport with us, our vehicle will leave for Dehradun as soon as we arrive in Raithal. The vehicle is expected to reach Dehradun in 6-7 hours time. Please keep a margin of atleat 3-4 hours while booking your return tickets from Dehradun.
---
Trek Story
Come, Find Your God ! - Dayara Bugyal Trek
Shimla ni wasna.. Kasauli ni wasna.. Barsu jaana zaroor..! The thought of owning a house in the mountains is a dream common to most people who travel in, and are in love with, the mountains. Everyone has their own reasons to choose the village where they'd like to build their little cottage, and 5 minutes into Barsu, I found mine. The cleanliness of the village, the different kinds of built up huts, the smiles on everyone's faces, the beauty around the village…I can't quite reduce what I felt when I was there into a few meager words, but hear the song 'maine ne meri' by Mohit Chauhan, and perhaps you'll get an inkling of my state of mind there. Shimla ni wasna Kasauli ni wasna Barsu jaana zaroor..
The trek itself, is full of romance, atleast according to me—nothing short of the style of a Yash Raj movie. The views that you would imagine when you think of the mountains, places in movies or books, they are all there on this trek.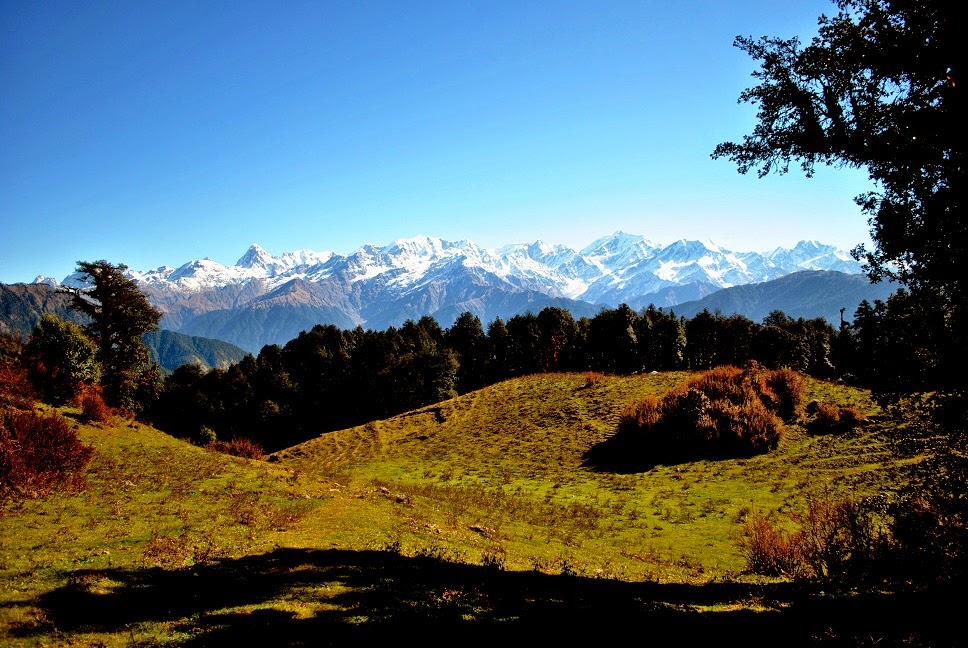 The minute you start from Barsu, the beauty of the trail starts to roll into your very being, and by the point you reach the first camp sight your heart is actually heavy with the beauty you have witnessed along the path you have just finished walking. You are simply awed and overwhelmed by the immenseness of it, and by the sheer insignificance of your little self in this most beauteous world created by God. You first reach a place with a small stream flowing and you think it's the perfect reading spot. Ten minutes ahead you find yourself walking on a bed of dried maple leaves for a while; a further ten minutes on, and you will be standing in a sun-kissed grove of trees with the sunlight coming filtering in, right on your face, and you just want to lie down, right there and drink/soak it all in. If that is not enough to pack your bags and prepare for this trek, you will come upon fallen walnuts strewn in your path as you wind your way through the trail. A happy looking dog comes from nowhere and starts to accompany you and walks with you till the very end of the trek, without ever disturbing you.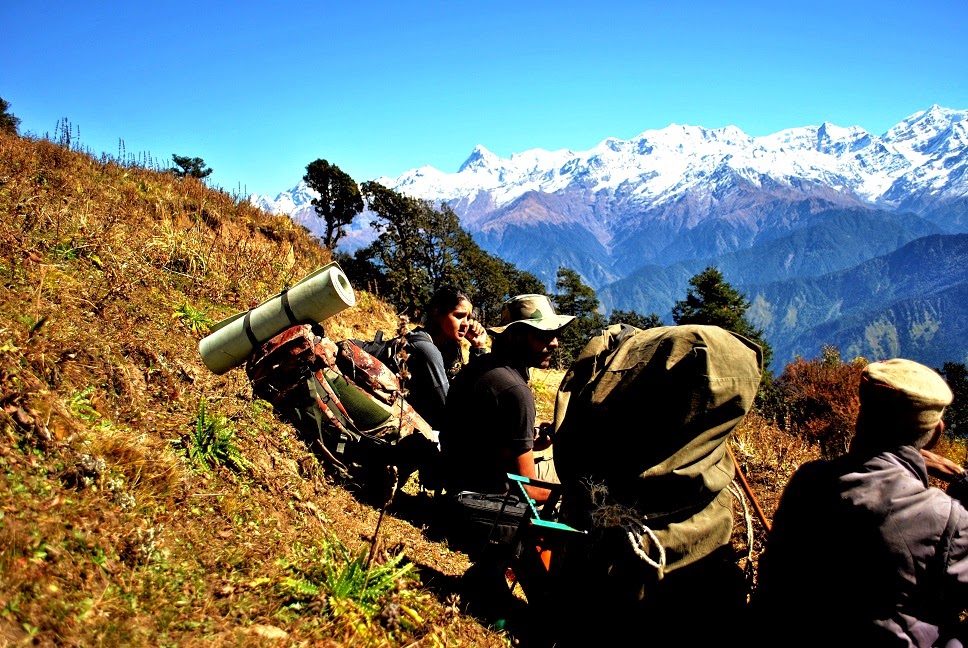 As the night falls and starry starry night is playing in your head, and you set up camp for the night, one of the traditions of the treks—the bonfire—warms your bone-weary body that has been loaded with your bags and your brave feet which have brought you this far to witness the power of this starry starry night. Conversations at this time usually start with teasing one another about the journey so far, followed by the fairly obvious discussions on the pathetic state of Indian politics and the apathy of the government. Our indignation at this sorry state of affairs then brings out the Gandhi in all of us, lamenting how no one is doing anything for the villages we have just crossed, how these people have so many problems. Some of us have practical solutions to actually help the villagers and we really want to do something to make things better for them, but sometimes, when I sit at the bonfire with all these fiery suggestions flying back and forth, I think how can I, without even spending time with the people, decide what is best for them, when in the cities where we live we don't even bother with the litter/nuisance around. The irony is we go to the mountains to escape from our daily lives full of complications, but find the same sort of complications, only in a different context, here in the mountains as well. Being passionate about these social issues, give us a high when we debate about them, but I wonder, how many of us will actually take the plunge to work for these people? The conversation keeps flowing along with food and drinks, and I let my mind wander.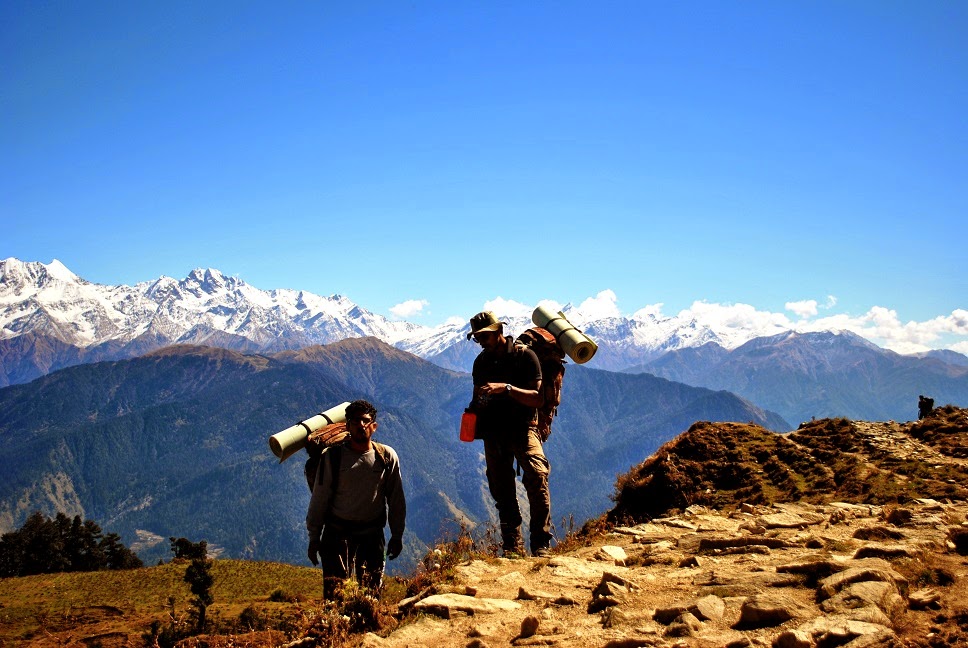 On this trek, we had Mr Gajender with us (our guide, who was maybe around 60 plus) whose talks will always make me want to be more humble in my life and the conversations with him in the 3 days that I spent with him, will always will be something that I will treasure for a lifetime. (It always makes me think how easily you end up having conversations with these people who are possibly our parents' or grandparents' ages, and discuss everything under the sun with them, when back home, we struggle to exchange even two words with our own parents/grandparents) Do this trek, if for nothing else, than to meet this humble soul. Another person you will meet is Mr. Bachan who, with his passion for trekking will really make you want to have a passion for something in life, and how to work towards it honestly. I have immense respect for him. I can write a chapter on both Mr Gajender and Bachan and the things they taught me in the times we were together.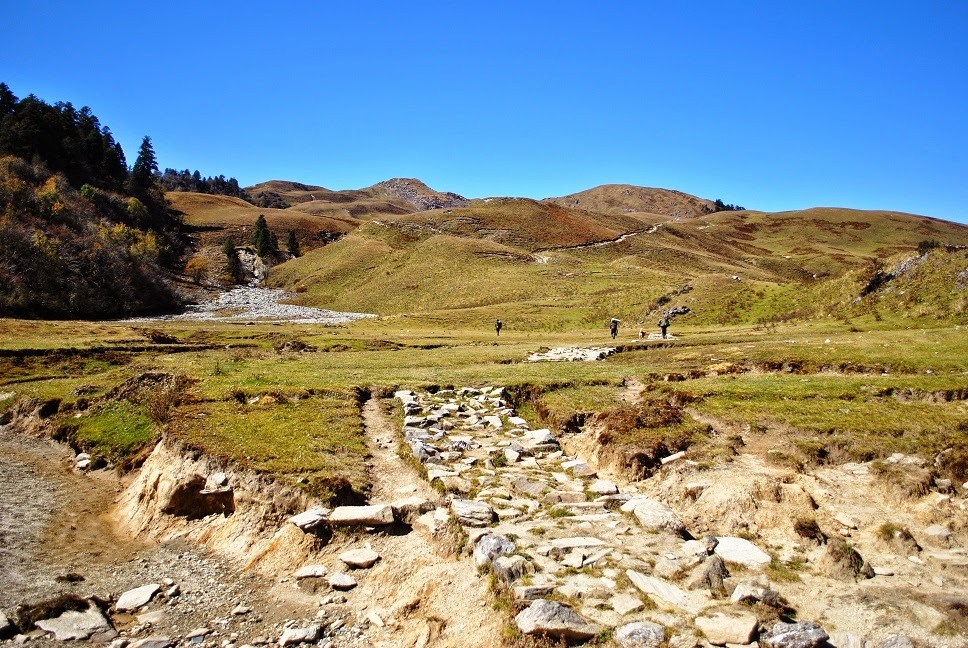 Waking up to the sunrise in the mountains is one of the reasons I do trekking for; before sleeping I feel like a child who is excited about the next morning when I will receive gifts for Diwali. To watch the sun rays ascend slowly on the snow covered mountains in front of you makes you feel grateful to God that he has given you eyes to witness something so breathtaking. It takes time for the sunlight to spread all over, but those 30-40 minutes are mesmerizing. The next morning romantic trails are gone and you find only meadows and meadows till where you can see. Just greenery around you with snow covered mountains around, and with the clouds so close that you feel you can just walk 500 metres and touch them. Trust me you wont feel tired one bit as the beauty of meadows would have taken over you. You keep talking along the way with your fellow-travellers and it is amazing how things going on in your head (there is something always going on in our screwed-up brains) become insignificant while witnessing the beauty around you. You end up having/ sharing the most intensely private things about your life with these people, and you learn to value people/ relationships more. When you want to take a break, eat your packed lunch (food served to you in the mountains always seems tastier and you definitely enjoy it more than your lunches/dinners in the restaurants in the city).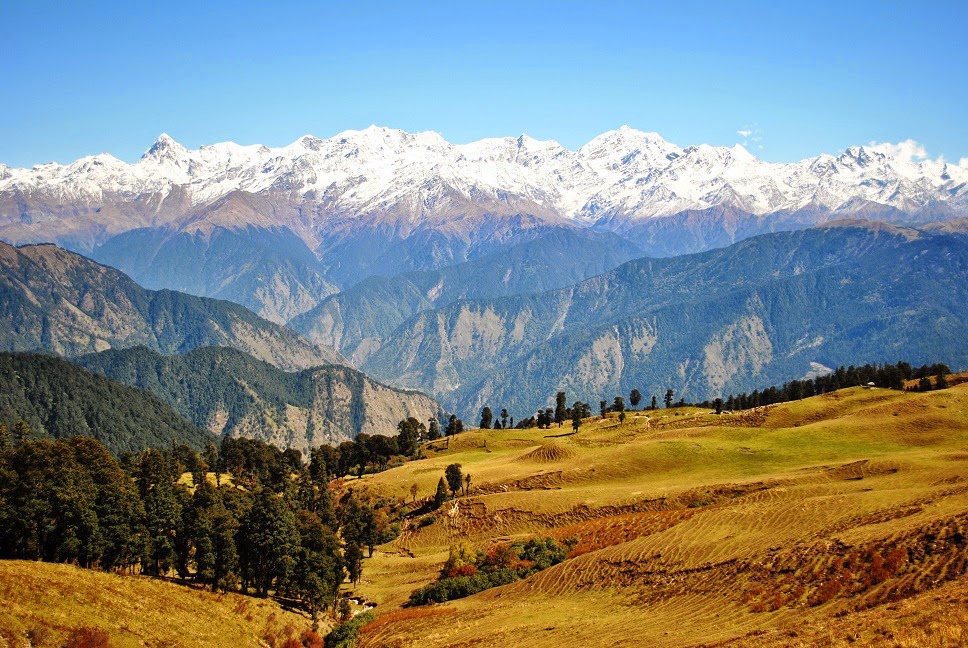 Don't ever worry about the difficulty levels, about how you are going to walk and manage and all of that. The only thing you need to take with you is the mind-set that yes, you want to be standing at a height of 10,000-14000 ft and feeling awesome about having reached there, and yes you will get there with a lot of hard work and pain because walking in the mountains is not easy, the altitude irritates you, your own physical level puts you to shame, you laugh at yourself that why did I put myself through this. But once you have completed the trek, and you look behind at the big mountains that you have crossed you feel you are not a quitter and that gives you the confidence, the value of which you will realize once you are dealing with your daily life. Trekking is more about yourself than just the views which are very different from just travelling because you are testing yourself, struggling against the pain, weather, you're out of your comfort zone, but it also teaches you to have strong will power, to be strong, calm against the unpredictable nature, motivating your fellow travelers. It is a high and trust me you actually cherish the hangover.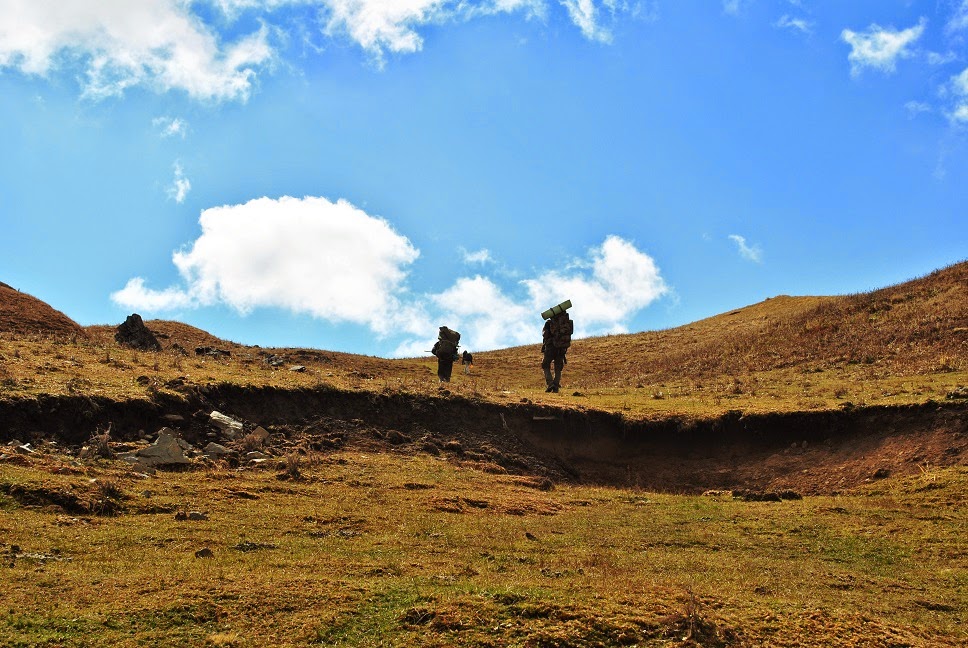 I've often heard it said that prayer and meditation in a temple/mosque/church is when you feel the closest to God, but I find, that for me, God is in the mountains. I go to the mountains to stand witness to, and be a part of, God's might. I stand witness to God's grace in the beauty of the mountains, when I push my body, my mind and my soul to endure the pain I do during the trek, and in that process, I find myself. I do not know if there is a heaven beyond the veil of this world we live in, but I do know, that I find it in myself, when I am one with the mountains on a trek. So come on this trek, and come find your God.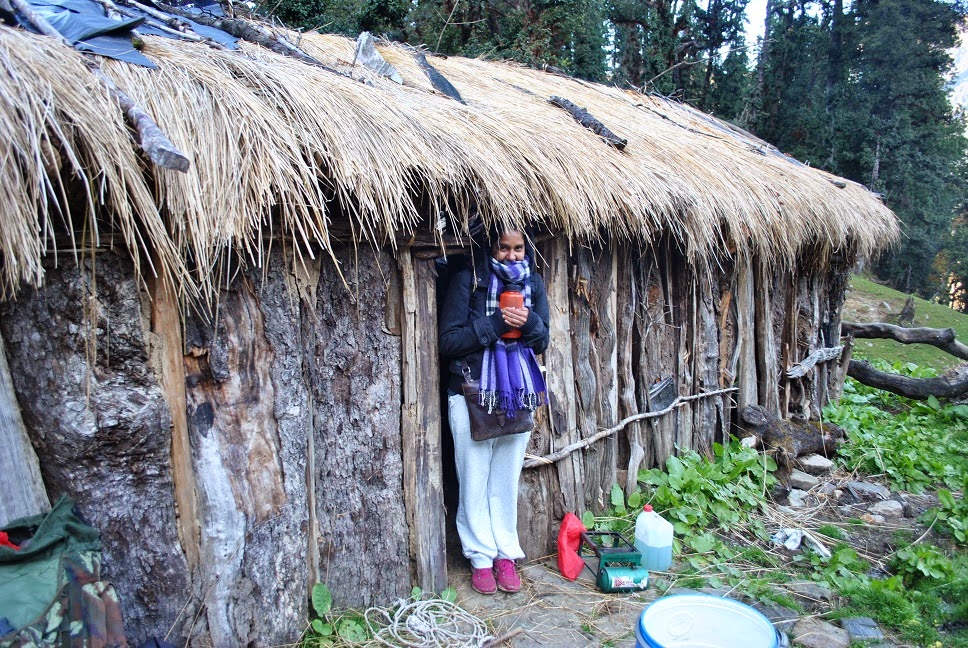 ---
---