---
Itinerary
DAY 1: Drive to Pantwari & trek to Nag Mandir Campsite (5.5 kms)
Reporting time at Dehradun bus stand is 07:00 AM . Drive to Pantwari .We will reach Pantwari ( starting point of trek) at 10 AM Approx. Freshening up & Breakfast will be in a hotel on the way to Pantwari. From Pantwari Start trekking to the base of Nag Tibba summit with packed lunch. The trek is uphill & will take 4 to 5 Hrs.We will stop enroute for lunch. After reaching the base by the late afternoon we will setup camps. Explore the surrounding area, take pictures, and have loads of fun.
DAY 2: Nag Mandir - Nag Tibba Summit & Return to Nag Mandir (5 kms)
Wake up to the sound of chirping birds in your ear. Enjoy the morning views of first light falling on the high mountain peaks all around. After Breakfast head for Nag Tibba Summit with packed lunch.From top of the summit enjoy the views of the snow clad mountain ranges of Garhwal and Himachal. You will get to see the famous Swargarohini, Bandarpoonch, Srikanth, Black peak and many more peaks from here. Spend some time enjoying the view. We have our packed lunch here. After lunch we head back to Nag Mandir by the same route.
Day 3 : Nag Mandir to Auntar (8 Kms)
We wake up early in the morning. After warm up & breakfast we head south east on the trail leading to Auntar village. The trail is mostly covered in snow. Trek through fallen tree branches with dew drops dripping from tree leaves is a scene right out of the movie "Revenant". The trail is mostly downhill with only few sections of uphill. After 2-3 hours of trek we reach a point from where we get the view of Auntar side of the valley. From here its all the way down to Auntar. We are expected to arrive in Auntar by 3-4 PM.From here we board the vehicle for Dehradun. We are expected to arrive in Dehradun by 9 PM. If you are booking your Dehradun- Delhi transport on the same night, you are advised to book it around 11 PM.
---
Nag Tibba Trek Satellite Map
---
---
---
---
---
---
---
---
---
Trek Story
Night 0 Pocket Bomb ! Nag Tibba Trek
Night 0: ISBT Kashmiri Gate – Its Friday night and most of the guys of my age must be in bars or pubs on a high enjoying their drinks and talking about the meaning of life and making adventurous plans for the future. And here is a group of 16 people trying to spot a Royal Cruiser Volvo of Uttrakhand Roadways which will take us to Dehradun, sounds boring? Wait! Don't start judging yet because coming 3 days turned out to be the most exciting times of our lives. Most of the guys were new to trekking. Everybody introduced themselves (just their names) as time didn't allow for a detailed introduction. Everybody took seats. I could not sleep for first couple of hours due to adrenaline rush. I am not new to trekking but every time I board a bus to the base point of a trek, I feel like a child who is allowed by his parents to roam in a park . In short liberated.
Day 1: We reached Dehradun at 04:30 in the morning. Sky was overcast and looking around indicated that it must have rained heavily that night. We unloaded our luggage from the bus and waited for our Tempo Traveller. In the mean time people started chatting up a little bit to each other over tea which we ordered from a Khokha nearby. But you could see that uneasiness in their conversation, only formal talks. At this point nobody could have imagined that these guys would mix up so well by the end of trek like they knew each other for years. Tempo Traveller arrived around 5:00 AM. We loaded the luggage and ourselves into the Tempo and our real journey had begun.
I don't know how but driver had an excellent selection of songs which generally is not the case with most of the bus drivers. Songs matched perfectly with the surrounding and the mood. Most of the guys slept again and we reached Nainbagh by 9:30. We stopped here briefly for breakfast and got our lunch packed which we were supposed to have during our climb uphill. We reached Pantwari at around 12:00 and after trek- brief started our uphill march. We walked through the village initially and were soon into the step-farms. There are two routes one can take, normal Kaccha road or the mule trail. While Kaccha road is easy to climb but longer mule trail has a steeper gradeint but it is shorter one. We took the mule trail after 1 km of following the road.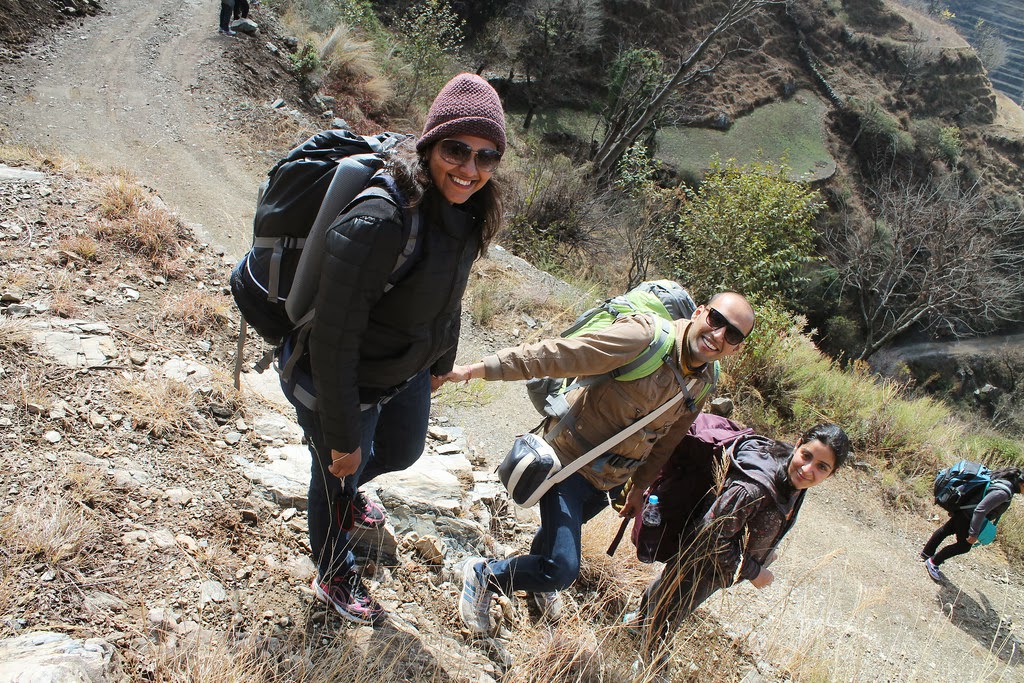 Though the entire trail was barren as snow has just melted but if you look down in the valley you could see mustard field all around as if green carpet has been laid around the villages. Mind it! Mustard wasn't yellow as in the mountains people sow mustard and wheat later than in the plains to save their produce from extreme cold. No doubt climb was steep and people started asking about the grading system of the trek (easy, moderate or difficult) but frankly speaking it comes under easy grade and 15 guys when they will read about it they will cry for my blood.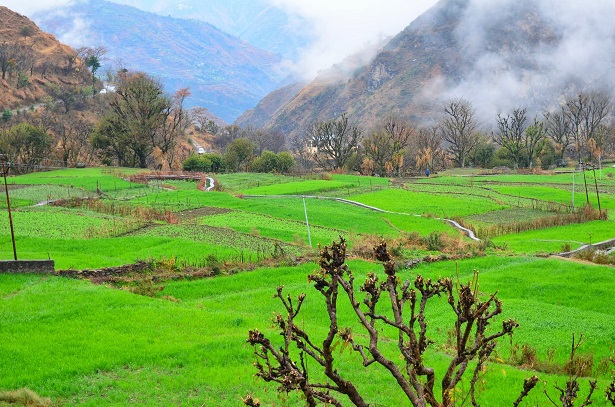 We had our lunch at around 2:00 clock when we were half way through, on the edge of the mountain. By the time we finished our lunch we were freezing as wind was howling into the valley. Although this point presented beautiful scenery with snow covered forest in front of us separated by a beautiful valley and a small village in the valley, we had to rush. We continued our march forward and the gradient had tapered off. There was a gentle climb for 1 km and at 3:00 clock we reached a point from where forest started, till this point as I mentioned earlier it was mostly barren. We took some rest here and now we could see two valleys separated by a small hill on which we had been walking till now. It's a Buransh forest and we could see beginning of flowering season, couple of red flowers. But in a month or so the entire forest will turn red.
By this time tiredness started setting in and Janta started asking about the camping site. And it doesn't matter whom you ask in mountains everybody is going to say "Bas Pahuch Gaye- Pas mein hi hai". I think everybody in mountains grow up listening to these lines and in a way it's a good tactic as it encourage you to push one last time before you are about to reach destination. At around 04:30 we reached Kathiyaani as beautiful pasture overlooking the valley in front of us and distant snow covered mountain ranges. When we reached here it was about to rain and we decided to put our camps here. First of all Kitchen tent was put up and within an hour of reaching there we were served hot pakodas and tea. I can't explain how delicious they feel when you are freezing with cold and looking at one of the most beautiful sun-sets of your life. Afterwards everybody started putting up their tents and arrangements were made for the evening bonfire.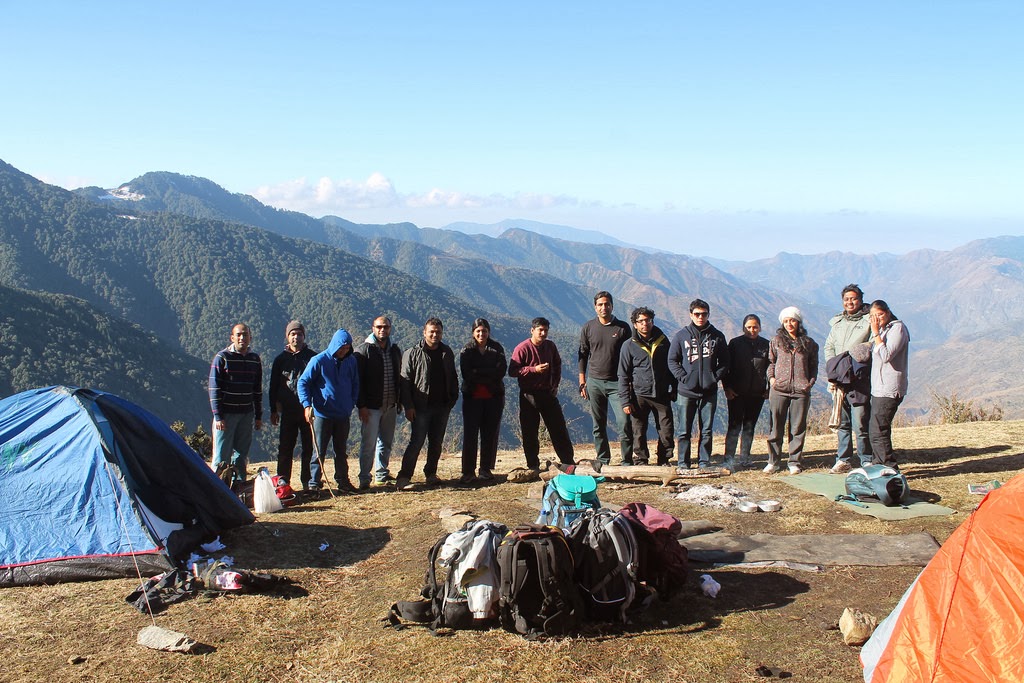 Bonfire, I don't know what is there in it but the moment you light it up you start forgetting the entire pain, hardship you took in reaching this place. Moreover it melts the boundaries that people make around themselves and everybody starts opening up. People start sharing their experiences, what was running through their mind throughout the day etc. etc.. Our cook Raju prepared dinner for us and everybody had their dinner around the bonfire. These guys who didn't know each other 24 hours ago were now cracking jokes on each other. All of us sat there for a couple of more hours which seemed were not enough, we finally retired to our tents. The warmth of the sleeping bags was so soothing that people started snoring within seconds.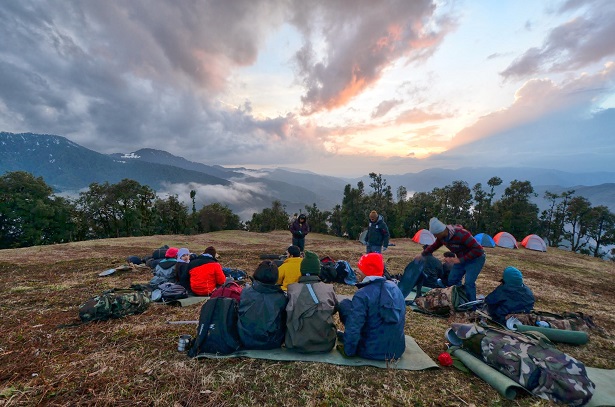 Day 2: Life without Regret – Today's is going to be the most adventurous day of the entire trip. As per plan it was not supposed to be, but in mountains a single plan doesn't mean much as everything depends on Mother Nature. Having said that I don't mean to say that we shouldn't have a plan, all I am saying is that we should always have a back up plan. Today our plan was to camp at Nag Mandir and then do the summit and come back to the camp. We broke the camp around 10:00 o'clock and made a dash towards our destination. Entire trek today was steep climb through the thick jungle. It took us 2 hours to negotiate those 2 kms. Most of the guys had seen the snow for first time and everybody went head over heels to take photographs. We spent an hour playing in the snow and taking photographs.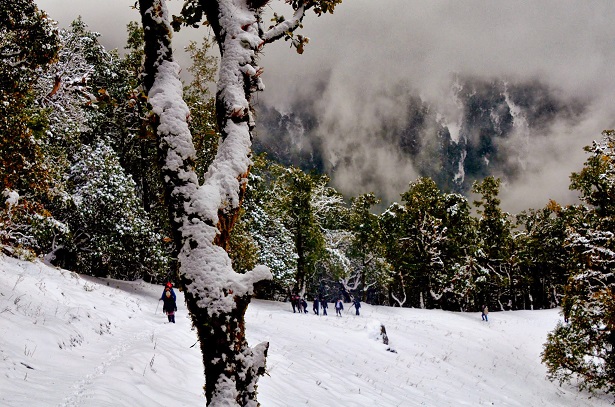 When we reached Nag Mandir at 01:00 PM were told by our guide that the entire camping site is covered with snow and we can't camp there. We made a decision to cook our lunch and do the summit afterwards. Our dear Raju cooked milk-porridge quickly. But sometimes it happens that if one thing goes wrong it is followed by a chain reaction of other bad events. First, we couldn't camp there, and then because of the 'not so good' water there, the lunch wasn't tasty enough. But somehow we made it work down our throat and started off at 02:00 PM for the summit. It was a difficult climb as all the trails were covered with snow and we had to walk our way up without a proper trail. Gradient was so steep that we were walking 2 steps forward and slipping one step backwards at some places. Another problem we faced on the way was 2 feet deep snow. Somehow we managed to cover most of the distance by 04:00 PM and only 500m distance was left to be covered. As it happens in every trek you reach a tipping point and want to give up. We reached ours, everybody was exhausted, our shoes were soaked in melted snow, hands and feet went numb and above all it was going to be dark soon. Everybody started thinking that now we can see the summit and that's enough lets walk back. Finally all of us decided to take the fighting chance and give ourselves 30 more minutes before we call it quits. I think this was the most amazing moment of the entire trek, everybody was fired up and wanted to make it to the summit. Nobody stopped even for catching a breath for next half an hour and peak was in front of us. Last 100 m it was 3-4 feet of snow at some places and people started giving up again and wanted to take a photograph and go back home. But converting 99% into 100 % takes a different level of thinking and commitment. Everybody made a final push for the last 100 m and I think all of us were working beyond our capabilities, giving 200%. We made it to the top and before looking at the amazing view all around everybody and looked at each other and shouted their hearts out. We took our shirts off and posed for a photograph. I can't describe the joy, the sense of achievement we felt on reaching the top. Every bit of hard work and pain that we had put in to make it to the top was worth! The view from the top was mesmerizing. A 360 Degree view of snow covered mountains separated by a valley. More than anything else everybody was satisfied that they won the battle that was going on inside each one of us during those crucial seconds when we decided to move ahead to the top. We spent some time may be 10 mins there and rushed back to the camp.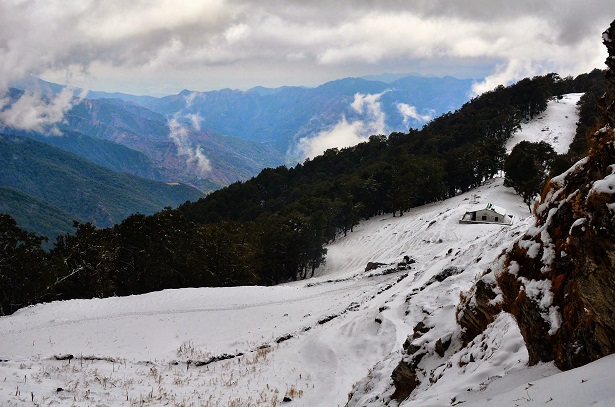 We were served hot bread pakoras, chai and soup by Raju. We had the bonfire again and there was a certain calm on everybody's face despite having bruised feet and hands. That is why I think Lord Krishna said that the soul is unconquerable and the body is just a cloth it is wearing.Couple of guys (Punia, Piyush, Aman & me) were hallucinating not because we were tired but because of something else.We wanted to enjoy each and every moment of thatbeautiful moon-lit night.We were in no hurry to sleep as next day we had an easy walk of 2 hours to Pantwari.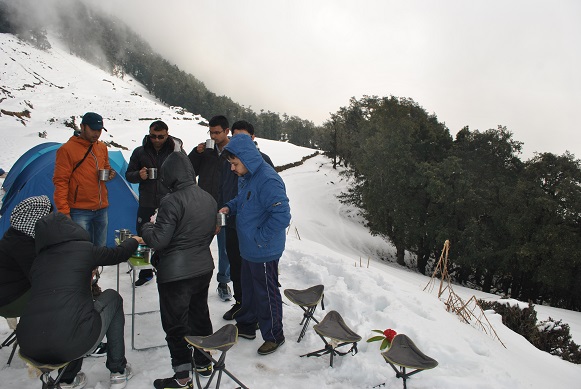 Day 03: Today we woke up late and looking at everybody's face I could tell that nobody wanted to go back. We had amazing aloo paranthas by none other than Raju as breakfast. We started off at 01:00 PM and reached Pantwari by 03:00 PM. Our Tempo Traveller was waiting for us, we said bye to our Guide Naresh and his Team and at 04:00 PM we started off from there. We reached Dehradun at 08:00 PM, on the way we took an hour's break at Suman Kyari near Nain Bagh (Dev Bhoomi Restaurant). We had a lavish dinner at Moti Mahal. We took Volvo from Dehradun at 11:00 PM and reached Delhi by 04:30 AM.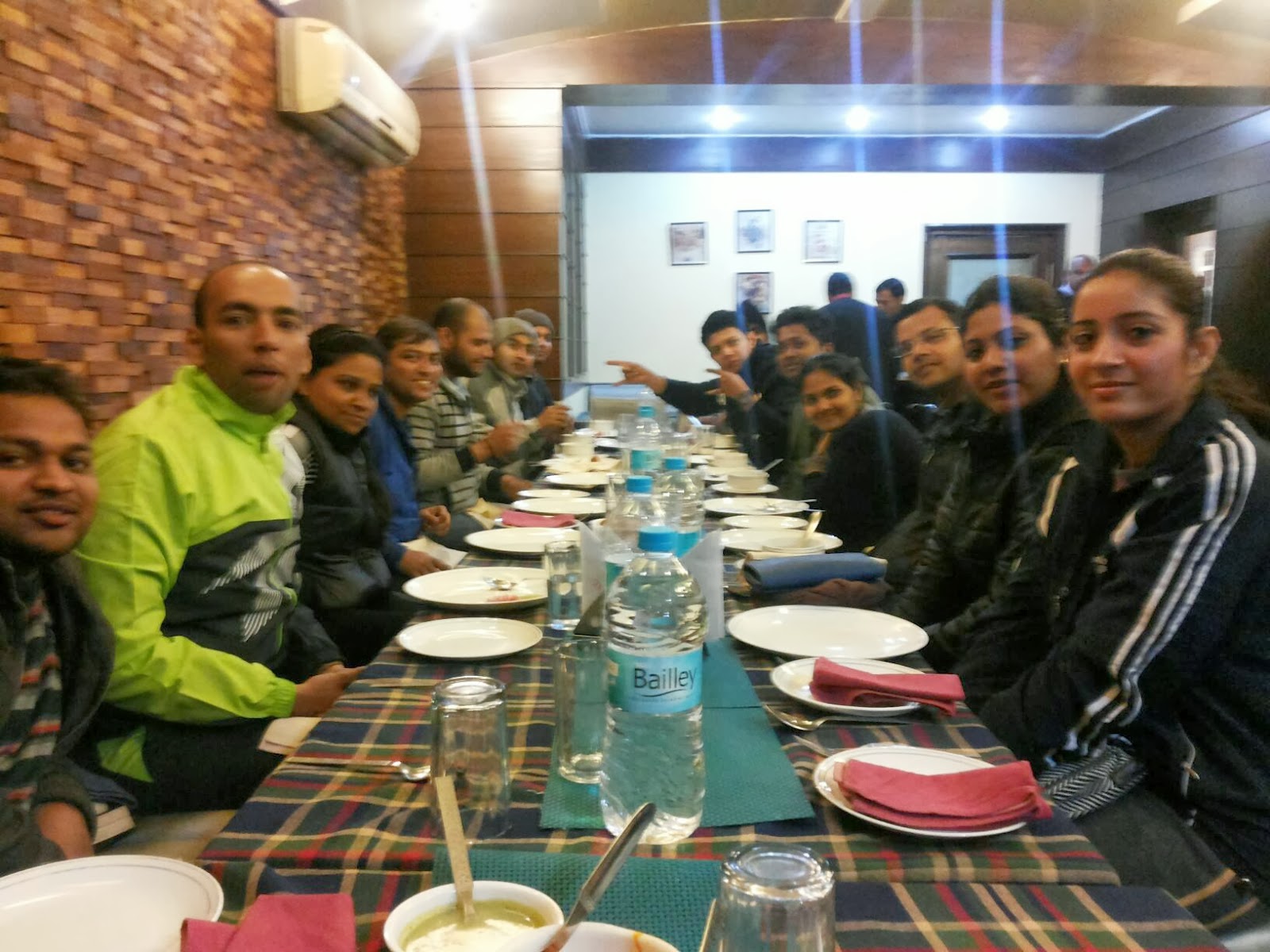 This is just one story, and I am sure many more would be there, in the minds of each participant. If one can collect all these versions and publish, you have a bestseller ready for publication…
---
Check Our Top Winter Treks
Chadar Trek
Kuari Pass Trek
Brahma Tal Trek
Kedarkantha Trek
---
---