---
Itinerary
DAY 1: Bhuntar -Pulga- Khirganga
Pickup from Bhuntar in the morning. Thereafter short drive to Pulga via Manikaran in a Tempo Traveller. Start trek from pulga. Reach Khirganga by the evening. Stay in the camp.
DAY 2: Khirganga - Tunda Bhuj
Post breakfast in the camp, Trek to Tunda Bhuj located at an altitude of 3285 m. Today is a very adventurous day as you will walk through very charming pastures. Variety of wildflowers can be seen in the summer. Reach Tunda Bhuj and stay in the tented accommodation.
DAY 3: Tunda Bhuj – Pandu Bridge
Today is an adventurous day as to reach Pandu bridge, we have to trek through birch forest crossing rocks and dense vegetation. We will cross three unique bridges. For the night stay, we will camp after crossing Pandu Bridge .
DAY 4: Pandu Bridge- Mantalai Lake(4100 M)- Mini Mantalai
Early morning after breakfast, we will head for Mantalai Lake . Enjoy the beautiful pastures of Odi Thatch and amazing sceneries of Mini Mantlai. We will reach Mantalai lake(4100 MTS) by afternoon.Spend some time on the lake & start for return journey.Reach Mini Mantalai in the evening & stay in camps.
DAY 5: Mini Mantalai - Tunda Bhuj
Breakfast in the camp and then head for Tunda Bhuj. The trail is tough so it will test our stamina. Reach Tunda Bhoj by evening & Overnight stay in camps.
DAY 6: Tunda Bhuj- Kheer Ganga
Start early morning after breakfast. Reach Kheerganga by noon, Take a dip in the hot water pool of Kheerganga. Today we relax ourselves on the penultimate day of our journey.overnight stay in camps.
DAY 7: Kheer Ganga - Pulga- Bhuntar
Start early morning after breakfast. Return trek to Pulga. Drive in taxi from Pulga to Bhuntar. Drop in Bhuntar by the evening.
---
Trek Story
An Unforgettable Journey - Mantalai Lake Trek
27 Aug 2013 - Mundane Beginnings : Things were going on boringly smooth since the morning of our journey to Delhi. Unlike the previous trek our flight time was a more humane one, hence no wrestling with alarms or issues with getting a taxi; nothing exciting during the drive to the airport, except for the acquaintance of Navnit Shetty, hence for the first time we did not have to run in the beginning of a journey, a record broken for the better let's hope; and there was nothing noteworthy during check in and boarding as well.
There was no customer delight factor in the flight thanks to the sad economic downturn and closure of our previous hosts to Delhi; we had to buy our own breakfast that was worthy of a 5 star hotel in expense and sufficient to satiate a rat's hunger in quantity, no travel magazine with brilliant pictures or interesting travelogues and with the sun having already risen, the horizon too looked pretty commonplace. The only silver lining was not in, but literally the clouds themselves. Glowing white, thick & dense, of shapes that would befuddle even a connoisseur of modern art and spread as far as human sight permitted without a blot, patch or any opening to mar the view; they gave a great feeling of gliding through a sea of snow. A couple of them even resembled icebergs with some portion rising above the plane of the clouds. Mobile phones with the basic camera that they offer were duly put to good use and the various camera functions sufficiently exploited.
The drive to 85, sector 45, Gurgaon too proved to be uneventful since we took a prepaid taxi hence no cumbersome queues, crowds or security checks or the extended route of the metro and no haggling with taxi owners over the fare. The only thought that kept crossing our mind was could this be the lull before the storm? The conspicuous absence of the royal welcoming party at 85, sector 45, Gurgaon, the four Royal Enfields, was something not to escape the eye and generated curiosity about their current engagement. There was also the curiosity of meeting new trek mates since the party that was going on this trek was much bigger and different from the previous one. Thus we entered the royal hall on a curious and simultaneous "apna hi adda hai attitude" care free note!
27 Aug 2013 - Novel Encounters!
Many new faces greeted us as we entered the royal hall; Meena's brother Hitesh who has a striking resemblance to Meena yet is different from the bigger camel in some aspects stood before us as we tried to guess what witchcraft could have brought such a drastic change over our dear friend. As we stood wondering, out came the older brother himself and welcomed us in the fashion typical of him, lifting us off the ground as easily as one would lift a baby, which going by our size and weights was child's play for the big man. We made some new acquaintances (Dileep, Girish, Ritvij etc.) and happily greeted old ones, Ramu our old college mate and the ever smiling Guru who somehow had got into his brains that taking a bath was the need of the hour. Recognizing Rajesh in his new look proved to be a task so also guessing what Pankaj was always busy with from his ever busy, being on the toes nature.
While all this was going on tau, of Bikat's fame having the coordination of Rudragaira trek to his credit, was busy with the packing of stuff and pressing people to get packed since we had little time on hand. Inder was missing from the Abhik da experience we had last time and probably to compensate for that he and Navnit went to the malls at M G Road metro station and we did our best to give them a glimpse of that experience by asking for stuff (Ritvij's demand) as Ari had done last time. Anna has brand written all over him, so expecting him to buy normal socks was something out of question. In fact he is oblivious to the presence of normal stuff around him and hence after a round of frantic calls it was finally left to him to decide what socks to get.
Bikat's had provided spoons, army cans and containers to each one of us this time round along with the rucksacks and we also had to carry 3 to 5kg of rations apart from our own stuff, an obnoxious and am sure much protested against decision at least in the mind if not out loud. We also received a black T-shirt with the Bikat's logo embroidered on it. Having completed the packing and after collecting our dinner packets we left for Kashmere gate station with Meena in lead. As we were boarding the auto we were stopped by Mr. Uday to enquire about Bikat's office having recognized us from the Bikat's T-shirt that we were wearing; the shirt had started doing its job, that of promoting Bikats!
Meena boasting of two metro cards and making us wait while he tried all means to get the cashless card working, which in its right stubbornly refused to oblige was an interesting episode. While we waited, a couple of security guards confirmed where we were going with all the army rucksacks to which we replied in the most polite manner possible lest we draw some unnecessary attention to the already unwanted gazes that we were drawing.
The number of people using the metro seems to have tremendously increased since after the regulatory security checks we were surprised to witness a sea of people rushing all over the place. Considering it was a sea, one would expect a low tide event as well sometimes but this unique sea seemed unaware of such a thing. HUDA city centre, the station from where we would board the train being the final station on the route we had hoped to get a seat on the metro, but with the mass exodus around, it was a bit too much to ask. We stood all the way to Kashmere gate in all possible inhuman crooked postures, performing all possible 'yogasanas' and simultaneously trying to settle the resentful and touchy rucksack in a stable position.
The ISBT stand seems to have gone international with its huge sprawling halls, beefed up security, top class waiting area and other such things that would humble the T1 Delhi airport terminal if not T3. We stood outside the gates wondering whether we were at the correct place or not and finally decided to go in since we could not come up with anything smarter. After due help from the local public we finally arrived at the stand from where our bus was most likely to start, the probability of which was same for at least 10 stands on either side, something we've learnt to account for in our estimations. Some of us helped unload the stuff, which would fulfill our basic human requirements for the next few days, that was driven from Bikat's office and transfer it to the probable bus stop, a task which was accomplished only when one of the porters deemed it necessary to rescue us from our misery and receive a generous payment in return.
Slowly all of us assembled at the stand, the bus arrived expectedly late and at a place 5 stands away, luggage was stuffed in the compartment meant for it, seats identified after the usual commotion and as we settled down we found something interesting. We had a new companion who had occupied one of our seats assuming this bus to be some other one. Getting him to budge would have been a Herculean task had we not called upon the services of his highness the bus conductor to deal justice. Purisabzi in tin foil and Ashiqui 2 on DVD was our final excitement for the day. Ashiqui got associated with us on the DVD and practically never left during the trek. We had begun the day on a boring note and ended it on a highly expectant one.
28 Aug 2013 - Native Fools and Hot Pools
The bus dropped us at Bajaura early in the morning where two tempo travelers were waiting to pick us up. Unloading and reloading activity was accomplished within minutes and soon we were off again to the starting point of our trek. No sooner had we started, than the vehicles stopped again, at a hotel in Bhuntar (that boasts of an airport), where we were asked to freshen up and have a sumptuous breakfast, the last of our luxurious meals for the next few days to come. Lunch was prepared, packed and handed over to us here itself. We left Bhuntar and crossed Jari, Kasol, the Israeli retreat where you notice more foreigners than Indians and also the place where spirits were procured for the spiritual leaders among us and while the spirits were being tended to, the creative geniuses among us got clicking and on one such piece of art tau couldn't resist saying "bhai hai mera" which triggered an emotional wave among the rest and resulted in the following:
Kuch bhai ke milne ki khushi
Kuch mausam ki madhoshi
Thoda trek pe jaane ka josh
Thoda jagah ka firangi dosh
Thoda camere ka kamaal
Thoda kheenchne wale ka dhamaal
Kuch naye purane logon se milne ka parv
Overall Bikat hone pe GARV!!!
We then crossed Manikaran, the holy pilgrimage site for Hindus and Sikhs where it is believed human life was recreated by Manu after the colossal flood during which the whole of the earth was submerged under water and where Guru Nanak professed donating generously for the betterment of human race and where you find hot water springs in plenty which has led to the establishment of an experimental geothermal energy plant. Thus after a good 2 hour drive among beautiful lush green hills, rich laden apple orchards and a Himalayan themed private property we reached Barshani the starting point of our trek.
The trek started at the confluence of two rivers in the Parvati valley and astonishingly it began with us descending a hill than ascending one as many would expect. The plan was to have food at Rudranag and just in case our tummies didn't permit such an audacious atrocity on itself we would have it at Nakthan, a village consisting of some precariously balanced settlements in between Barshani and Rudranag. However, the village came and went and we still mustered on, some of us protesting some approving and still others happy to be in the inertial state that they were in. There were many apple orchards on the way with most of the trees enticingly red with ripe juicy fruit; restraining ourselves from plucking them was a lethal challenge to our ethical faculties and some of us succumbed to the worldly desires of peppy hearts and rumbling stomachs, a rumble in the jungle it was literally. An elderly lady who was manning one of the apple orchards was more bent on selling the ingredients of the holy smoke than on selling the red juicy orbs she was guarding. With the world going all materialistic one would be surprised at the local populace over here which is still compassionate, kind and heartily generous, it is like they want to show off their apples, which in fact do deserve to be shown off.
The path that we clumped on was quite comfortable, neither rising nor falling too severely, just enough to avoid being labeled "a walk in the park." We reached Rudranag, which has a temple of lord Shiva and a beautiful waterfall in which the water bounces of a huge rock before resulting in the final sprinkled fall. The packed lunch was gobbled up here on a gorgeous meadow and the apples that were found on the way shared. We then moved on through dense foliage among thick firs, pines and clear water streams and a slightly difficult terrain, something quite different from our pre lunch experience. The final phase of the trek was a never ending one and thus after many 5 minute assurances from our guide and the locals we had finally given up hope of reaching itself let alone reaching in 5 minutes. However, we eventually reached the camp site after half an hour of the last 5 minute assurance. Celebrations were immediately commenced and tents set up in an open space. The last of the small groups that we were trekking in arrived as the last rays of the sun left the horizon.
News about the presence of a hot water spring spread like a wild fire through the trekking party. While most of us were doubtful of taking a bath at first we were more than determined to take the holy dip by the time we reached the sacrosanct pool, partly because the pool was very alluring and majorly because the diarrheic cows of the region had ensured that it was "a cake walk" with cake taking the figurative colloquial meaning it is associated with. We had dinner about a small camp fire and promptly dropped down in our tents to cherish some hard earned and much needed sleep.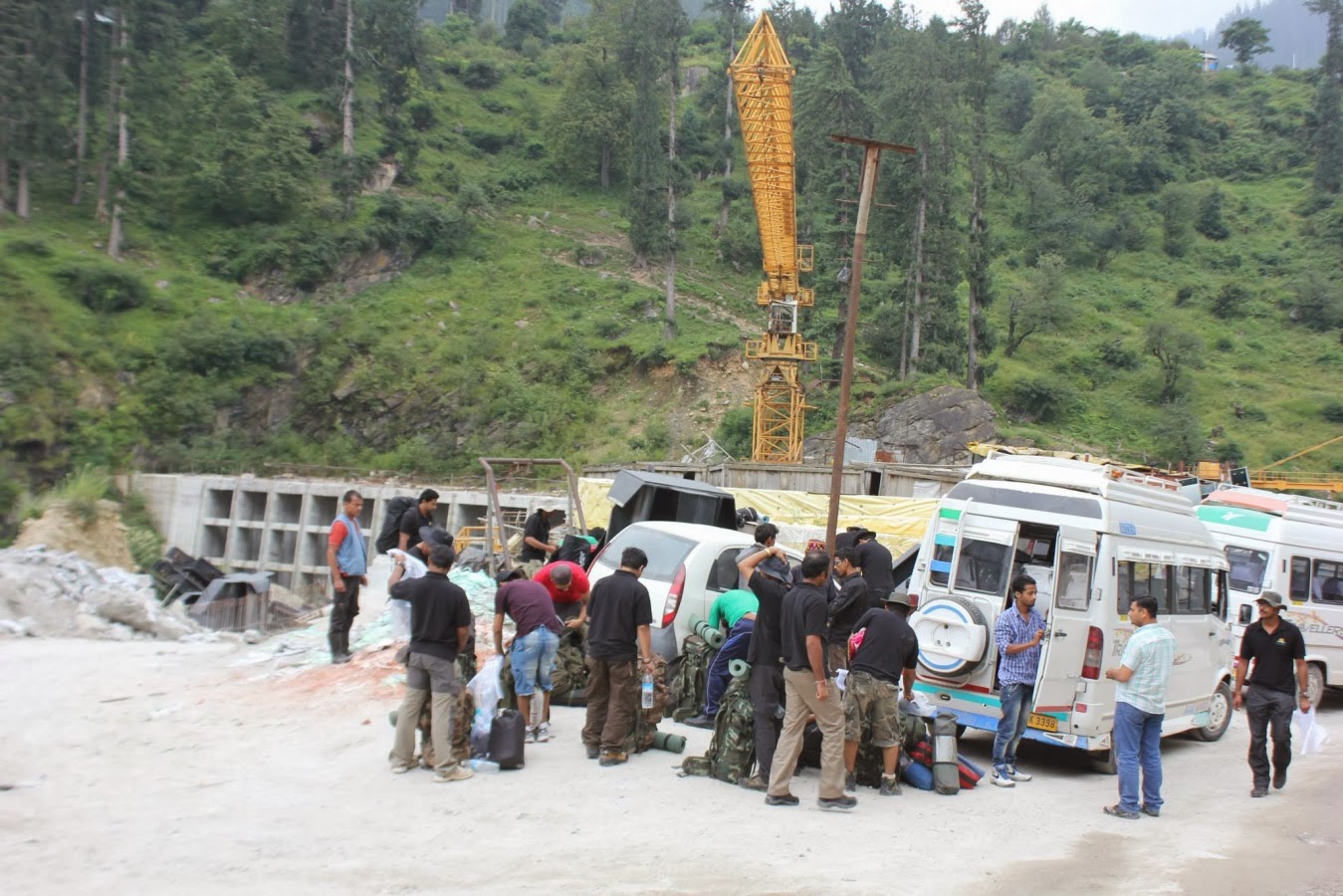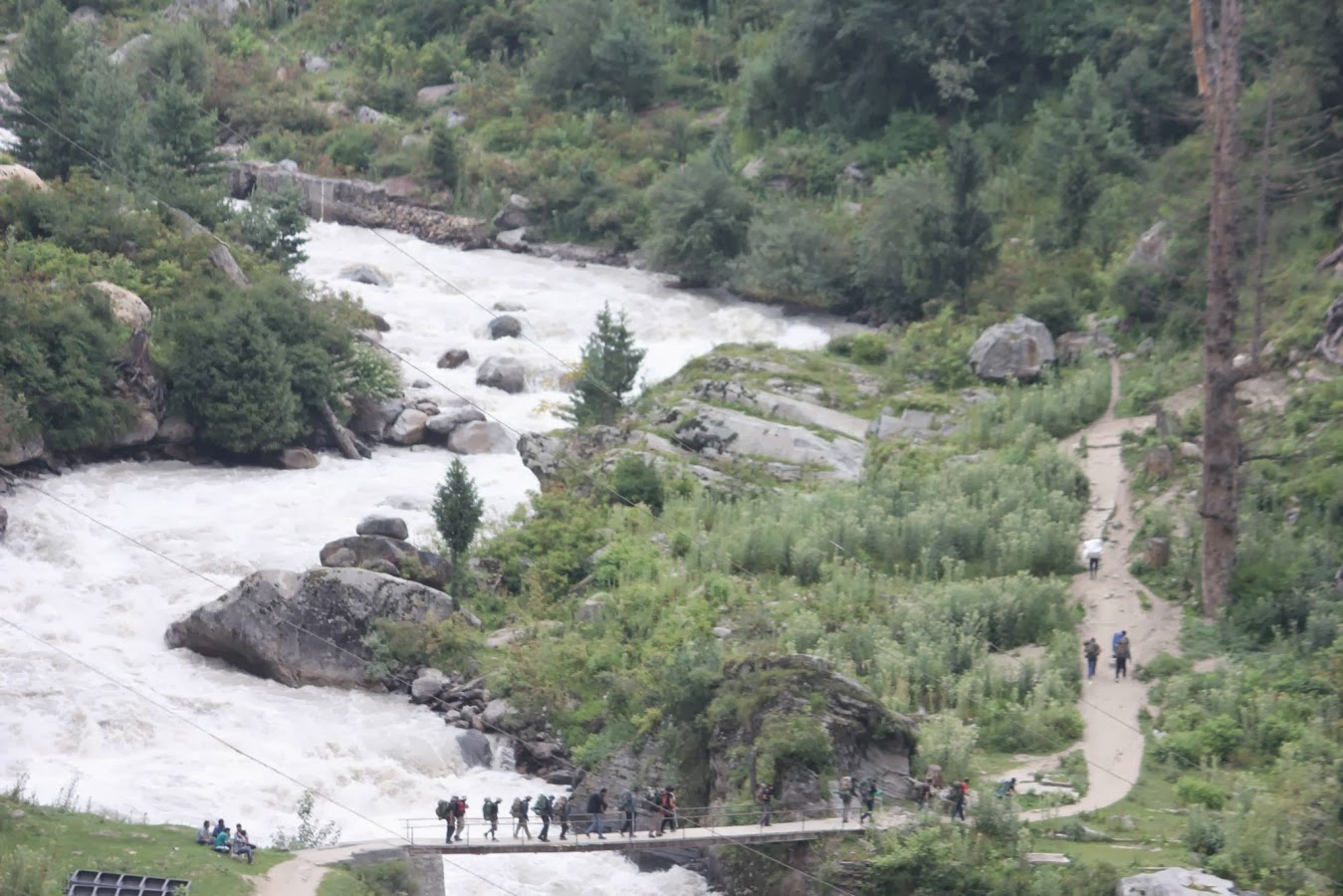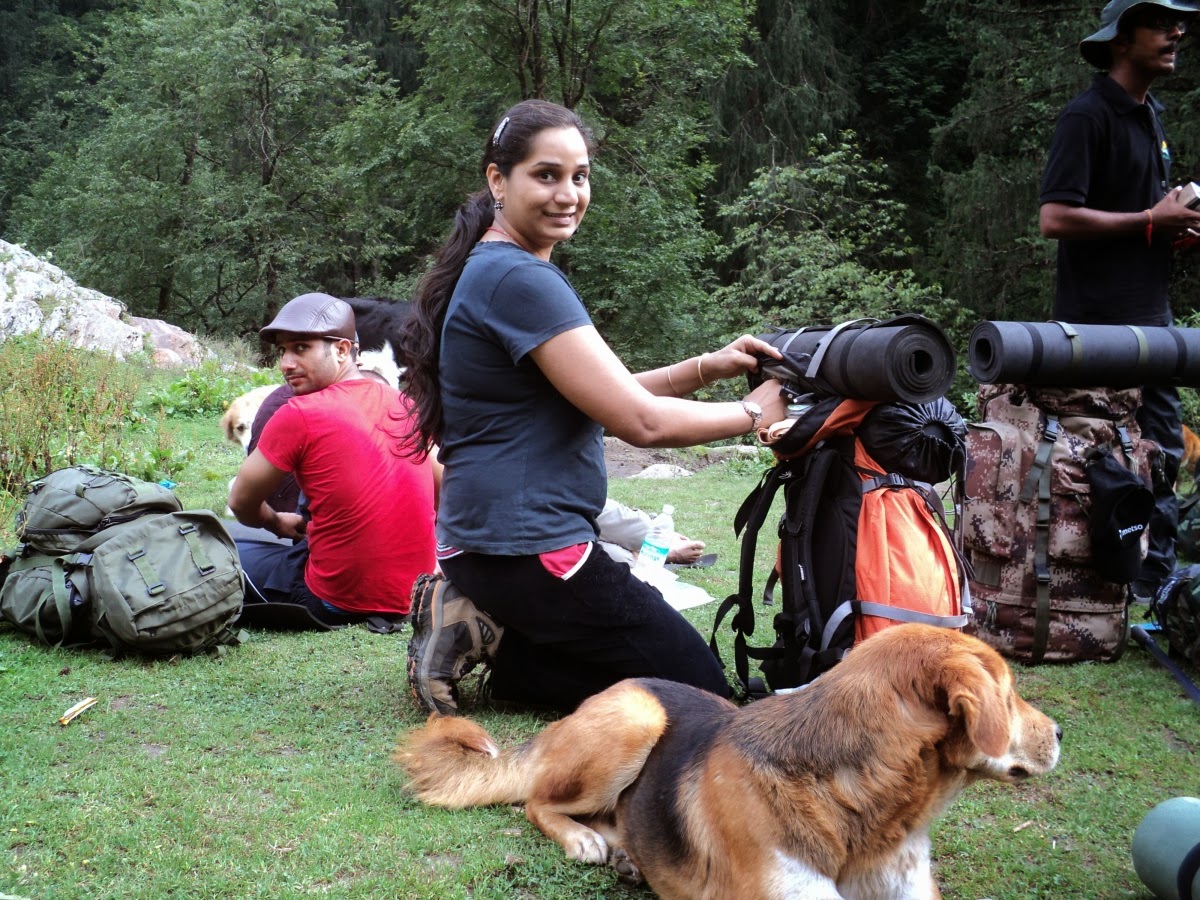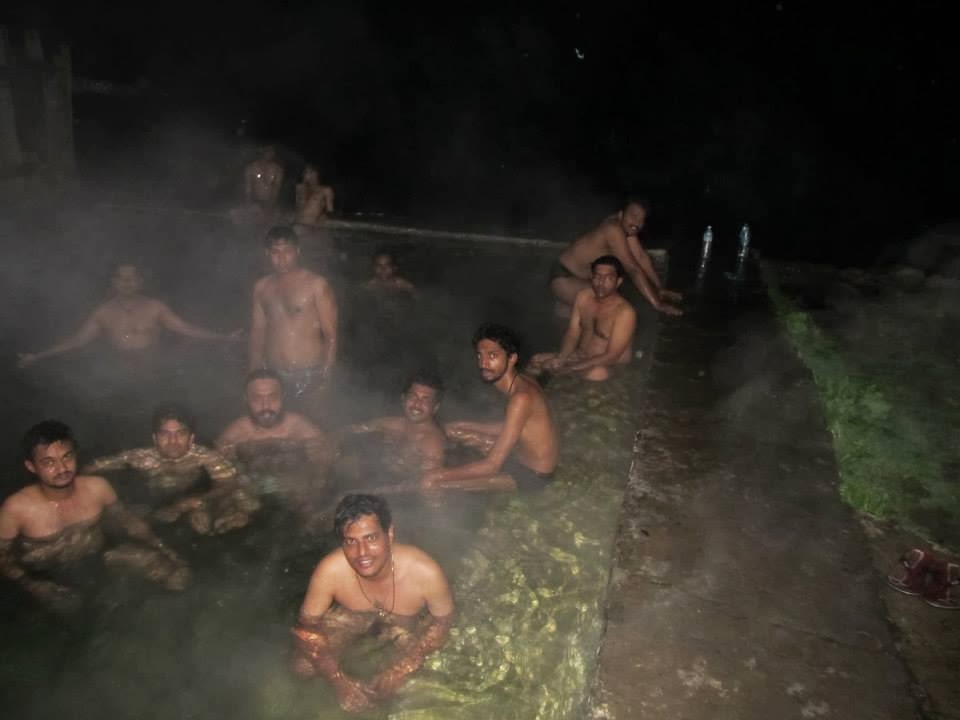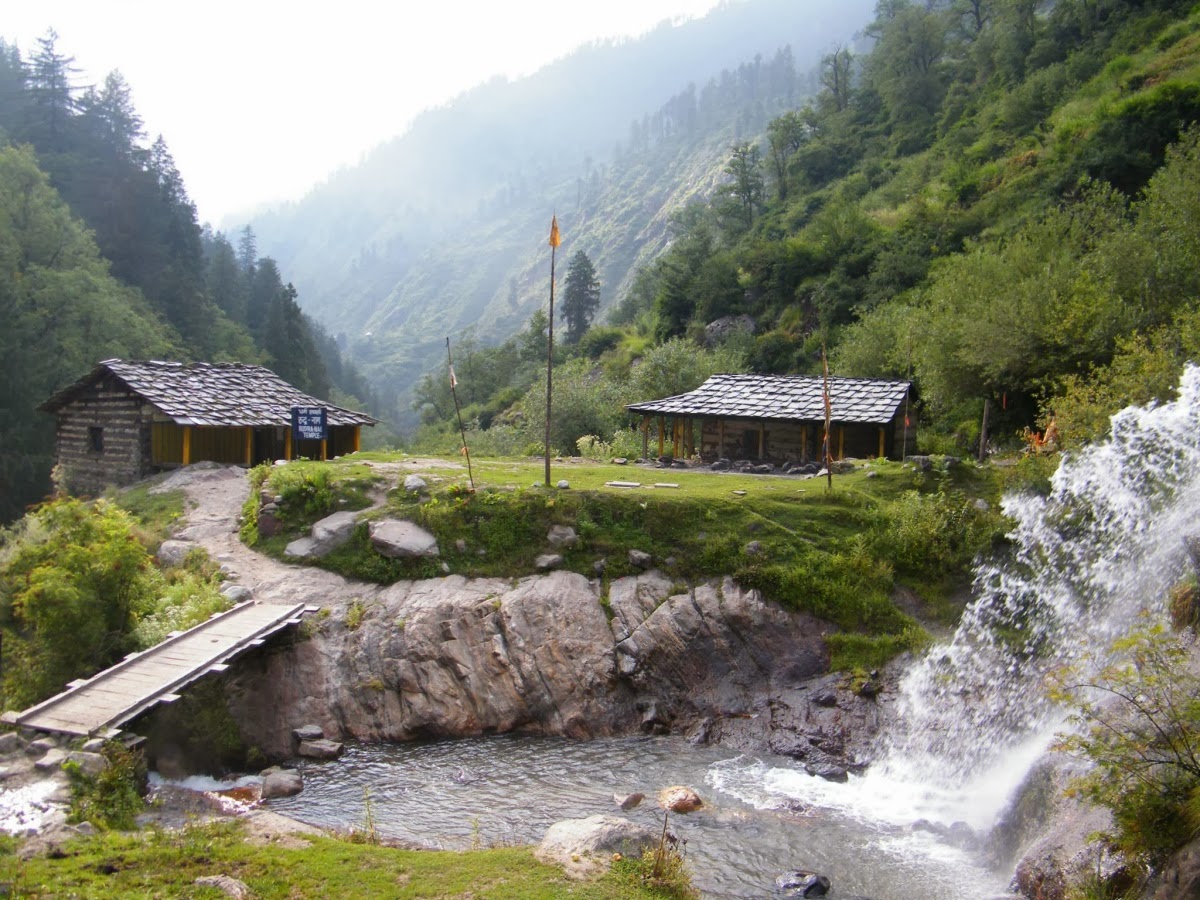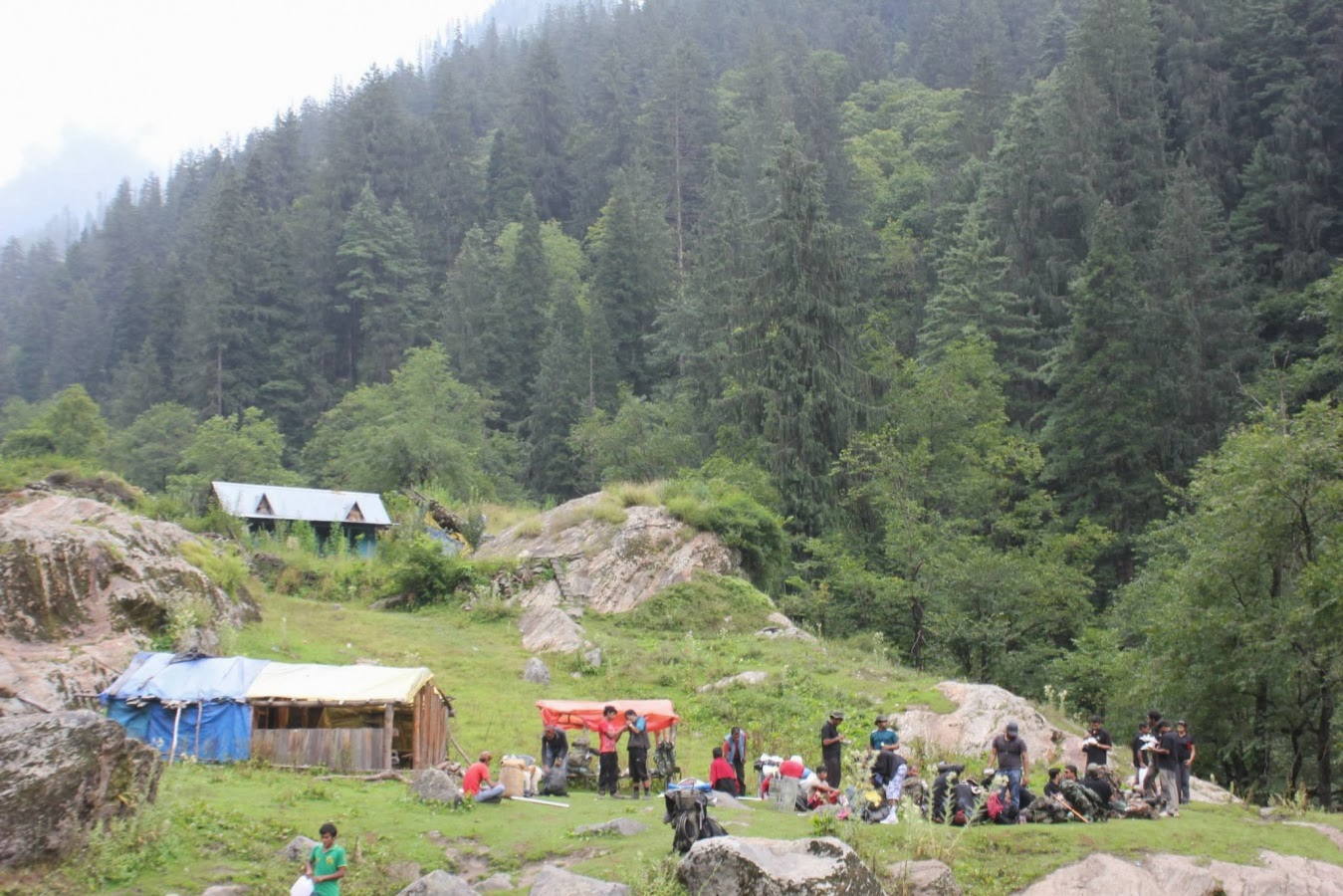 29 Aug 2013 - Famished Flabbergasted Fascinated
Daily ablutions are hardly a necessity in these parts and we had cleansed ourselves the previous night itself; thus though there was a perennial source of hot water at our disposal we chose the rather simpler and popular way of completely avoiding contact between body and water, though some enthusiasts did spring themselves in the spring in the morning as well. Thus after completing the inevitable requirements of this organic living mass and having a breakfast of bread-omelette and bread-peanut butter we moved on towards the next base camp.
The track was muddy as opposed to the partly rocky one we had encountered during the second half of the previous day's trek and was thus quite easy going on the feet. We tramped along without much effort while capturing the wild with our eyes and cameras both. As we travelled through the dense forest we were surprised to find a family settled in this wilderness managing a herd of callous water buffalo, who sat ruminating in an insouciant nonchalant manner. While the buffaloes took little interest in us, we did draw some suspicious looks from the family.
As was the norm for each day's trek, the trek would not come to an end until we had given up all hope of ever reaching the destination. The last phase had a steep rise full of muck and mire that was followed by a short walk through a meadow with an enchanting view of couple of huge foamy waterfalls off the rich green cliff on the opposite side of the river. Lot many pictures in all possible postures were clicked with each one among us trying his best to look decent after the day's ordeal. Food had not been packed for the day, with the idea being to cook it when we reach the destination or when we stop in between, a farfetched plan indeed. However, stop we didn't, and since different people had different destinations in mind it was total pandemonium when we reached Tundabujh.
The porter who was carrying the tents had a wild destination in mind, good 2 hours away from the spot where we had stopped, and in his over enthusiasm was well on course to make it. While Kashi sat deciphering what went wrong, the two parties on the hills on either side of a small stream tried to initiate a dialogue by bellowing out to each other and swaying & swinging in all stupid ways possible. There was more confusion at this controversial campsite since Kashi insisted on camping on one side of the stream while half of the party had already moved over to the other side and settled down in a decisive manner. Getting us to move was never an option let alone a smart one and deep inside the porters themselves knew this to be true.
As we waited for others to arrive and for some solution to come out of all the hollering and comic waving Anna got busy creating his masterpiece. A two room shelter serving as a hermitage for a yogi formed one of the entities and the track of a seasonal rivulet, that comes to life depending on the might of the Sun god and his ability to energize the couch potatoes that sit at the top lazily enjoying the activity in the valley and literally and figuratively thaw some of the inactivity out of them, formed the second entity. After trying various locations and positions and the various camera functions the master found the perfect camera setting and the immaculate angle and clicked his masterpiece in which these two entities on different hills were combined splendidly to give an impression that a road lead away from the shelter in to Elysium a "Road to Heaven" truly.
Hunger had set in since it was well past lunch time by the time we had reached and around tea time when the remaining party (that involved the porters carrying the rations) arrived in Tundabujh. We tried to manage with whatever items were available with the porters who had reached a bit early; some dry bread and a couple of spoonfuls of milkmaid for a few lucky ones. Somebody got hold of the porter with the tents and brought him back and the kitchen tent was set up at a pace that would humble "Thalaiva" himself. Hot soup and pakodas were served within minutes which brought back some liveliness in the trekking party and also kicked some sense into our dull blocked heads which made us realize that we needed to move the tents from the wet shrubs on which they were setup to a more congenial location.
The usual banter provided the perfect seasoning for dinner and we enjoyed them both around a bonfire of wet hedges that had conspired along with the wind to turn a couple of us into ghosts by smoking our already pale faces. The arduous trek ensured that none of lingered for long around the fire and that we were perfectly unconscious and noisily snoring before long.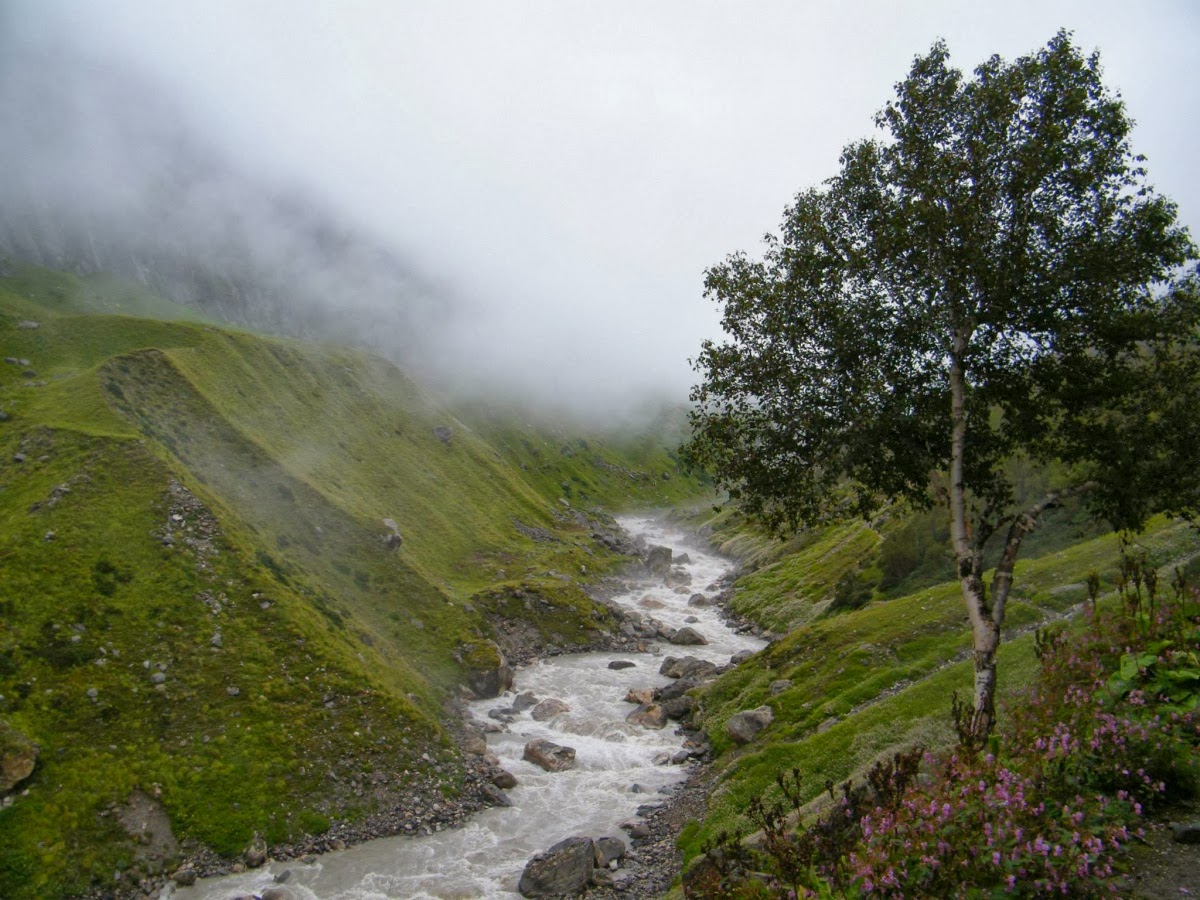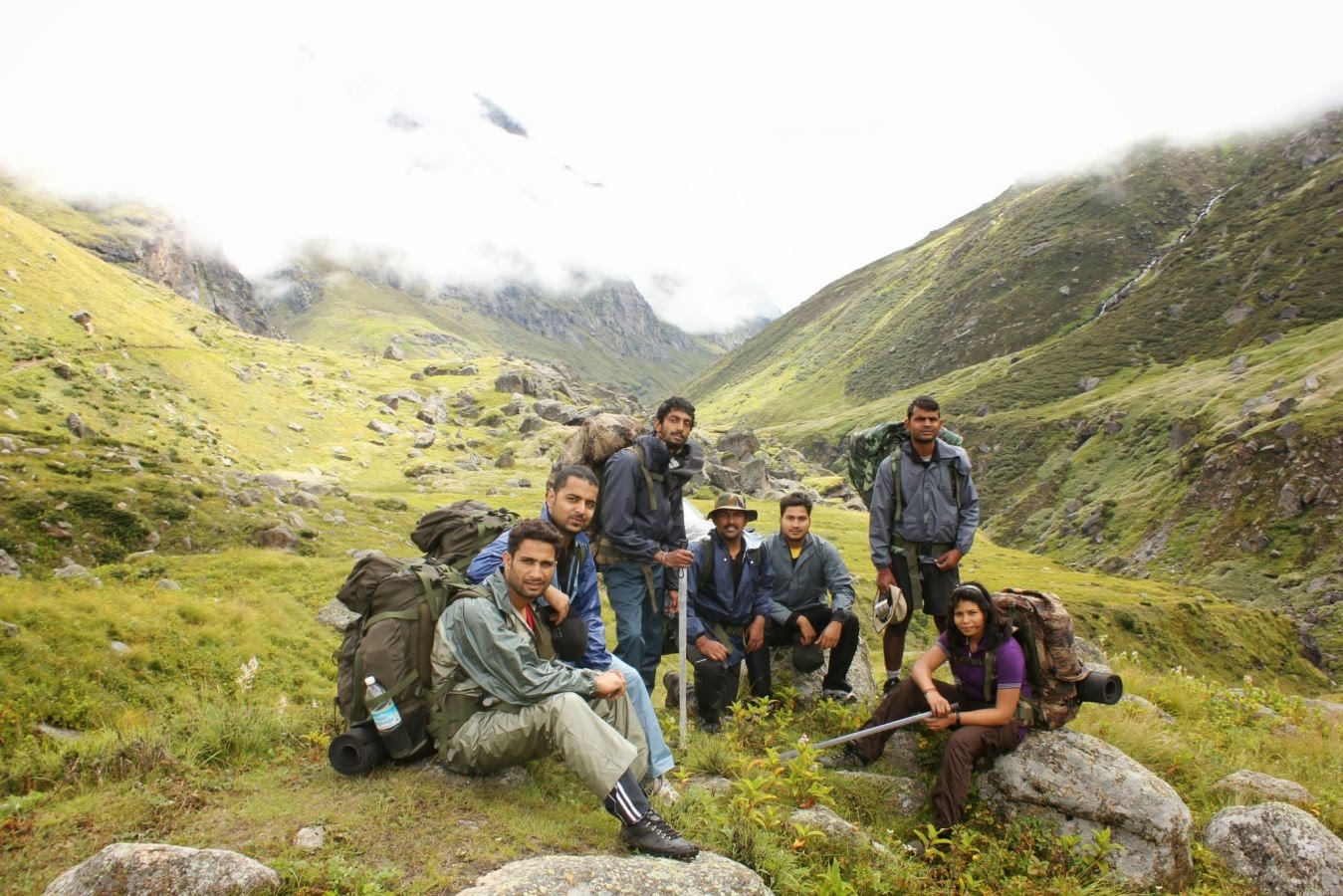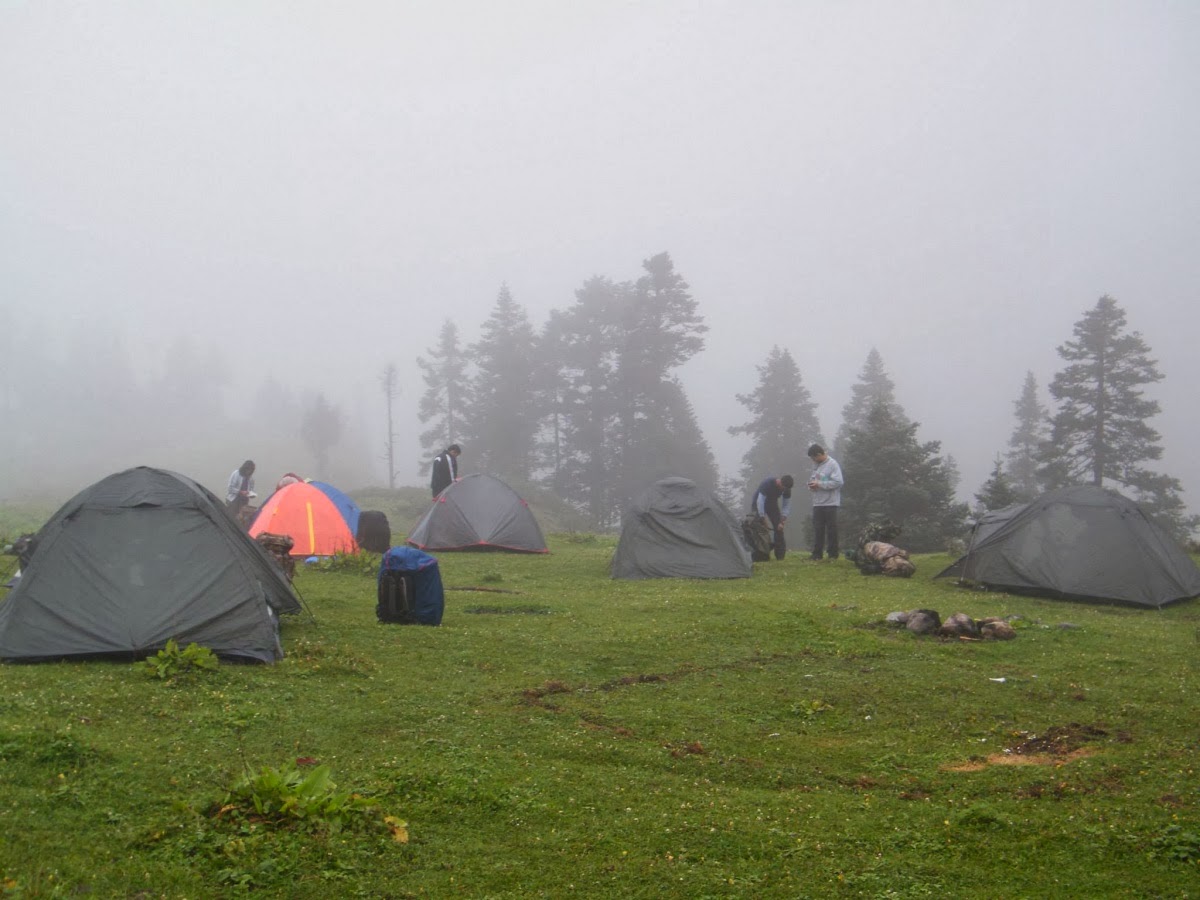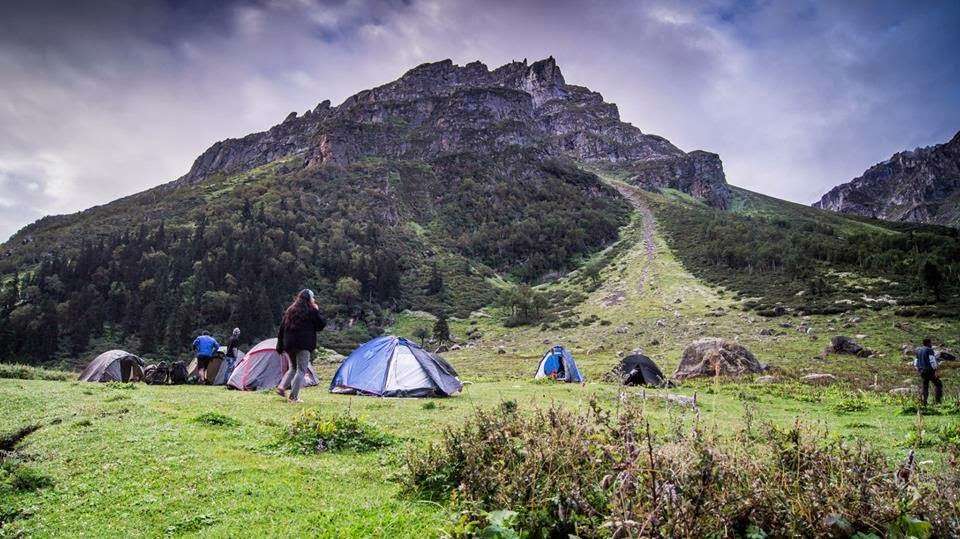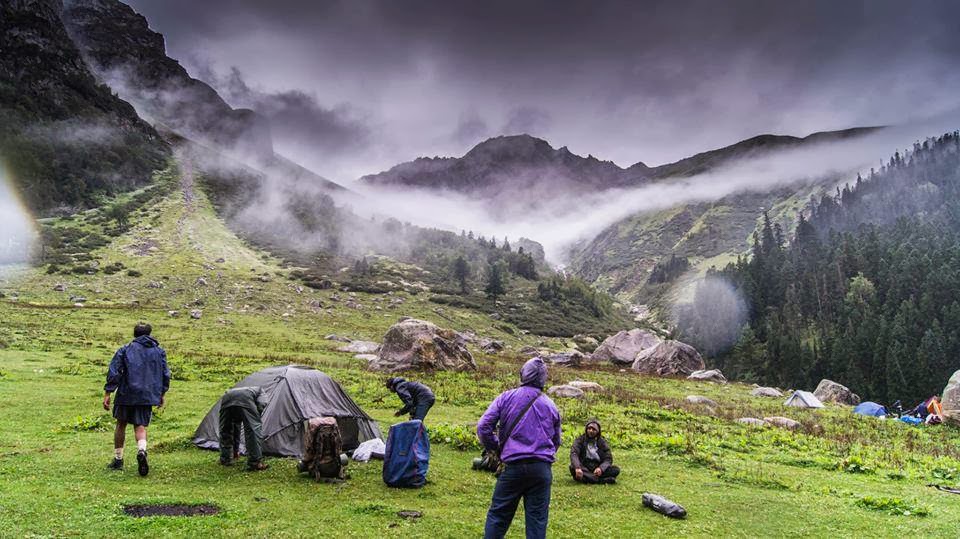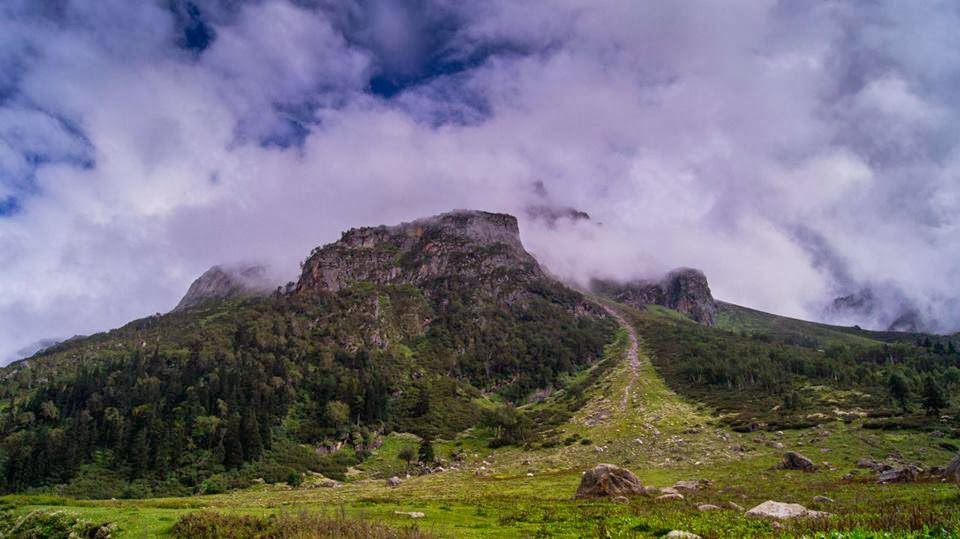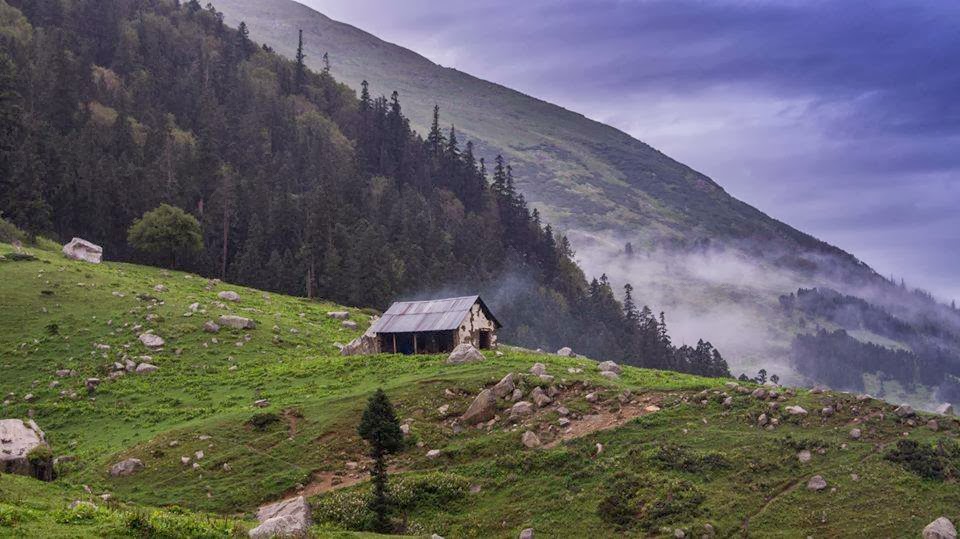 30 Aug 2013 – Part I – Acquaintance of the "Suspension"
We found the pathway to paradise, the road to heaven the previous day and on this fine day the almighty decided to open up the heavenly gates as well and shower us with his blessings in quantities sufficient to satiate the needs of many a generation to come. In fact so impressed with us was he that he kept on showering throughout the day and would have drowned us in this deluge of blessings had it not been for some deliverance from the mountains themselves that provided us the occasional shelter in the form of huge rocks or some tree cover and ensured that the excess blessings would flow down and be carried over to more of us in the fertile plains below.
They say to achieve great success you've to overcome great hurdles and bridges come in handy in the overcoming part of such grandiose endeavours. Bridges are more than simple physical entities; they are an embodiment of something which brings things closer, by connecting the separate entities, be it in physical form or in the form of political, professional or personal relationships. Hence bridges have always been given great importance in history and in war and have a great fan following the entire world around. We too had our fare share of dealings with them on the trek and some of them did what they could to ensure that the trek would not be so easily forgotten.
While tiny rocks and pebbles served as bridges while crossing many small streams the showstoppers for the day were the three bridges each unique and treacherous in its own way. After about an hour of plodding downhill from the camp we reached the first of the showstoppers where the company assembled to get directions from its captain, KashiYpal. A shepherd with his flock of sheep on the other side seemed eager to cross the bridge before us and thus quickly guided the sheep across this wobbly bridge suspended off the rocks at the river bank. The final few did give the poor fellow some nervous moments and tested his patience by running forward and backward and finally almost jumping into the river.
The bridge seemed to have been decently built when it was first built, however, time seemed to have taken its toll and whatever remained of it was held together by ropes going in all direction from the various places where it needed to be buttressed. All the ropes had left the bridge leaning on one side, which earned it its name "TedhaPul", luckily on the side that still had the railing, and to counter the angle created, mud and stones were spread to form a path in certain sections of it. The whole thing was pretty delicately balanced and we were advised to cross one at a time and to sit in case the bridge gets mischievous and has some fun by playing one of the many possible tricks it has mastered over the years of its long, and considering its state, not so prosperous service. One by one we crossed at snail's pace concentrating only on placing the next foot while simultaneously repressing the urge to look around and into the river down below.
The bridge was followed by a steep hill, the time to hike which was being monitored by us even before crossing the bridge. We did it in good time and congratulated ourselves on the achievement as we trudged along the side of the mountain. It was a decent walk among lush green grass and clear water brooks and rocky spots in between to rest on. After about an hour and half's trek we came upon the second showstopper, another crossing of the river involving ropes but without the usual platform. This one was a completely new experience for most of us since it involved sitting in a cart and pushing and pulling to finally make it to the other side.
Kashi and his cohort, Supreet bore the brunt of having to pull all of us to the other side, simple physics compelling the loaded cart to return back to the centre once it was halfway through, a trick which the bridge was born with and could not avoid even if it wanted to, and I am pretty sure it did not want to in the first place based on the pleasure it derived by making us toil. Horses grazing in the grasslands that followed the swamp was a picturesque sight indeed. Dealing with the marshes and negotiating the many wet fields of wild flowers that followed made sure that we got our socks and shoes oozing, and our pants dripping water with every step and our footing extremely vulnerable. Packed lunch was gobbled down at a rocky landing after Thakur Kuan, a beautiful place to set up a camp.
We kept close to the river while following Kashi who lead us up a hill and then much to our agony and displeasure, disappeared suddenly. Weather taking a turn for the worst not helping our cause, we tried all the means at our disposal, we even called upon the services of the whistle which instead of drawing the attention of one among our party drew the attention of something completely useless and pretty dangerous, a big white animal which in our apprehended states prompted Navnit to quip "snow leopard". After some uncomfortable moments we spotted Kashi, and the animal too finally moved revealing its identity to be that of a dog, both findings relieving us of some undue pressure.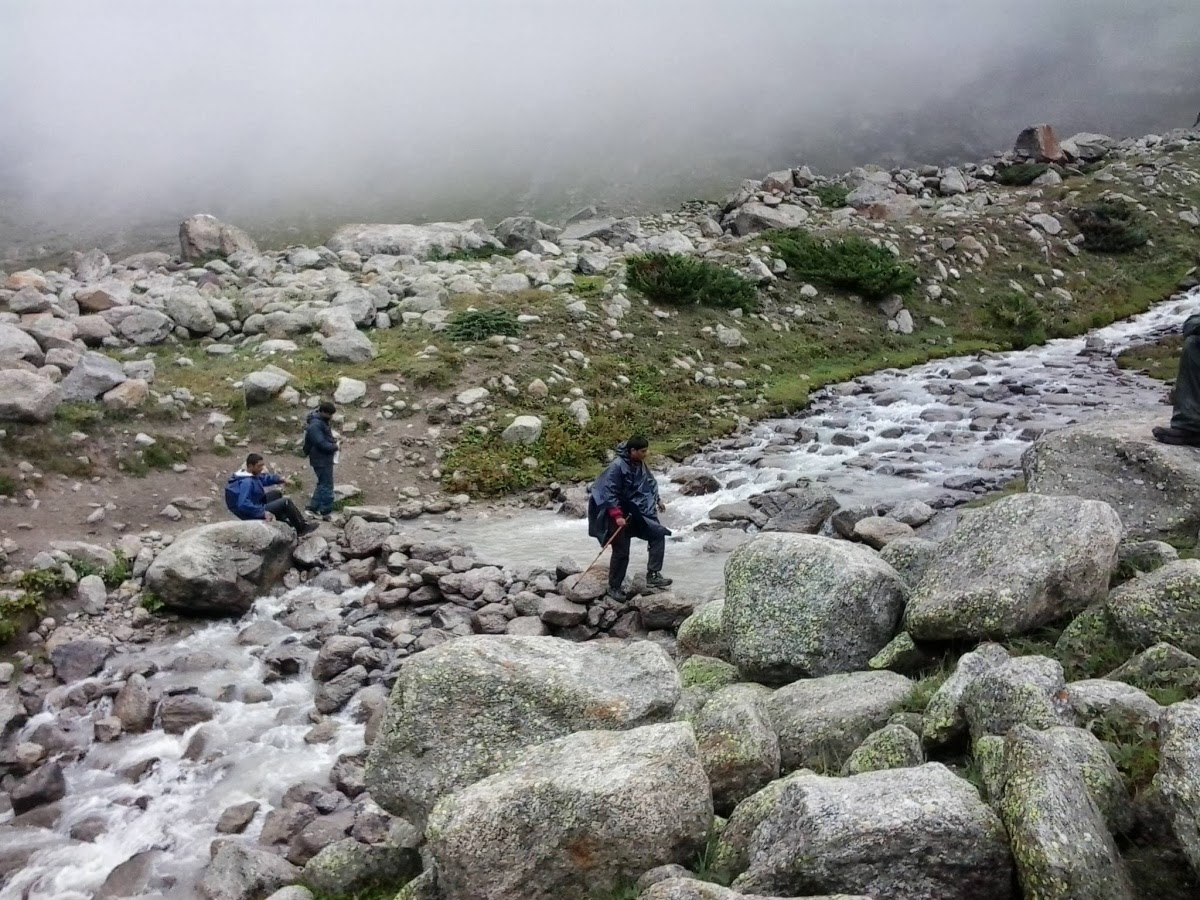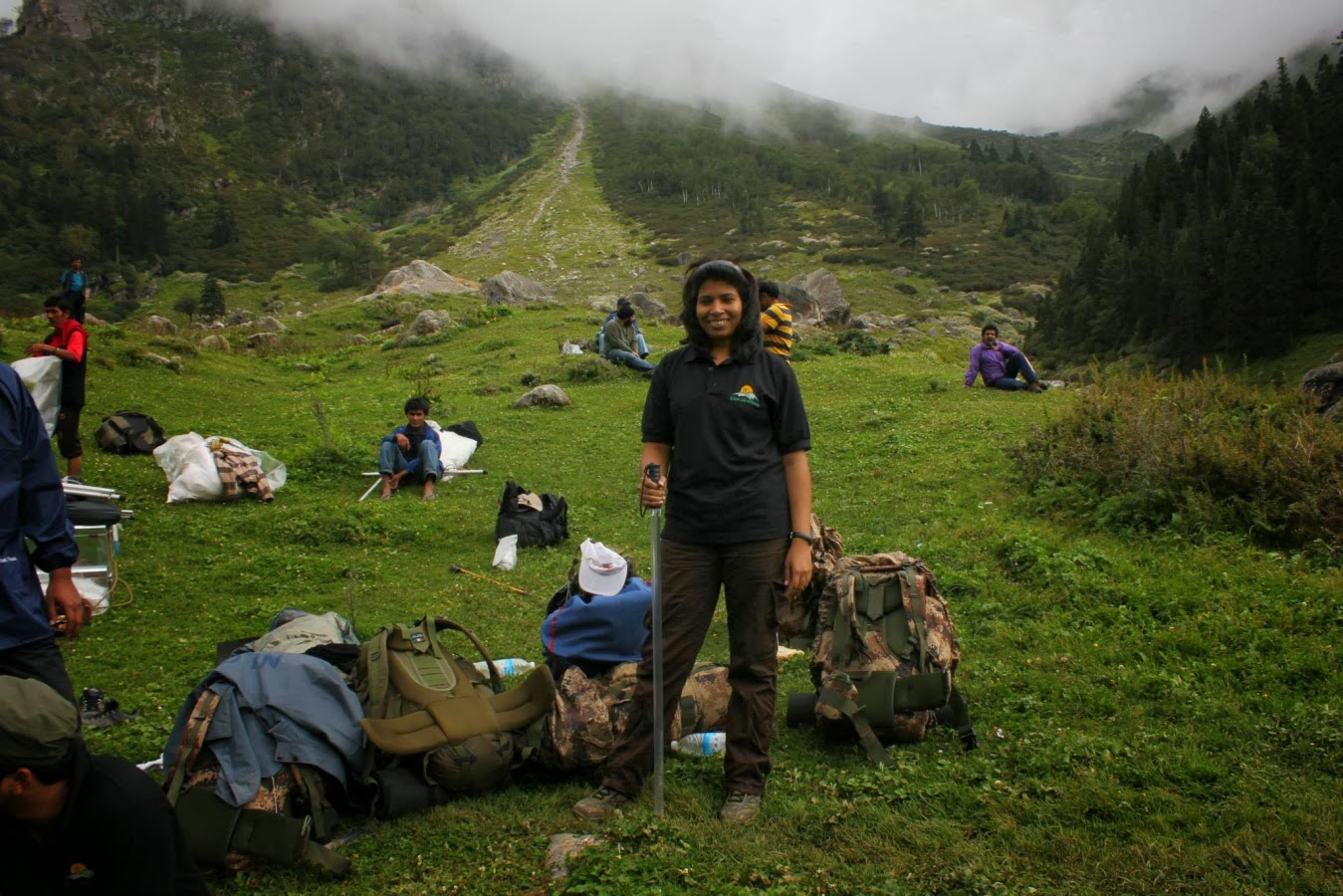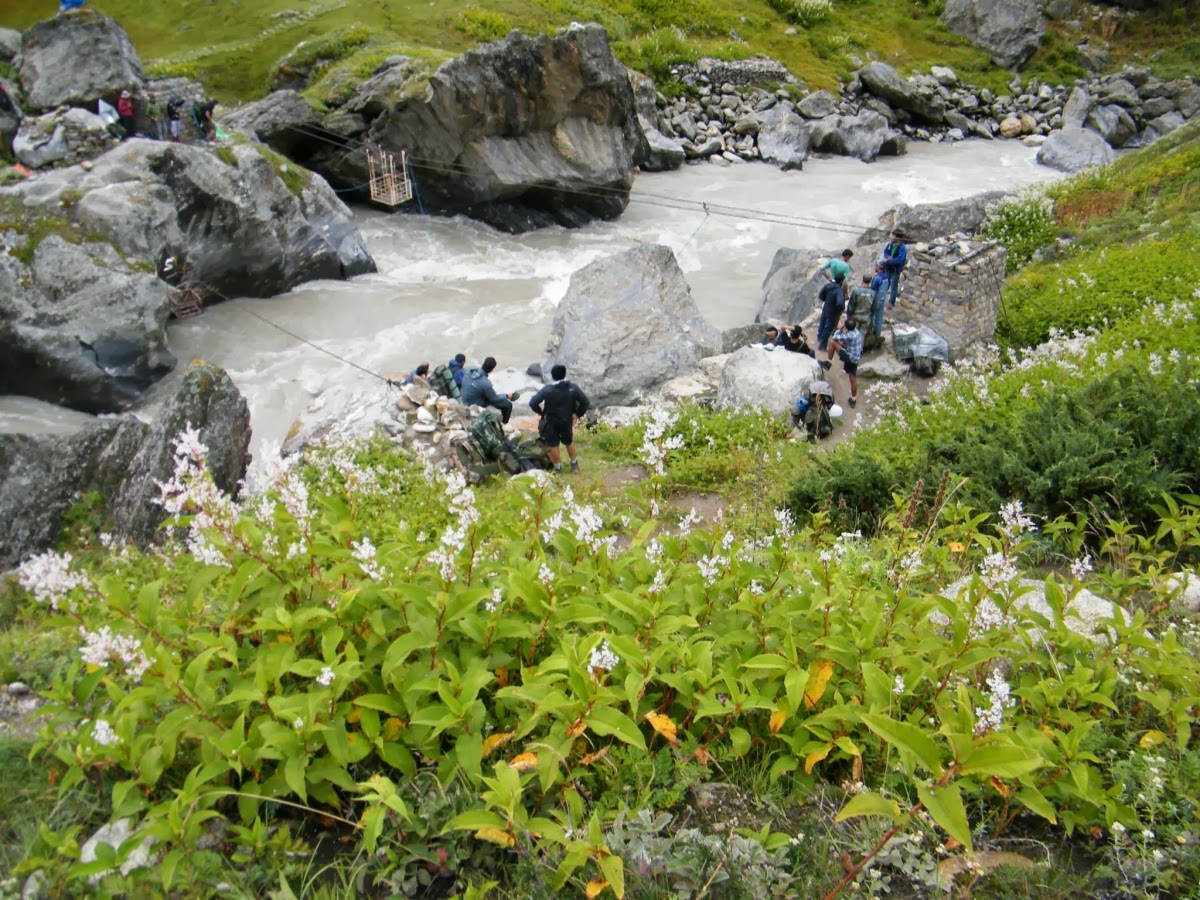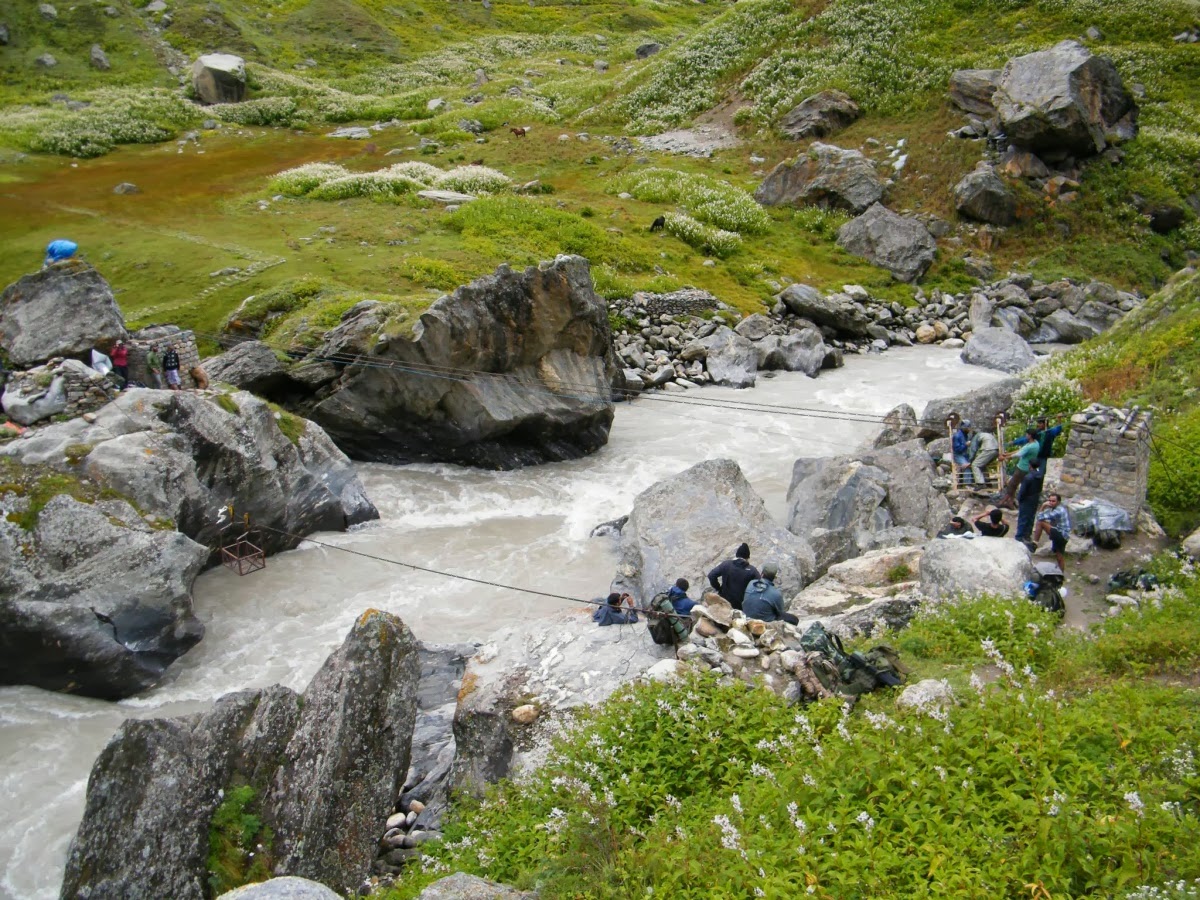 30 Aug 2013 – Part II – The Twin Menace
The inconspicuous presence of the 3rd showstopper made it very difficult to notice its magnificent self and hence to tread the right path. Half the party kept moving along the track where they could see the footpath, taking the bridge to be just a dull lazy rock lying in the midst of nowhere; little did we know then that it would have a mind of its own and take the insult of not spotting it to heart. The bridge comprised of a huge rock which we had to ascend to the top and then slide down to a spot where a narrow path of rocks, without any support from either side, led to the hill on the other side. The rocks and stones in this region had turned extremely slippery owing to the torrential downpour and this one serving as a bridge was no exception.
We climbed it with the help of the steps made of pebbles leaving our bag and baggage for Kashi to carry over, but that was the end of the easy part. As an expert killer uses a bait to draw its prey closer, this climbing part served as the bait used by the rock that we so innocently took. Try hard as we may the rock made sure that we did not slide to the place where we wanted to but to the place from where you would go straight down into the thunderous roaring river while roaring for help yourself. Though we had taken the bait, by God's grace and Kashi's help we did not fall prey to the rock and all of us succeeded in crossing it safely.
As the colour was returning to our cheeks Kashi chose this opportune moment to reveal the presence of a second Pandupul; it was as if the life had been sucked out of many of us and whatever colour had returned to the cheeks immediately disappeared. It was an "Out of the frying pan and into the fire" kind of situation where we could do nothing but pray for deliverance. While we were wondering what devilry was this, what kind of fiendish joke, what evil prank was being played on us Kashi tried to pacify us by stating the ease with which we would pass the second one since we had already cleared the first one but having experienced his 5 minute assurances earlier we knew better than to trust this one.
Rain and wind combined brilliantly with the turbulent raucous river to send a chill down the spine and magnify the fear of Pandupul 2. The fact that our feet, socks and shoes too were wet apart from the entire body played heavily on the mind and we knew the wet and slippery rocks would definitely help our fears to come true. Added to these two facts, Pandupul 2 comprised of an even bigger rock than Pandupul 1, to whose base we had to scale using again one of the pebble stairs and from then on climb the steep slippery face to the top and then climb down a stone staircase with no proper footing or holding. But having crossed Pandupul 1 and having Kashi and the caped crusader on our side we did not let these ominous factors that portended evil affect us much and were unfazed by the might of this huge rock as well.
Seeing the caped crusader effortlessly scale the face of this rock we were pretty certain we would definitely make it at least with his aid. Then we saw the magical thing that batman does, one moment he is standing with his cape swaying in the wind and in the next one he is gone just like in the movies except that in the movies he glides down and lands perfectly while in the present case batman lay sprawled on the same spot where he stood and was grappling with Pandupul 2 and grasping and I am sure gasping as well for life. Egged on by the porters most of us started climbing up with aplomb and immediately started slipping with equal terror and had to grapple and grasp and gasp before some help came from them, who for their part, climbed up wearing just slippers as one would on a promenade. One by one, slowly and somewhat unsteadily all of us made it past this last of the rocky hurdles. Finally after about quarter of an hour more we reached the camp helplessly cold and insanely shivering.
After innumerable futile attempts at getting a fire going we decided it was better to assemble around the few wet logs which the porters had managed to set ablaze with some kerosene and paper to aid in the cooking. We were not in any state to celebrate our chivalrous act of conquering (read sheepishly tumbling over) the Pandupuls and dinner was a mere formality which a couple of us even skipped. First aid kit with the stock of medical supplies came to aid in the case of many among us to nurse the inflictions of the Pandu twins and thus we ended the day truly spent but with a pleasant sense of achievement.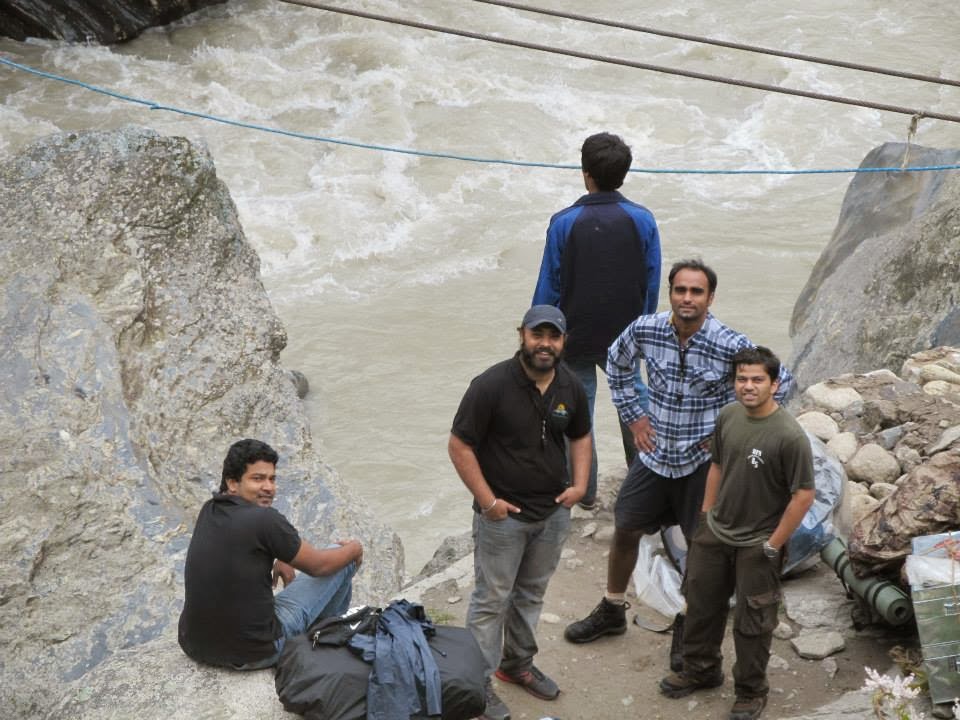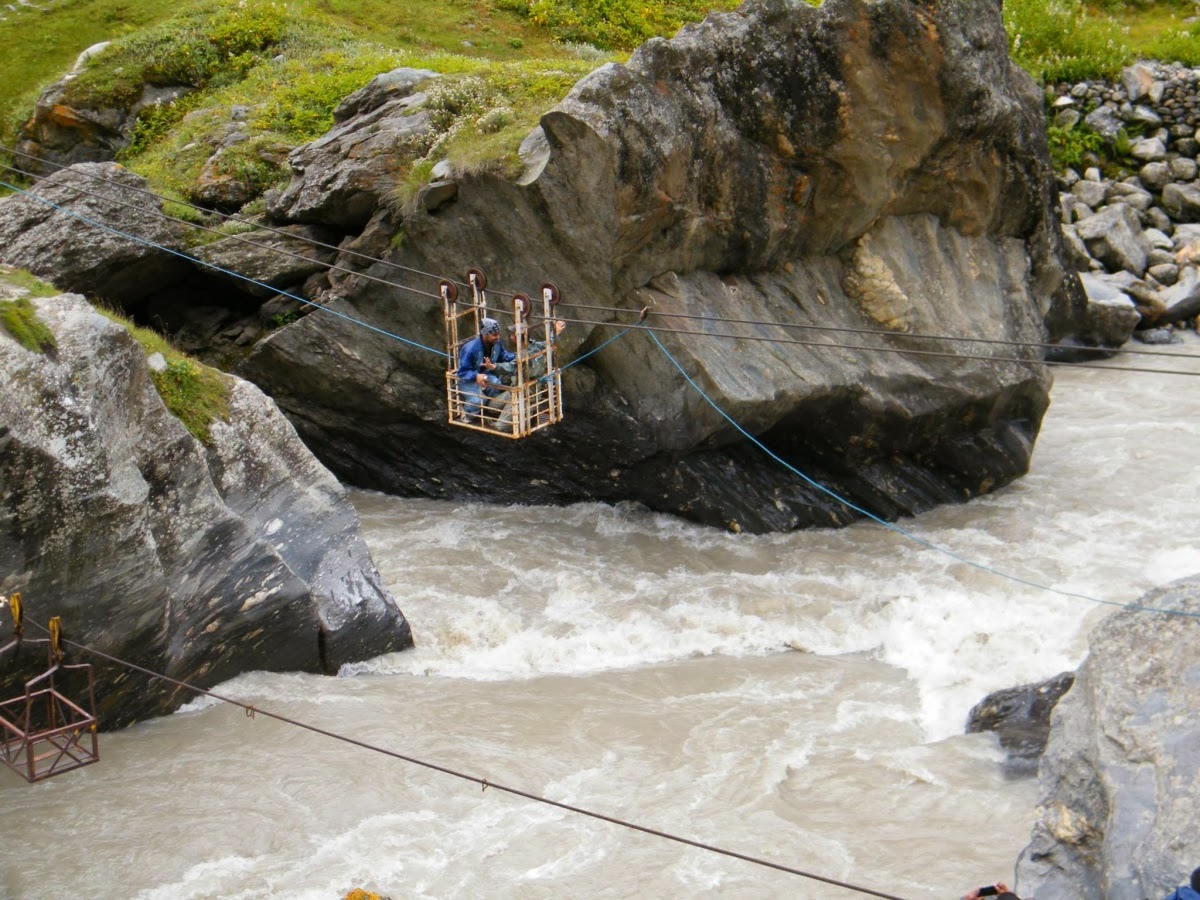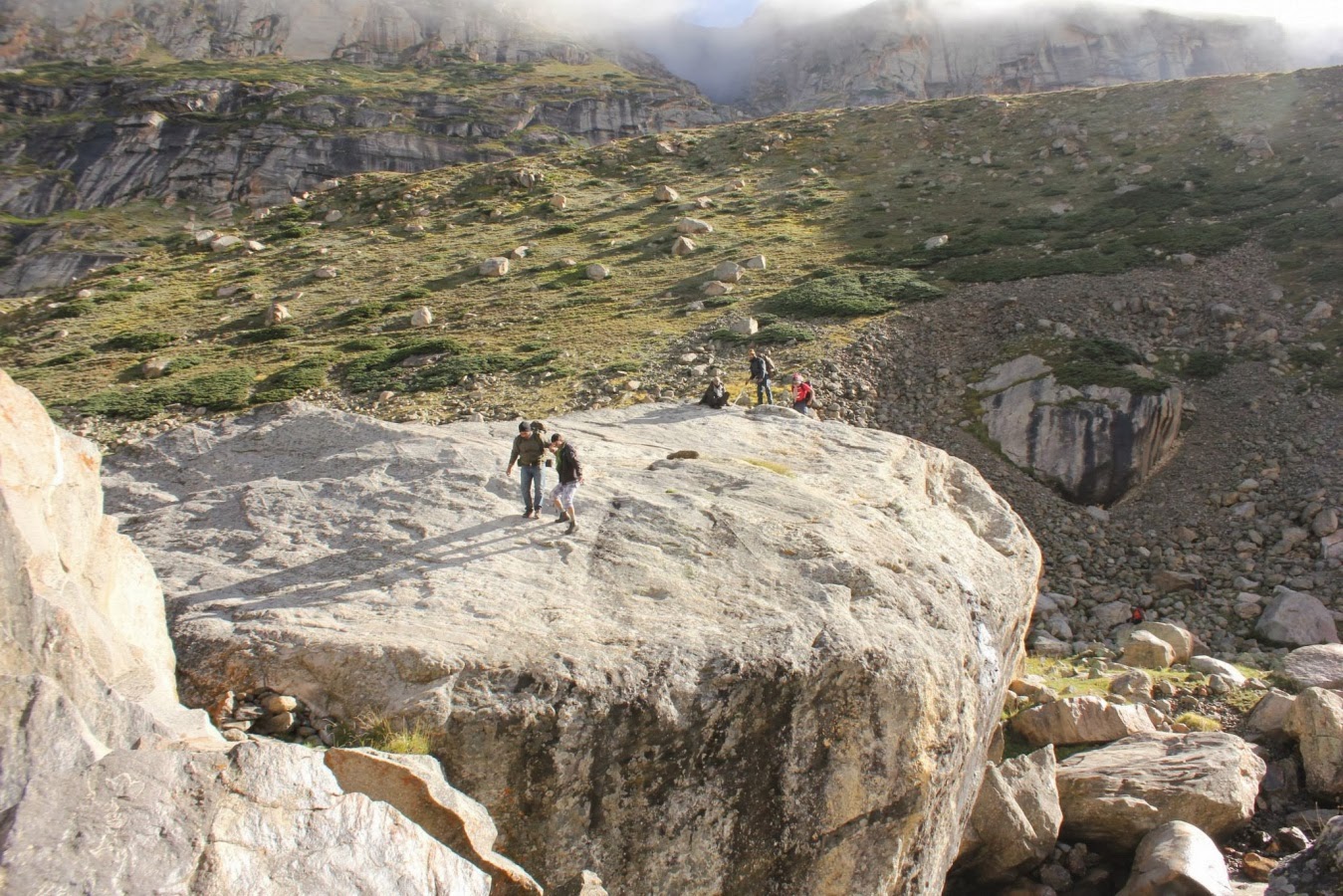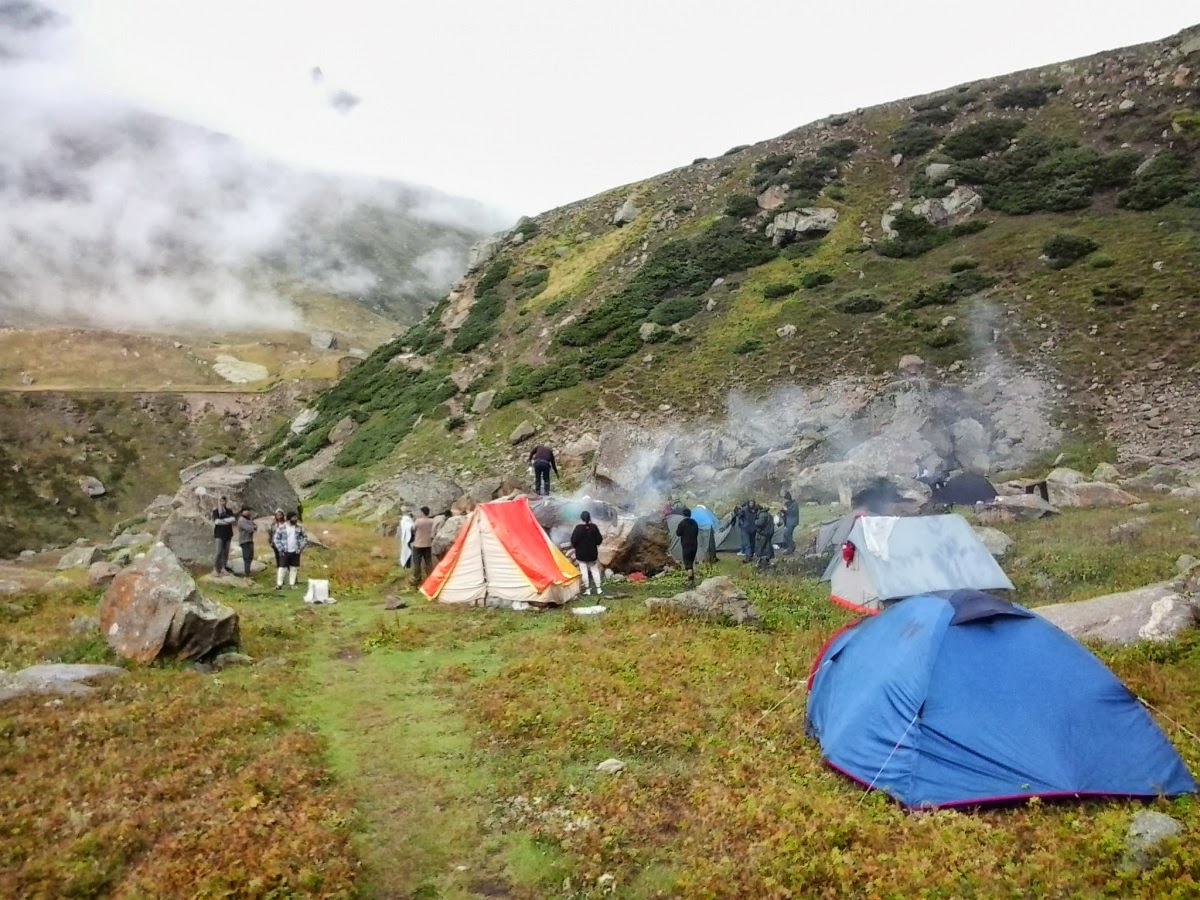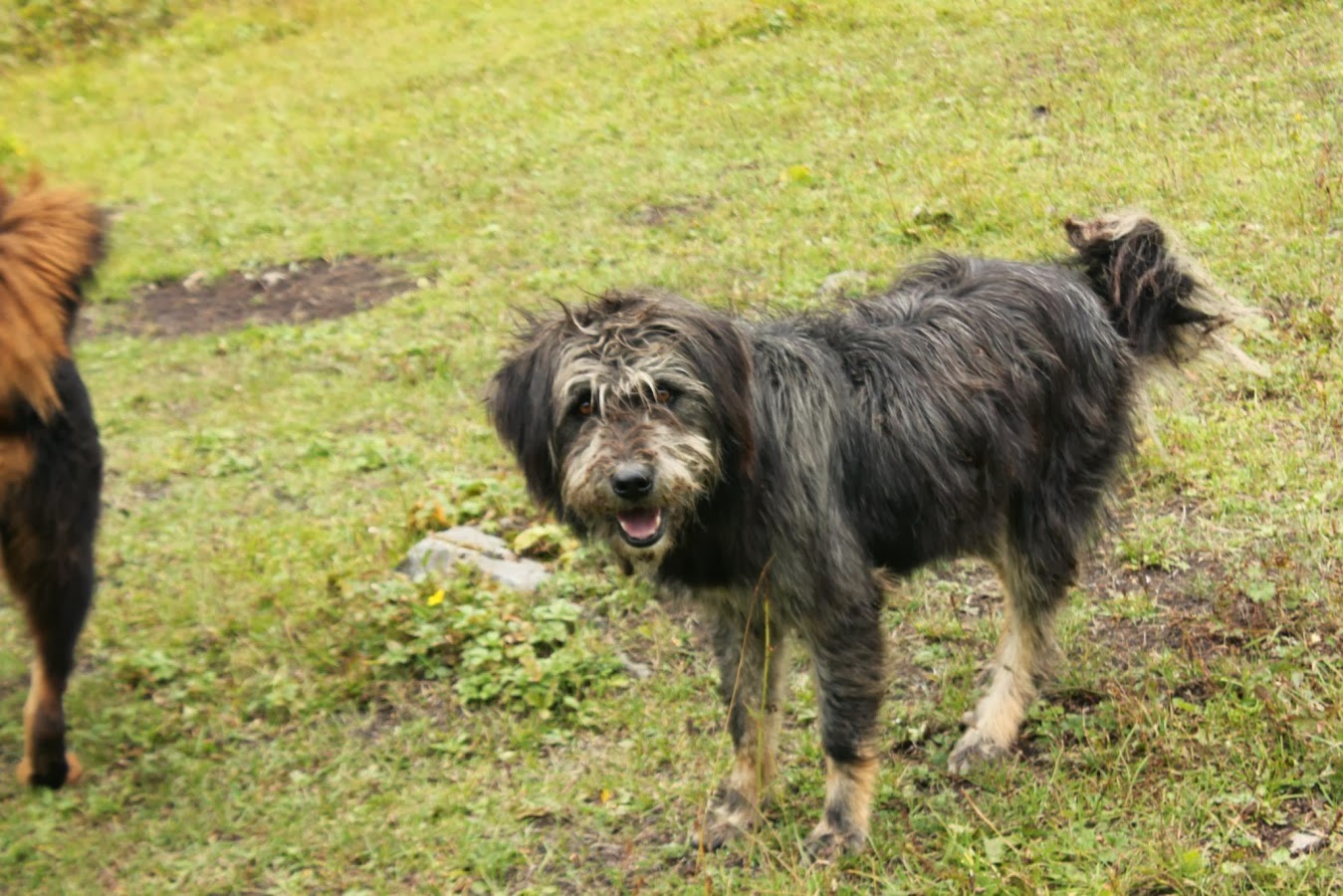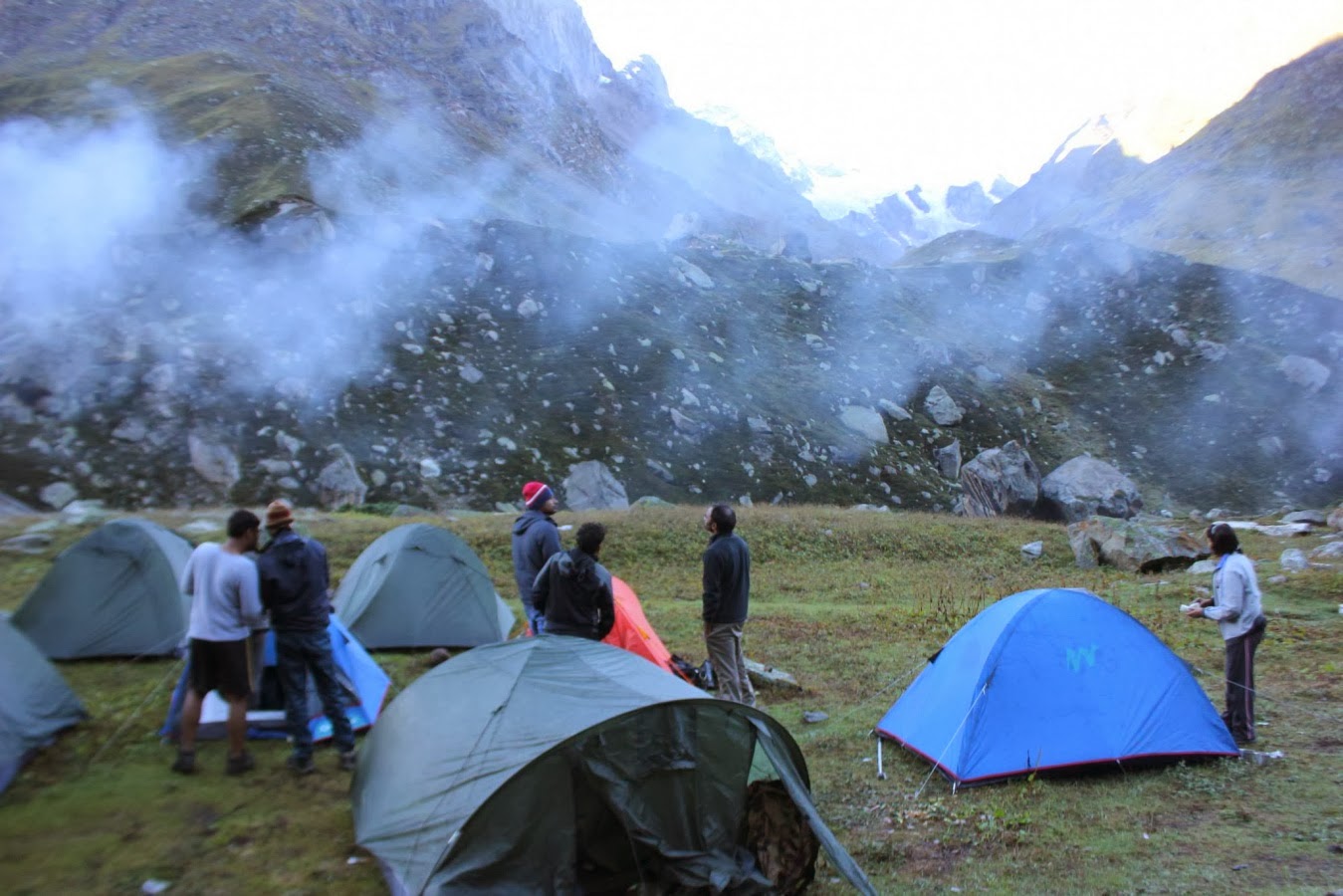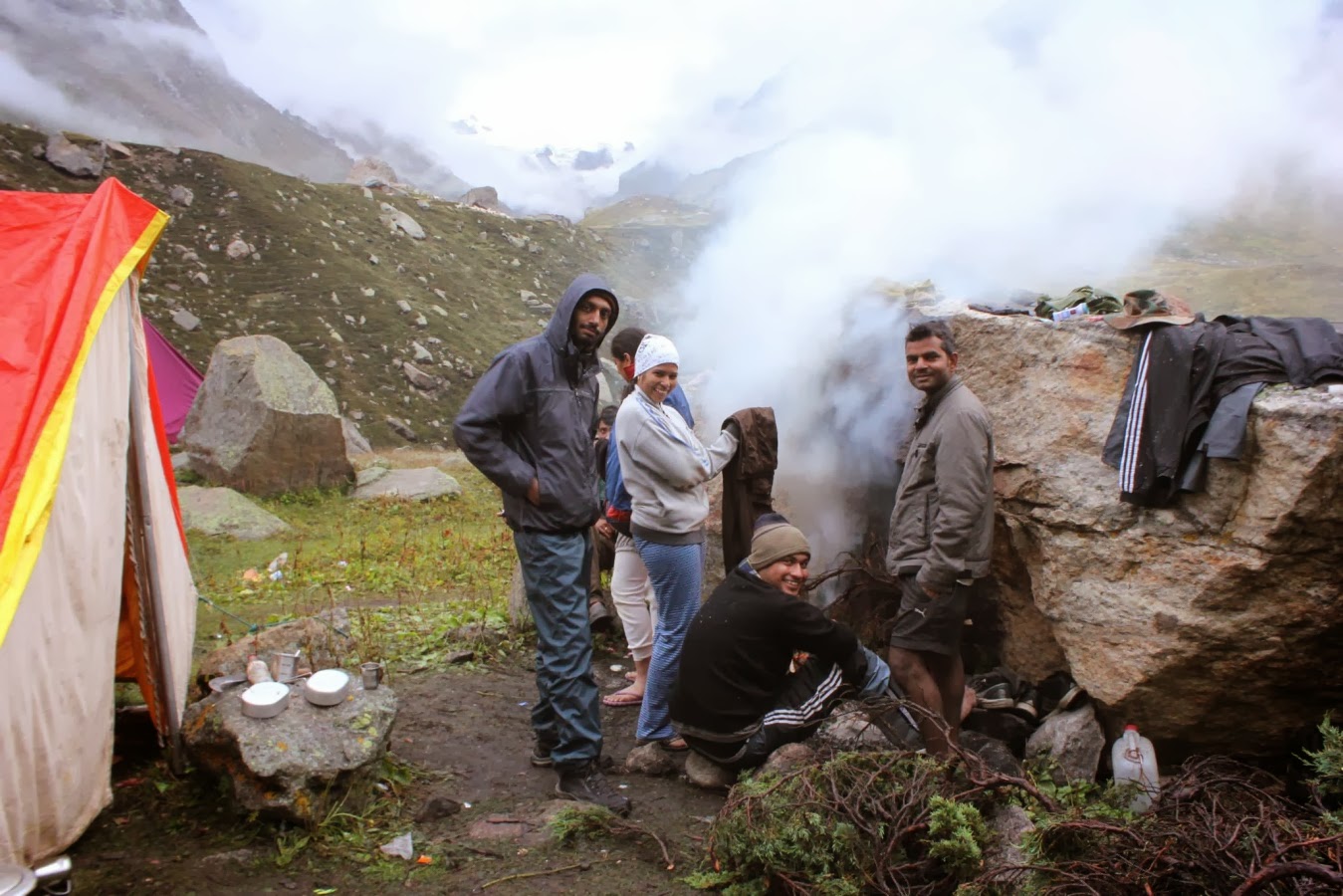 31 Aug 2013 - Unexpected Sights and Worthy Flashlights
On the evening of the day before, only about half a dozen were ready to trudge the 30km to and fro to Mantalai, however, by the morning the number had significantly gone up to a healthy 14. After a light breakfast we began at our normal slow pace without waiting for the porters who, according to the plan, the success of which depended on our slow and their quick pace, of which at least the former was a certainty, were going to cook lunch and carry it to us by noon. Quite contrary to our fears after the previous day's ordeal, the trek turned out to be quite a comfortable one with a nice path leading through green grasslands that were used by the shepherds to graze their livestock by paying a nominal fee to the government. Slow and steady and with a break or two now and then we reached Udithatch, a great plain among the craggy Himalayas, a rare sight at such height. The site brought about the idea of getting a cricket ground built over there and also brought the accompanying question whether it would beat Dharmashala to the title of being the highest cricket ground in the world.
The day offered various picturesque sights and the master put his muse to great use. Next we came upon Khadapatthar, which as the name suggests was a rocky area with many small streams and across one such stream "tau" took the 'leap of faith', "imaankichalang", and was rewarded with a bruised knee, hurt ego and damaged pride. After crossing Khadapatthar we reached the great swamp which was safely negotiated by going around rather than through it and thus we reached mini Mantalai, a beautiful grassland of myriad flowers and diverse hues, rocks laden with bright coloured algae and fungi and a plethora of flora complementing each other and with the river meandering along innumerate twists and turns through this beautiful grassland it was a spectacular view indeed. Lunch of khichadi was had here in the incessant downpour that accompanied us on our journey for the major part of the day and distance, which in no way seemed to affect the porters, not even their afternoon siesta.
The interminable walk had started taking toll and the absence of potable water made things worse. Few of us had given up hope of seeing the trek through, but we decided to just keep on walking. After scaling a rocky mountain which in itself seemed unending we finally reached our destination, Mantalai. Mantalai is a small lake formed by the blocking of melt waters from the Mantalai glacier by a mountain that runs across the valley leaving only a small opening which results in a small yet highly noisy waterfall. Here is a temple of Lord Shiva and it is here that the porters broke their fast after the sacred puja. The setting elicited the following statement from Ritvij "Aisanahi lag rahaki hum gangaghatpebaithehain, HaridwaryaRishikesh me?" Anna was a bit diplomatic at first about his feelings for the place but on being pressed the next day his exact words were thus:"Sachbolu to mujhe mini mantalaiacchalaga, aslimantalai to poora fraud nikla." We had to cut short our stay at the lake due to the weather taking a turn for the worse and thus we started back within minutes but not before we had clicked a few pictures and gorged on the dates from Guru's stock.
We began the return journey with great pace especially since we were hungry and also since it was getting late and darkness would set in soon. Some of us rushed ahead while some lagged behind and though we were hungry and were offered Khichdi at one of the regrouping points after the swamp, which unlike the morning we crossed by going through that around, most of us couldn't get even a morsel down our throats. We tried keeping a steady pace but try hard as we may we could not make it to the camp site before dark. It was total mayhem in the dark with nobody knowing where to go. Kashi was asked to lead the pack with the rest towing behind in a single file. The odd flashlight here and there confused even Kashi and he suspected us of having left one among the 14 behind. After some random flashings it was decided it could only be a shepherd and we moved on.
A flashlight was seen again accompanied by the sound of a whistle. Hitesh had gone ahead all alone and after wandering for an hour or so had given up on his good fortune and deemed it fit to sit at a spot and wait for the rest. 8 – 9 torches in a straight file gave him some hope and the response whistle from our side elicited a sigh of relief from him. The dark had reduced the pace of the already snail slow party to a quarter which made Kashi all the more restless. Frequent counting and after going through mud and water much like fire and water we finally came upon the camp around 2100 hours having covered 30km in a single day, veritably tired, utterly spent and not one bit hungry. Some of us pushed down a puri or two and some kheer and started snoring immediately dreading the might of Pandu twins and seeking divine intervention.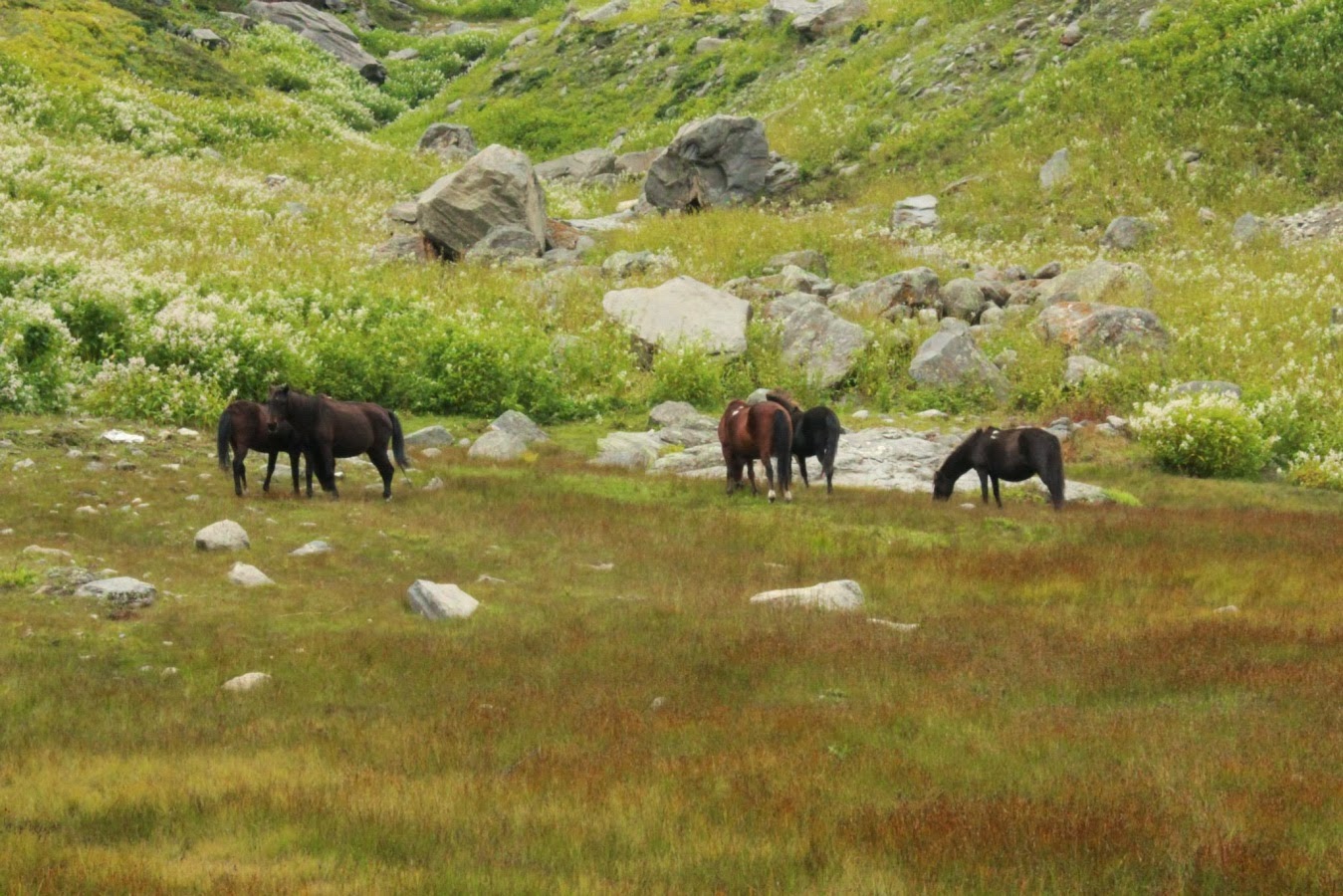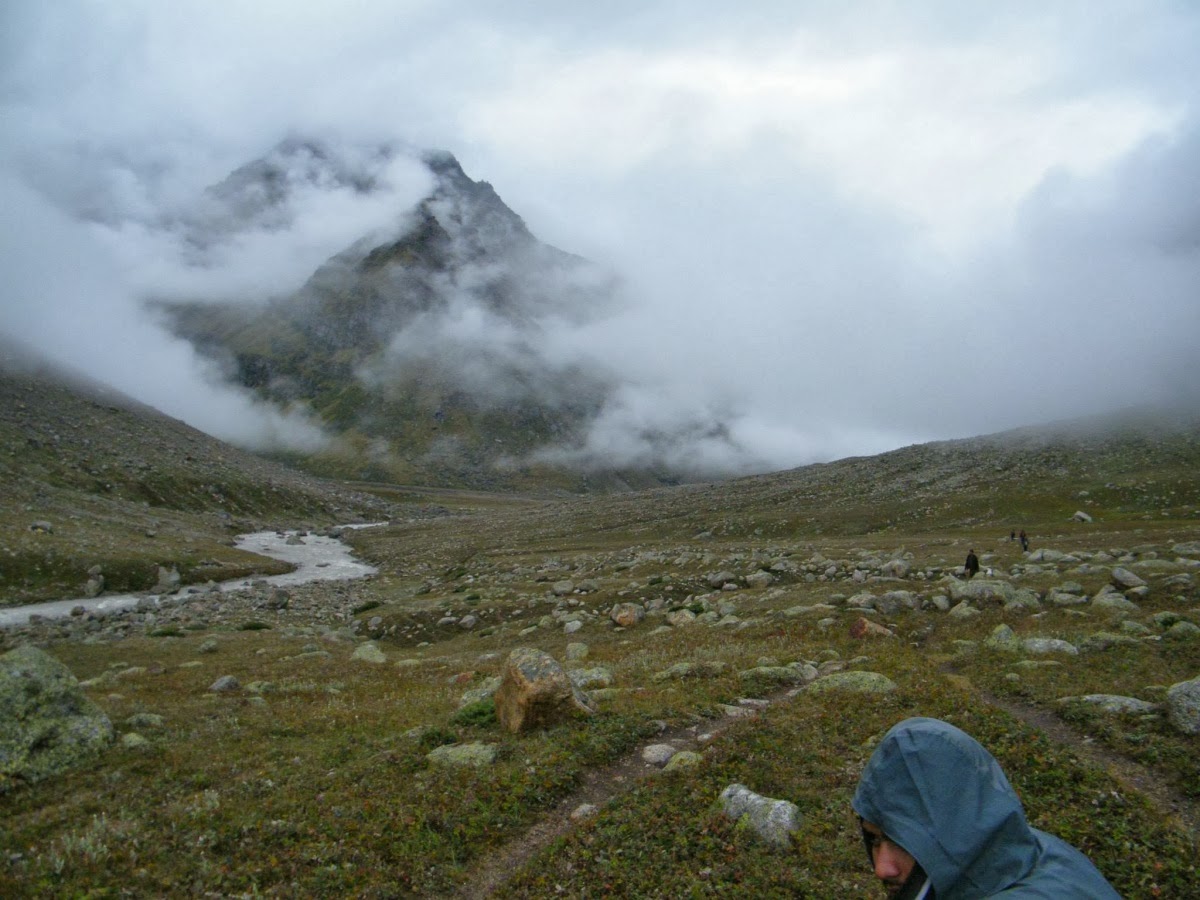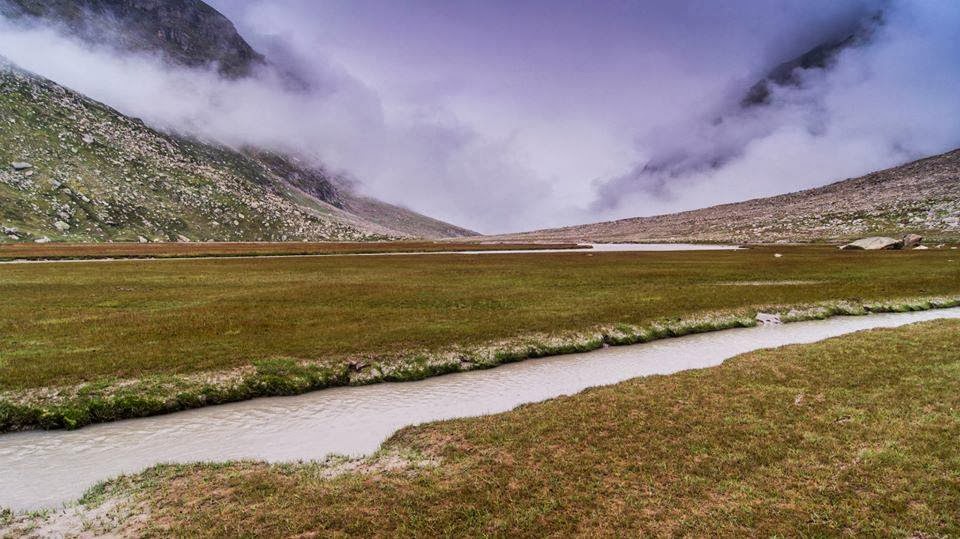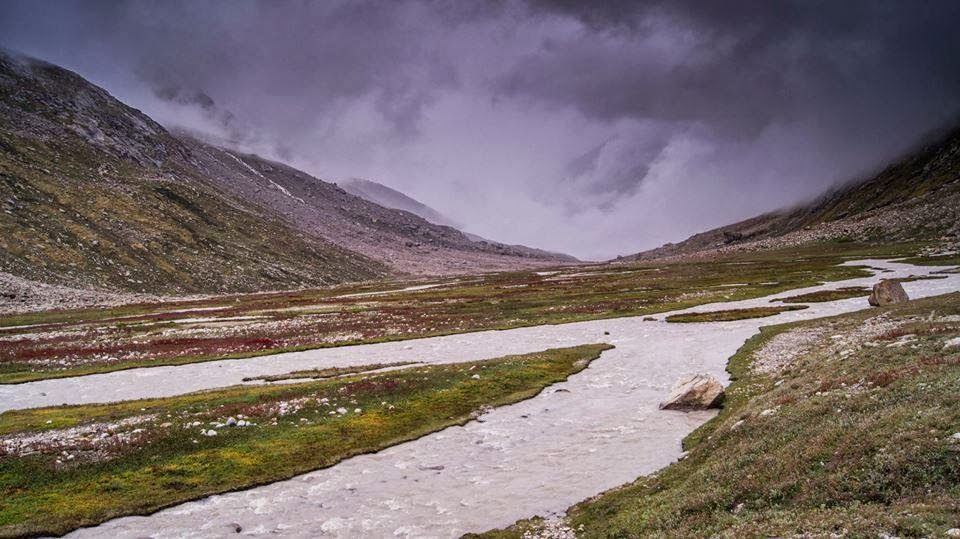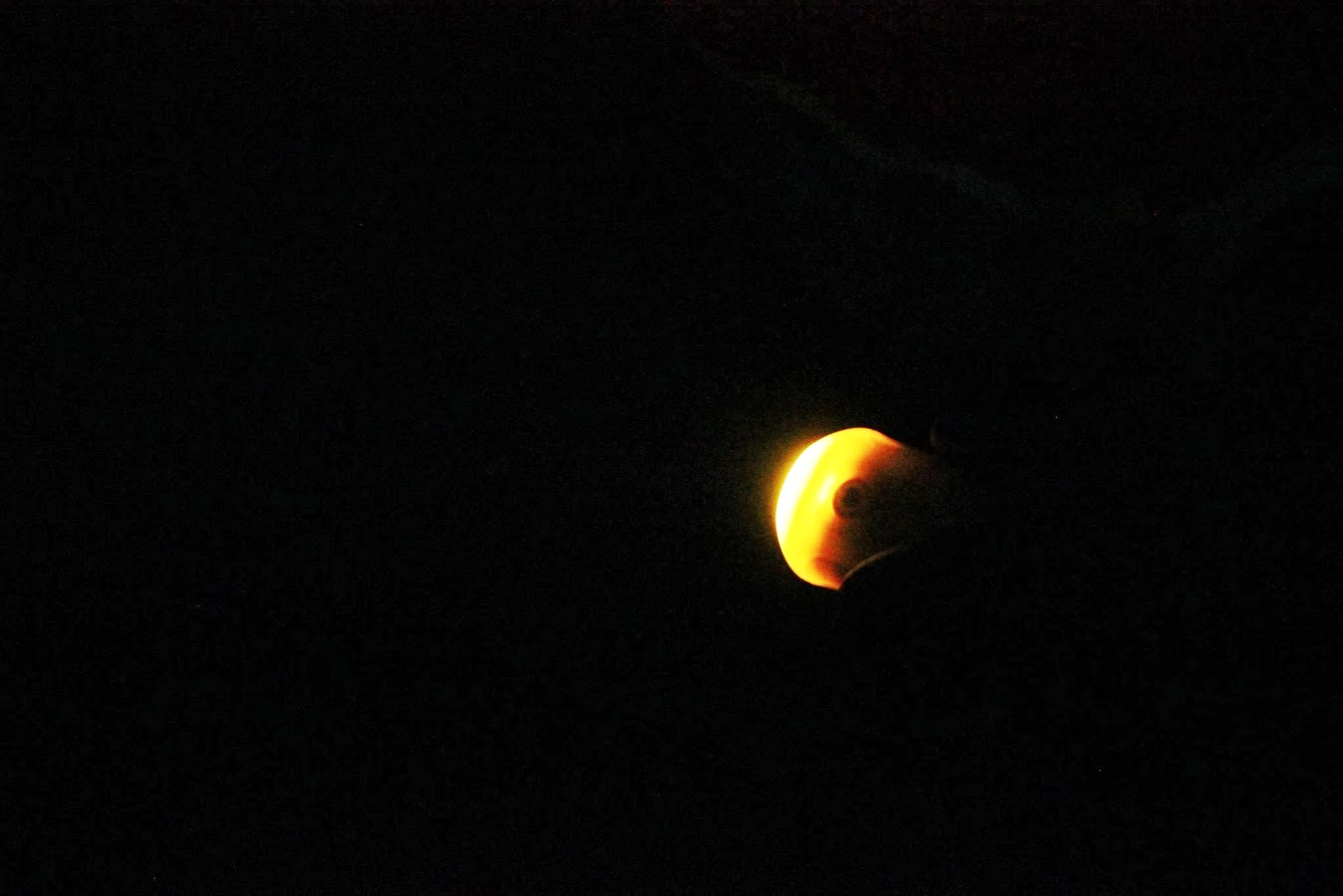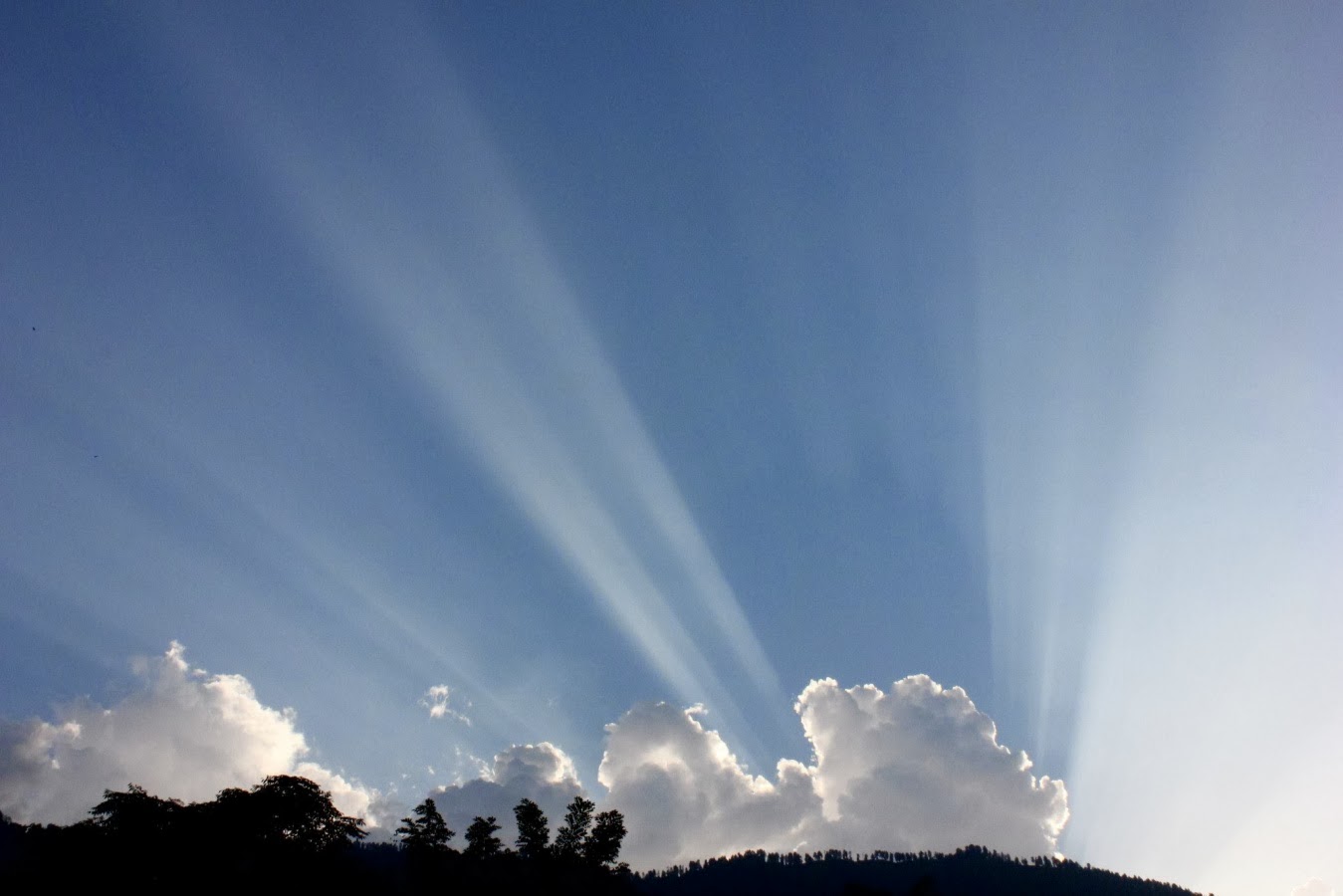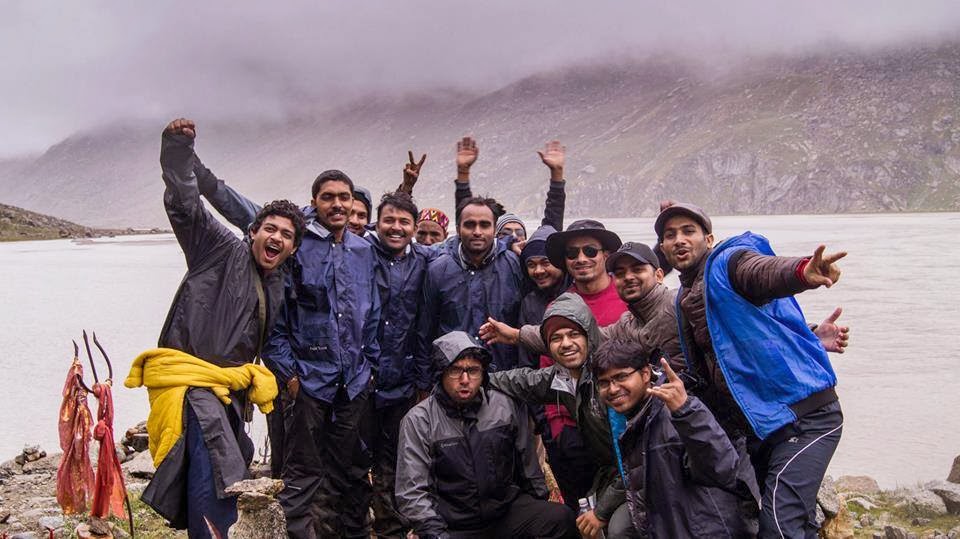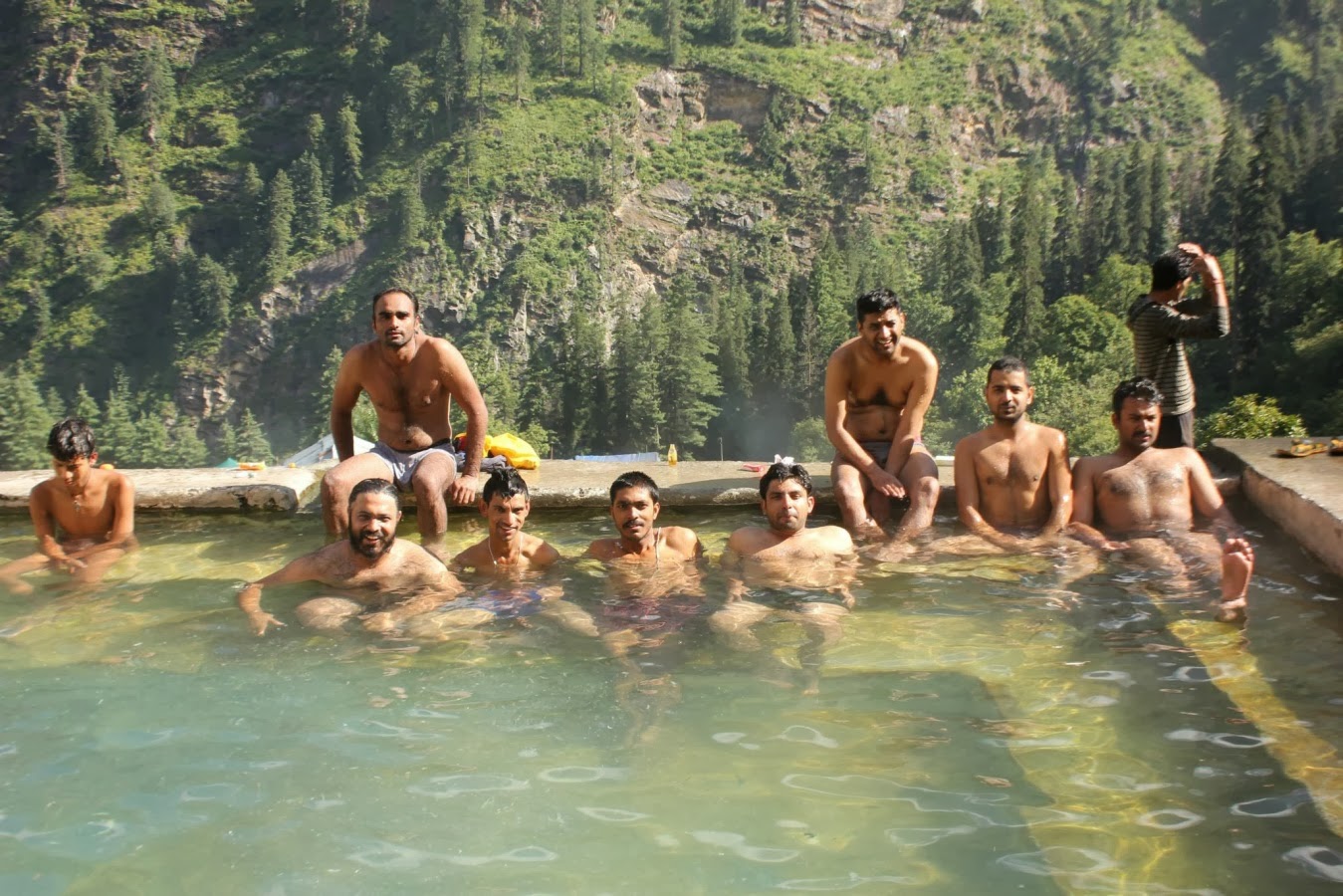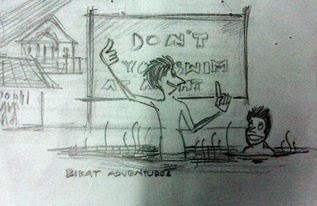 01 September 2013 - The Hasty Retreat
A beautiful sunrise greeted us in the morning as summed up in the following lines:
Sun rises in the east
The peak glows in the mist
Clouds clear for some time at least
An awesome view is the gist!
We started the day early as we had three menacing bridges to cross and cover a distance greater than what we had covered in the onward journey as the return trek was planned keeping a day short. With no rain or wind during the refreshingly cool morning and the sun out in the clear sky for a change, crossing Pandu twins turned out to be child's play especially since a rope was used to cross Pandu 1. The clear weather had everybody in high spirits and in the excitement we rushed forwards only to wind up on some hill with no way ahead. The credit of this savoury detour goes to Meena for his "hum pani ke itne paas aaye hi nahi" which led us up the hill well away from the actual track in the plains beside the river. We were high up on the hill when we realized that we had landed in a place from where neither was there a track visible nor could one be created by trampling upon the outgrowth. After some uncomfortable bickering we spotted Kashi happily trudging along the beautiful track in the plains below and we called for help immediately. He was a bit surprised at hearing his name coming from the mountain and then when he spotted us his only reaction was a slap on his forehead and a commanding swing of the other arm directing us straight down the hill. Inder and I interpreted it as a comfortable sit down and that is what we did as we slid downhill on the vegetation to the spot where Kashi was waiting while the two giants Navneet and Meena easily maneuvered on foot. Before this adventure we had to cross a small bridge made of two round tubular bars, with rocks forming the passing platform. This one gave a couple of us cold feet and it was only after some self morale boosting that I managed to cross it.
We crossed the suspension trolley bridge and tedha pul as quickly as we could and made it to Tundabujh by 1400 hours. There was some confusion about the camping site for the day and so we decided to wait for some message and have lunch in the mean time. We tried eating but could not get anything significant down our throats and since no message had arrived by then and couple of us had already moved ahead we decided it best to move on. With Uday for company there was some energy and enthusiasm infused into the group and his "bas aa gaya aadha ghanta aur" kept us moving for quite a while, around two and a half to three hours to be precise. Around an hour and a half from Kheerganga we were stopped by Kashi, who had come running along some mountain track known only to the local folk, and asked to camp there itself since the entire party would not make it to Kheerganga by night fall and it would be dark by the time we ourselves reached as well. Memories of the night trek from Mantalai were fresh in the mind and they haunted us as we waited and tried to come to a decision. Kashi had a history of exaggerating things and his proposal to set up the camp on wet shrubs was not very lucrative either. Sanjay and Rajesh had gone ahead and Shetty and Ajay too were not in the mood to take Kashi's counsel. Seeing them leave I egged Anna on and we moved on as well and at a great pace lest Kashi's fears of we losing our way in the dark come true.
Luckily we spotted people at intervals of around half hour and asked them for directions. The rain, a couple of days before, had wreaked havoc on the mountainside with ankle deep mud all over the track and with the cattle too using the same road; it was a dirty mess to say the least. When we were near Kheerganga we got caught in a herd of sheep and could do little but follow them slowly and so slow yet steady we were in Kheerganga by 1815. We booked a room immediately and went straight to take the soothing plunge in the holy spring. Anna's quip, "Mujhe M.Tech. degree lene pe bhi itni khushi nahi hui jitna aaj Kheerganga tak pahunch ke ho rahi hai" sums up the sense of achievement each one of us bore on reaching Kheerganga that day. We had trekked 30km the previous day and around 28 on this particular day. Doing long treks on back to back days gave us a lot of confidence and a great feeling of satisfaction of having risen to the challenge. Great conquests are best expressed as poems and ours was no small feat either hence the ode mode:
Paane grishma jal ka wo paavan kund,
Chalaa Pandu pool se madmaston ka jhund.
Thoda raaha ki kathorata pe haste
Thoda man ko nishthur banate
Bas us jal ki aas lagate
Kaate raasta chalte phisalte
Kabhi rukte kabhi thamte
Par manjil par nazar jamaye rakhte
Pahunche manchale kheerganga me ujale
Kuch sayankaal ke kuch pratah kaal ke.
To celebrate we ordered great food which turned out to be not that great to taste and so, again gobbling down how much ever we could and drinking the exorbitantly priced soft drinks we were back in our room with plans of entering into such a slumber as would humble "Kumbhakarna" himself. We slept comfortably, after many days it seemed, and on actual mattresses after nursing our wounds. The setting though did not seem to suit Ajay who was busy, digging into his medical kit for his sleeping pills and attending to a demanding bladder in the middle of the night.
The other party which camped at the spot where Kashi had asked us to wait too had their fair share bit of fun. Since it did not rain they could set up a bonfire among the bushes and also the switched off mobile phones could be switched on and music played to the heart's content. "Yo Yo Honey Singh" regaled this party with his Punjabi hit numbers and so there was song and dance around the bonfire until late in the night.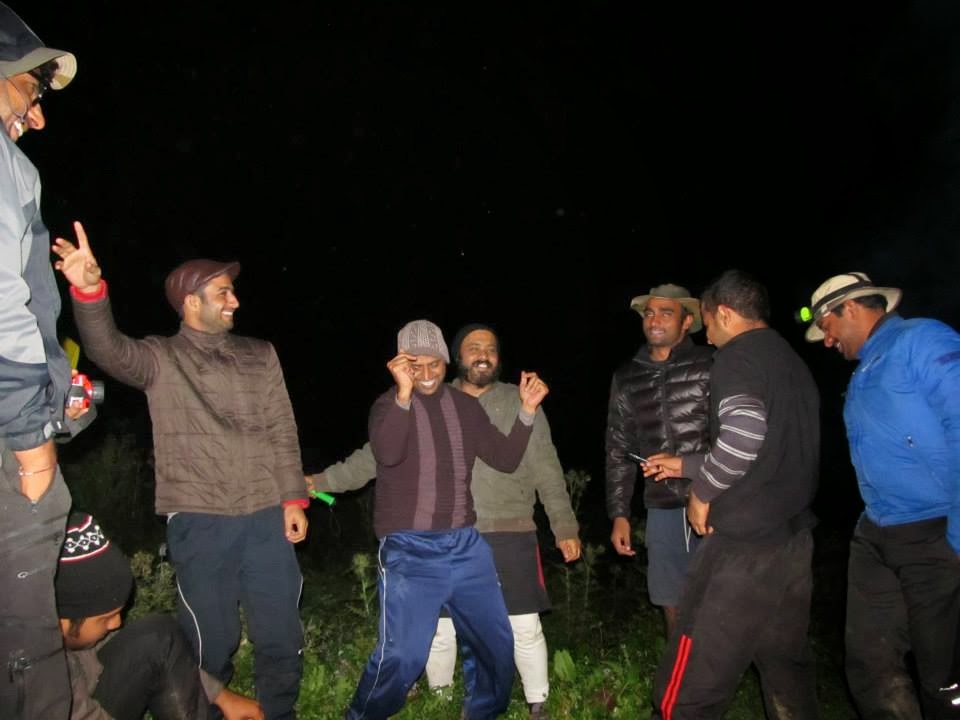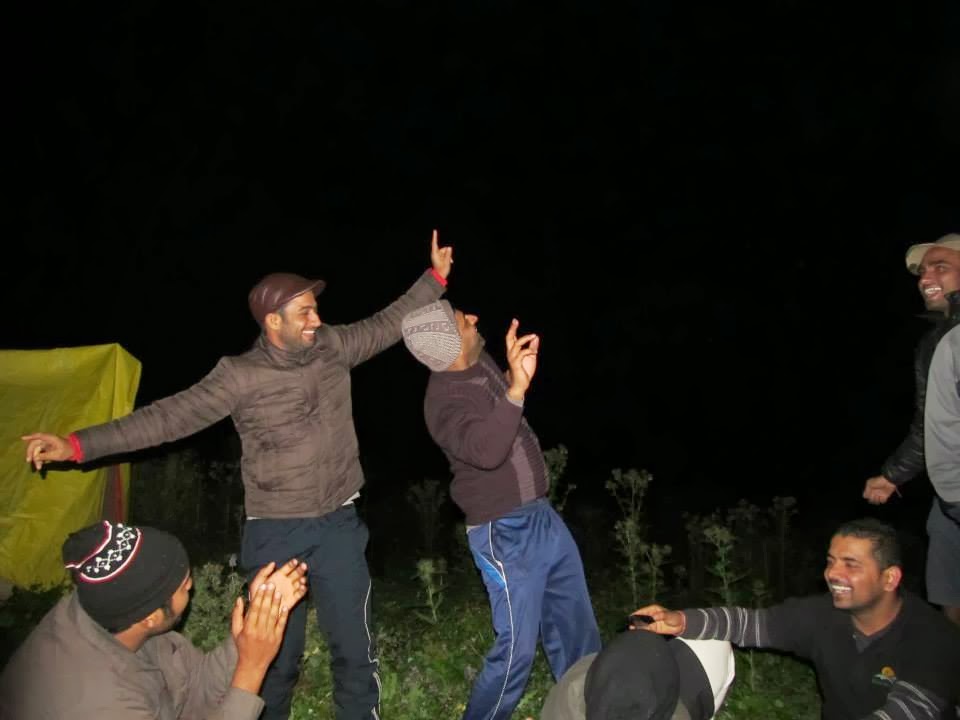 02 September 2013 - Back to Square One
The morning of the 2nd of September was a luxurious affair. We woke up late, had hot water for washing, cleaning, brushing and freshening ourselves up and loads of sunshine to dry all our wet stuff. The water which flowed down from the spring was smartly tapped by the local folk and directed to the washrooms thus eliminating the need of heating water. We lazed in the hot water pool for a long time and got out when we deemed it fit. As we were getting out, the rest of the party arrived and started jumping into the pool. They had made an early start like on the earlier days and covered the one and a half hour trek by 9am.
While this party was treating itself to the benevolence of the hot spring we indulged in a rather heavy breakfast of Parathas and musli with the hope that it'll help us in the day's activity by keeping our energy levels high. The organizers for their part took a quick dip and got busy trying to find the time of the return bus from Kullu with the aid of the only available active mobile phone and the resourcefulness of Rana sahib to dig out information. Rana informed that the bus was to start at 5 o'clock in the evening due to which all of us made haste and started trekking down immediately so as to reach Pulga by 2pm. Those who had arrived in the morning had already had a breakfast of Bread Pakodas, a fried delicacy of bread with stuffing at the camp itself before moving for Kheerganga, thus they too were set to move without any fuss.
The downward trek was easy going on the mind though not necessarily on the feet. Going through the beautiful firs and pines is always a wonderful experience and with the multiple fresh water rivulets adding to the charm of the place the trek was blissful indeed. After about 2 hours of trekking we reached Rudranag where it was decided to have lunch. Few of us decided against it and moved on. Letting gravity do the work of pulling us down on the downward slopes may give an impression of an excellent strategy to save energy, but those who have seen a few winters will immediately discourage such a strategy that is certain to backfire. We learnt it the hard way by experimenting on ourselves; by actually having to use up more energy than what we would have if we had trekked the normal way.
The generosity of the local folk is simply amazing to say the least. We were again offered apples for no charge at all in Nakhtan and that too in sufficient quantities so that all of us could have at least one if not more. As experienced by us during all the days of our trek we literally had to pray for the destination and though we could actually see the assembly point some distance away it turned out to be pretty far off as is usually the case in the mountains. We really had to stretch ourselves during the last phase of trekking i.e. climbing the steep steps up from the bridge from where we had begun the trek. With the aid of some last burst of energy we finally reached the assembly spot where our most punctual Force Travellers were waiting to pick us up.
02 September 2013 - Provoked Officer
The phone networks were picked up by the almost dead cell phones and people got busy informing family and friends of their well being and some over enthusiastic guys even called up their workplaces to know if they could be of any help. We travelled back to Bhuntar, after treating the porters for all their help during the trek, all the while ogling at the apple orchards on the way down and trying to figure out whether to buy apples or not. Tau took prints of our bus tickets at Bhuntar and found that the bus was to leave at 8pm and not at 5pm as informed by Rana sahib at which Rana sahib was dealt a hearty round of expletives, to which I am sure, by knowing him in person, he is no inferior.
With sufficient time on hand we finally had a sumptuous meal, bought the coveted apples and moved at a leisurely pace to the Kullu bus stand. Uday left us here in Bhuntar wishing us all good bye with plans of reaching Shimla on the next day. We were greeted by the "chat" hawkers at the bus stand who were enthusiastically hawking their "chat" which they claimed was a special delicacy of the place and that we should try it having travelled from far off. The suggestion though appropriate entailed a certain amount of dependency on a superior power which may choose to have a bit of fun itself and hence most of us politely declined the offer.
With nothing to do till the bus arrived many of us just sat down discussing the trek, some ambled along among the stalls and still others did whatever they deemed appropriate. The bus arrived late and the conductor was flabbergasted by the amount of luggage we were carrying. We had to talk to him in letting us carry it to which he relented after much haggling from our side. Guru was busy complaining about the packaging of the vehicle, especially since it was a product of the organization with which I was employed; demanding answers as demanded by the current lot of maniac news reporters when they get hold of a politician on their show.
The premise that all our action and drama had come to an end with the trek turned out to be pretty inaccurate. People requesting the conductor to switch the ac on and off alternately throughout the 2 hours that we had travelled infuriated the poor guy and in one of his outbursts he came from his cabin and started opening all the ac vents in the passenger cabin shouting "kholo kholo kholo isko". In the ensuing altercation, which happened to be the last of many small ones earlier, somebody accused him of being drunk on duty which, simpleton that he was, made him go hammer and tongs at us. After some reasoning from our side and much pleading for peace he was calm again and smiling at the incident like the rest of us. This pretty much was the last of the action for the day and though there was a brief halt at night for food, which many among the trekking party refused to make use of, there wasn't anything that would raise eyebrows and thus we were soon snoring our way to the capital.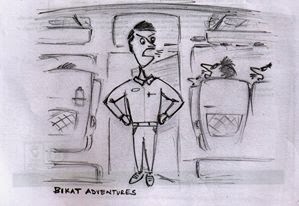 03 September 2013 - The Wholesome End
The bus dropped us off at Kashmere gate where we unloaded both our tons of luggage and our individual heavy selves. The apple cases were drawing undue attention from the public and a couple of them even enquired about the contents, where we had got them from and how much did they cost us. We had picked of the some of the courteous mannerisms of the people of Nakhtan and obliged these inquisitors with suitable answers though not with the actual fruit itself. We soon got back into the nonchalant and detached city mode and with our indifferent countenance successfully avoided any further enquiry if not the actual attention.
People from in and around Delhi left immediately after congratulating all on having a wonderful and memorable trek and exchanging good wishes and assurances of remaining in touch. The organizers had to get all the trekking paraphernalia, kitchen ware and other common stuff back to their place carrying which in the luxurious Delhi metro would have been a mini adventure in itself and hence they had booked a taxi. We threw in some of our stuff as well especially the apple cases and whatever else could be accommodated and left for the Metro station.
The generous gift from my new woodlands (shoe bite) had swollen my ankles and I was finding it difficult to move quickly and so we drifted slowly to the station. There were 7 to 8 of us and taking all along meant we weren't very quick but we were in no real hurry either. The station was bustling with activity which somehow did not make any difference to us and we got the tickets went through the security check at our own pace. Getting lost in the crowd and waiting for each other ensued and after a couple of rounds of the same all of us assembled at the right platform just in time for the next train. It was the stomach bug on the previous trek and it was the shoe bite this time round which ensured that the effect of the trek did not wear down pretty soon at least not till we reached 85, Sector 45, Gurgaon.
As luck would have it we did not find any seats on the metro and expecting a comfortable journey at least standing if not sitting was too much to ask for. We were bullied into all sorts of comic shapes and positions by the crowd and after about an hour or so of this metro gifted misery we reached our destination and were at the Bikats office within minutes hurriedly packing and showering to catch the flight back home. The cook had prepared some "puri sabji" when we were busy with our ablutions which we quickly pushed down and rushed to the cab which had arrived to take us the airport. There is action to be had in the most unlikely of places and situations, which though momentarily troubling makes things interesting and memorable, and so we had one last bit of forgetting and reminding activity ourselves when actually nothing should have gone wrong. After lugging around on most of the return journey, I had almost forgotten the apple case back at Bikats but thanks to our dear "oont", Meena the case managed to keep us company.
The trek officially came to an end with our flight back to Pune and the auto rickshaw ride back home but it has left some invaluable experiences and memorable moments that shall remain with us till the end of our lives and which will bring a smile to the face every now and then when they are referred to. The trek had a mundane beginning, enduring journey and a wholesome end.
More Treks
Roopkund Trek
Hampta Pass Trek
Khauli Pass Trek
Tirthan Valley Trek
Beas Kund Trek
Nag Tibba Trek
Pin Parwati Pass Trek
---
---