---
Itinerary
Day 1: Arrival in Manali, Cycling distance : 0 kms, Altitude: 1,950 m (6,400 ft)
Check-in to the booked hotel or orientation camp set up by Bikat Adventures. Proceedings will start after lunch with a round of introductions for the participants and organizers. The tour leader will brief about the expedition and after that fellow cyclists will be free to explore around Manali.. Overnight at the hotel/ camp.
Day 2: Manali-Marhi
The first ascent of the trip prepares up for the tough ride ahead and takes you through the panoramic view of pine and deodar trees. We will take an early start to beat the traffic rush destined for Rohtang Pass. One has to negotiate many hairpin bends to reach Marhi. Marhi offers picturesque camping sites and prepares up for the muddy ascent of Rohtang Pass. Overnight in camps.
Day 3 : Marhi-Sissu
We start the day by finishing the 18km ascent to the Rohtang pass (3980m) and there are some lovely scenic views on the horizon of snow covered peaks and glaciers of Spiti valley. After a refreshing halt at Rohtang, a steady descent takes us to Gramphu on the highway along Chandra river. From here we will encounter some unmetalled stretches of flat road as we cross the raging torrent of the river at Khoksar and continue a short and easy ride to Sissu in the foothills of the Pir Panjal. Sissu (also known as Khagling) is a small town in the Lahaul valley and located on the right bank of Chandra river.
Day 4 : Sissu to Jispa
The day starts with a steady climb up to Gondla, 244m above Sissu. From Gondla there's a fast descent to Tandi which is situated at the confluence of the Chandra River (flowing down from the north) and Bhaga River, which merge to form the Chandra- Bhaga River that later becomes known as Chenab downstream in Jammu and Kashmir . We cross the towns of Tandi and Keylong and ride on a low gradient all the way up till Jispa, where the river opens out into a wide valley. We camp on the banks of the Bhaga River.
Day 5 : Jispa to Zing Zing Bar
The road climbs steadily to Darcha some 10km from Jispa and then the climb to Patseo begins. The terrain is much more arid and the road is dusty and rocky. We can now sense the isolation of the area, with a few sheep dotted around and begin to enter the territory of the Lamas. In the far horizon you can see the bleak and awesome spectacle of the higher Himalayan ranges. The steep ascent to Baralacha-La starts at Zing Zing bar.
Day 6 : Zing Zing Bar to Brandy Nallah
The day starts early and participants ascend the mountains up to the Baralacha La at 5030m. We cross Deepak Tal situated at 14,000 ft with the snow-capped Mulkila peaks forming a scenic backdrop. The pass is arid with no vegetation, the sides of the mountains looking more like a quarry covered with loose rocks and scree. The route descends gradually to the wide Sarchu Plains As we descend the gorge area of Bharatpur we will cross mountain rivers before reaching our destination.
Day 7 : Brandy Nallah to Pang
The day starts with some relatively easy cycling but soon we are negotiating '21 loops of Gata' that zigzag all the way to the summit of Nakila at 5050m. A short downhill section and then another ascent that brings you to the second highest pass on the Manali Leh highway- Lachulung La Pass 5150m. We then have a long descent to Pang down a steep sided gorge which is our campsite for the night The road here is likely to be the worst of the trip with a distinct lack of tarmac, it's very gravelly and there are many loose stones. Another day in the barren openness of this Himalayan range.
Day 8 Pang to Tso Kar
We start the day with a 8 km switchback climb before reaching the flat top of the Moray Plains at 4700m. This barren area is known for its extreme temperatures in the morning and evening, fast winds and sandstorms. The only sign of life is the hardy Nomadic Changpas who can be seen tending their yaks in this most desolate place. Our first choice for camping will be Tso kar lake which is short detour from Main highway. In case this route is closed due to some reason we will camp at Debring which is Just before the ascent of Tanglang La ,world's second highest motorable pass at 5,360m.
Day 9 Tso Kar to Upshi
A challenging climb that leads to the World's second highest motorable pass in the world- Tanglang- La at 5360m. More vast openness and isolation from the rest of the world. This is a challenge indeed, but truly satisfying when you reach the top, before we set off down the exhilarating descent to the village of Upshi. The first view of Upshi will mesmerise you as you will watch the beautiful green patches of trees with the view of Barren mountains in the far backdrop.
Day 10 : Upshi to Leh
As we continue the scenery changes dramatically, we arrive in a fertile valley that is dotted with pretty villages and Stupas. The awesome red and green coloured mountains that stretch for miles add to the beauty of the spectacular scenery. You can actually see the tectonic forces at work. Crossing the Indus River the road improves dramatically as we follow the road towards Leh. This is an easy ride as we pass the Thiksey Monastery and the Chortens Garden entering Leh itself. Back to civilization and all its home comforts. Congratulations you have just crossed four major mountain passes and ridden over 480 kms.
Day 11 Leh- Khardungla-Leh
We will set of for Khardung La early morning just as the sun comes up. Cycling 45km and gaining 2000m, this is the ultimate challenge of the trip. It is the highest motorable road in the world taking you to a dizzy 5602m! the view from the top is spectacular, stretching from the Indus valley in the South over the endless peaks and ridges of the Zanskar range to the giants of the Saser Massif in the North. You can feel proud of the true achievement as you finish the trip with your final satisfying descent. After a small celebration the trip will end by the evening.Hotel stay on this day is included in the fee. You can return from Leh as per your convenience. Please book your return flight accordingly.
---
Expedition Video
---
Expedition Blog
Conquering Your Fears, Gaining Yourself : Manali - Khardung La Cycling Expedition
Day 0: Arrival in Manali, and completing the final preparations to kick off

When we were about to reach Manali (1950 mts), it was a normal Volvo driven by a focused driver that was close to its destination but for few of us in the bus, the beginning was approaching. People knew that this day does not have any cycling as part of the itinerary but still the mountains can make anybody's adrenalin rush a little.

Manali bus stand is devoid of all the space in the world and hence some bit of chaos is obvious. None the less, we all got busy in assembling our bikes. We biked the short 3 Km ride to our hotel which was on the way to Hadimba temple. Pine Grove hotel, nice ambiance, a field opposite the hotel with 2- apple trees, tomato plants, etc. Evening was nice with a good view and different thoughts. Although few people were talking about their feelings but I am sure everyone was thinking of the roads, efforts, and milestones ahead.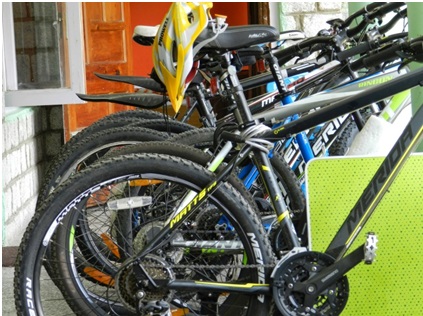 We went to sleep after fine tuning all bikes so that we are set to go next day.

Day 1:Manali to Marhi, 38 Kms of cycling and Tons of confidence to Gain

Finally ! the wait was over. Morning started with a bit of hassle because the hotel staff was not co-operating and the breakfast became an issue. I found a tea vendor, woke him up and he opened the shop immediately. By the way, this meant that not even tea shops are open by 6.30 am in Manali. Manali is still very beautiful with amazing mountain views and landscapes all around but the people are gradually losing that 'mountain spirit' here. Mornings start with sunrise in the mountains and that is mostly a rule I have seen in so many years, visiting across Himachal, Uttarakhand, Kashmir, or Ladakh… Too much commercialization & laziness around the place!

Anyway, we left after clicking the 1st picture with our official banner, all bikes, bikers, big rise smiles, and loads of enthusiasm. Ride to Marhi(3300 mts) is long (38 Kms ) but very green all the way. When I was riding, trucks and other non-maintained diesel cars / tempos were the biggest irritants. That black smoke was like hell and we have taken this hell close, extremely close to the heaven that nature presented to us!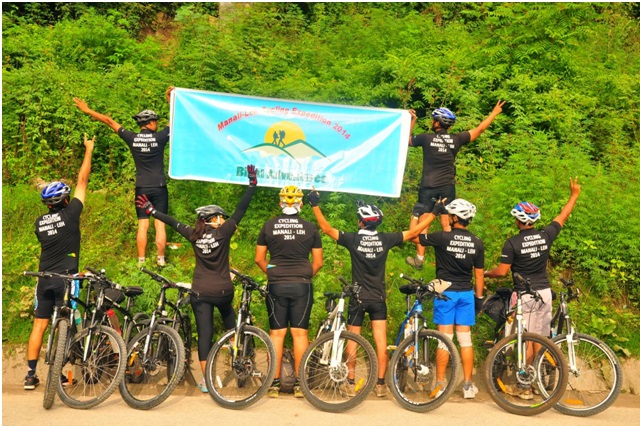 Moments were made when people were stopping to share some chocolates water, or in my case 'anjeer' (@Sushant /Tau: this was for you!). Last stretch to Marhi pushes you to your best. One after the other, people reached and believe me! completing the 1st day gives you a lot of confidence. Your mind sketches its timing and distances, makes you set for the rest of the expedition.

Night was filled with clouds. Tents were set up quickly and just then the rain started. All of us went inside and waited for it to stall. A small break, and we were out for dinner but soon it started again, we rushed back to tents. Another break and we went to take our sleeping bags. Such was the evening...rain was the order.

Day 2 :Marhi to Sissu , Crossing the first pass of the expedition : Rohtang

As expected, the morning was cloudy but thankfully no rains. the logistics needed a lot of planning today because of the heavy rain last night. I stayed behind to pack all stuff better and others left early. The way to Rohtang@ 3980 mts(heap of dead bodies) La is always muddy (around 14 -15 kms ) with stones coming down the hills at many places. Everyone was riding well, curves were getting negotiated one by one and it was heartening to see everyone giving in all that they had. Soon we reached the tourist spot of the pass which incidentally is not the top point! We climbed ahead to the main point marked by a Gompa at your right side and multi-coloured flags covering the milestone on the left side. Many pictures were clicked at the top...everyone wanted to capture the first pass of the expedition.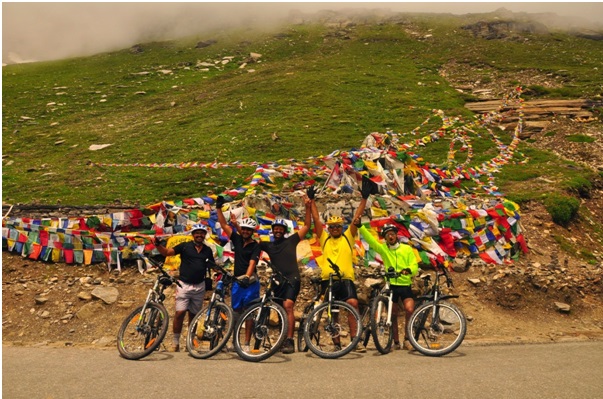 Way from Rohtang to Koksar (3100 mts) is a continuous descent with half / cooked roads but the bikes we had were all very good and made that journey enjoyable. Kush's Go-Pro c…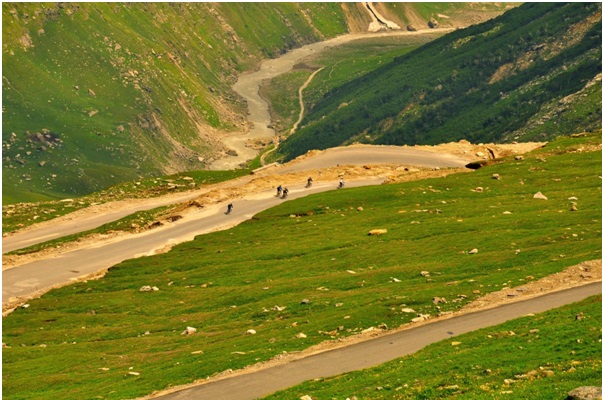 After Koksar, the road to Sissu @ 3130 mts(18-20 Kms) is one of the best you get on this expedition. Everyone was busy soaking the beauty, sometimes in memory and sometimes in camera. All along the Chandra river, flat well made road, greenery on both sides of the mountain, the scene was very pretty. We camped in a private property tonight because finding a patch of non-cultivated land in Sissu is next to impossible. Evening was busy for the photographers with many colours in the sky. Evening was nice with good food, drinks, carom, a proud land owner, and many conversations that will surround the awesome valleys of Sissui forever..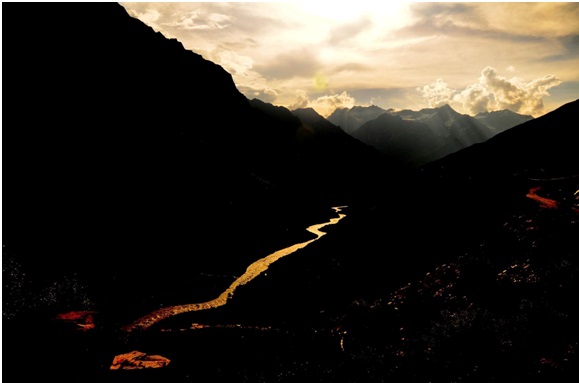 Day 3 : Sissu to Jispa (54 kms), Ride through the love story town of Tandi and rest at Bhaga's expanse

Morning was very pretty in Sissu, the sun trying to overcome the mountain cover, slight breeze blowing across the valley and partly cloudy weather. Priya, as usual, woke up first followed by me & others. She started first, followed by others. Initial stretch of the day was flat (easy ride) till Gondhla from where there is a nice descent till Tandi. Road construction is a never ending process here and one can see workers from eastern part of the country every now & then. While we were riding fast on the descent a dog raced along with me for a good 1 - 1.5 Km stretch as if trying to cheer us up for the road ahead..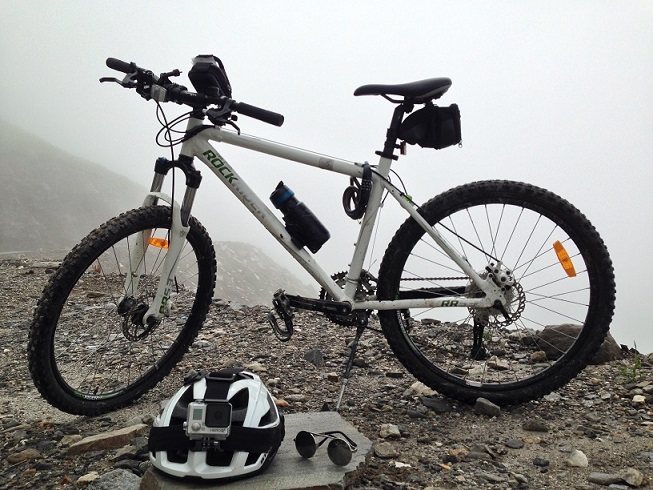 One of the bikes enjoying the view from the cliff

Soon we were at Tandi bridge where 'Chandra' and 'Bhaga' rivers meet. The confluence makes Chandrabhaga river that turns into Chenab later in J&K. The story goes that there were two lovers, Chandra (Moon's daughter) and Bhaga (Sun's son) who climbed all the way to Baralacha La for their wedding. The bet was that they would run in different directions and wherever they can possibly meet next would be the place of marriage. Chandra ran South East, and Bhaga towards north west. They met here at Tandi and got married!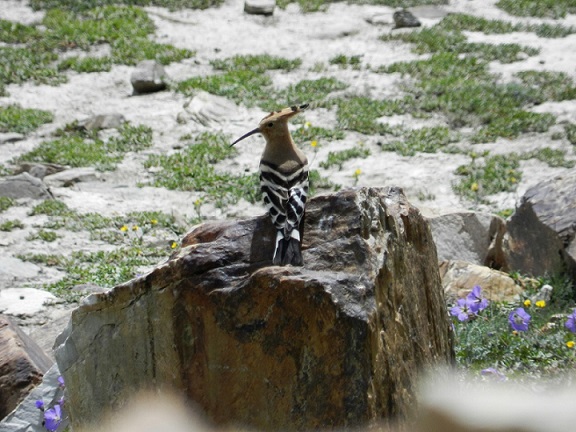 A woodpecker spotted on the way

This day in terms of effort actually starts at Tandi from where a gradual climb starts tillKeylong @ 3080 mts (7 Kms). We all re-assembled for pictures, some biscuits, and chocolates. I took a small detour into the town to take some bread and rest everyone continued on the highway.

From Keylong we kept paddling up till Stingri and further towards Gumri With renewed energy after lunch, we continued the ride to. On the way, Sreeram chose a nice spot for us to have the lunch. Parathas were dry but hunger was bugger Jispa @ 3200 mts. We reached Jispa pretty early (around 2 pm), we took our bikes close to the Bhaga river.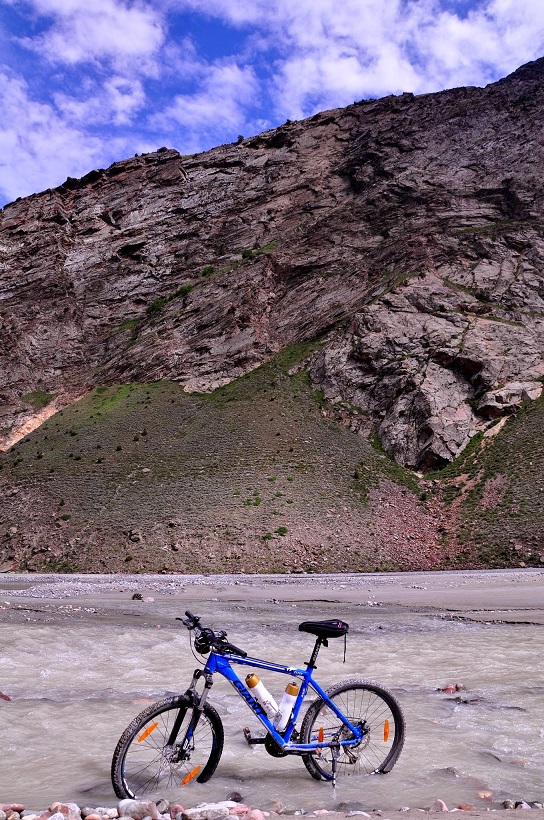 The water was muddy but the expanse of Bhaga river with big mountains on each side was a soothing sight for the eyes. We took out our dining tent today for the first time. The tent was big, warm, and comfortable for all 8 of us. Playing cards, tea, soup, conversations, photos…fun was the order of the evening.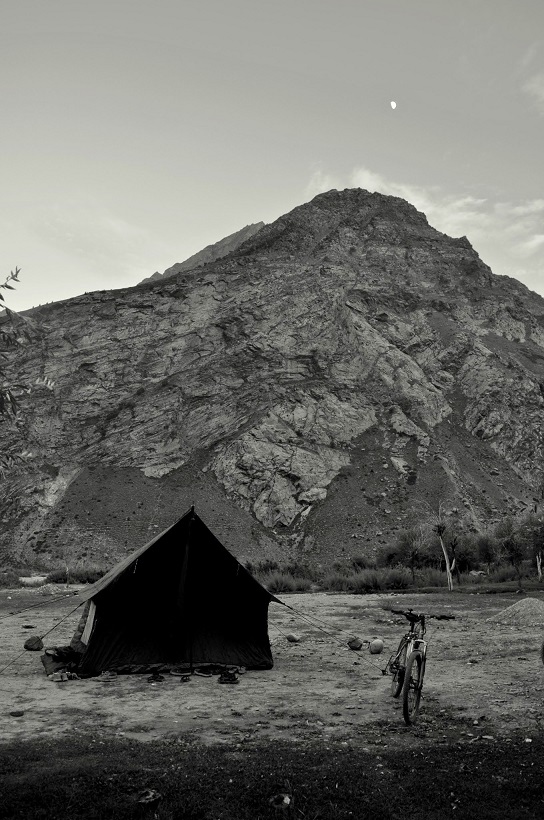 One of our camp at the Bhaga river

Day 4: Jispa to Zing Zing Bar (38 Kms), Endurance all the way

The day started at normal time with awesome view of a bright sunny valley. Initial stretch of the day was flat ( When I say flat, I am ignoring the little up-down in the landscape & ). It continued like this tillI am clarifying so that my fellow riders don't kill me Darcha. We reached Darcha quite early from where the climb started till Patseo @ 3751 mts ( 15 Kms ). The climb was not so easy but all of us were paddling up quite fast today.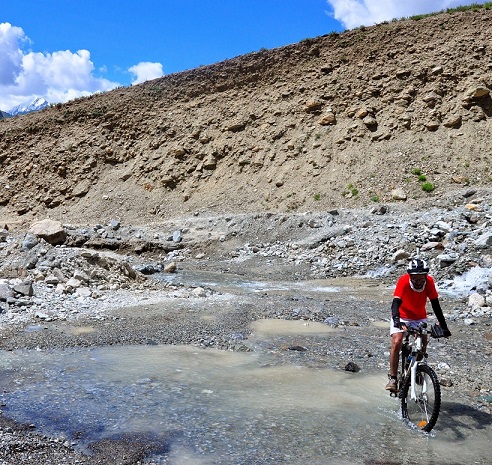 Terrain to Patseo

Soon we reached Patseo and had our lunch. Some locals said Patseo means 'one-big stone bridge'. Can't say how true that is .. but sometimes these anecdotes are nice to believe. Just before we reached Patseo, there was a small fresh water lake with breathtaking view of layers of mountains (arranged as if an amphitheater) behind.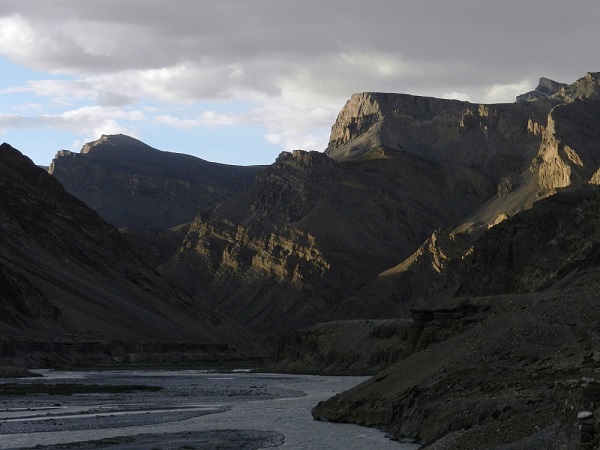 The anonymous lake…at elast I don't know the name

From Patseo, we had to climb another 14 Kms to Zing Zing bar. This was a bit difficult mostly because of the continuos incline, intense sunlight, and cold winds. Long breaks must be avoided on such climbs but keep yourself hydrated on such climbs to keep the muscles warm and avoid cramps. We reached the Zing Zing bar @ 4270 Kms by 16:15 hours. There are two Zing Zing bars here, around 3-4 kms apart. We camped at the higher one.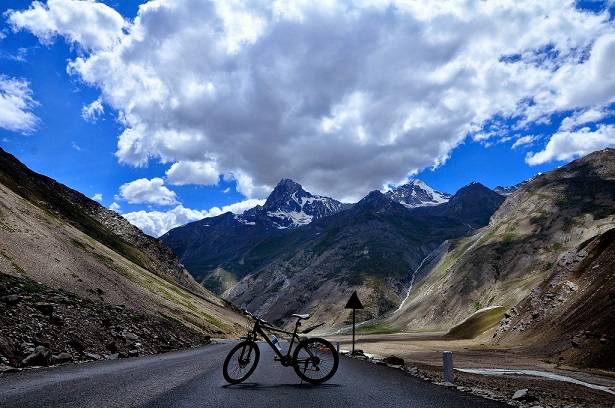 Towards Zing Zing bar

Another thing that no-one should do at such high altitudes is break down immediately after reaching your milestone. We had only climbed up & gained altitude all through the day. Some of us were getting headache because of the altitude already. We made sure that everyone was properly hydrated with loads of water, glucose, tea, etc. We also did a small walk upwards to gain some more altitude & came back to lose the same. This makes your body acclimatize better and should be practiced in any high altitude camping site.

The sleep tonight wasn't that great for all of us because of the altitude but after some medicines, it was OK.Evening was enjoyable again playing cards ( courtesy Prem bhai ..), Teen Patti to be specific

Day 5: Zing Zing to Brandy Nallah, Realizations start to kick in! Baralacha La hits you!

Most of us had slept uneasy last night, so I did not wake anyone up early today. The morning started at around 07:30 hours compared to the 06:00 hours we were used to.. We had some other cyclists camping at the same site. They were 2 guys, each of the age around 60+ who had completed the Manali-Leh stretch many times before. Inspiration!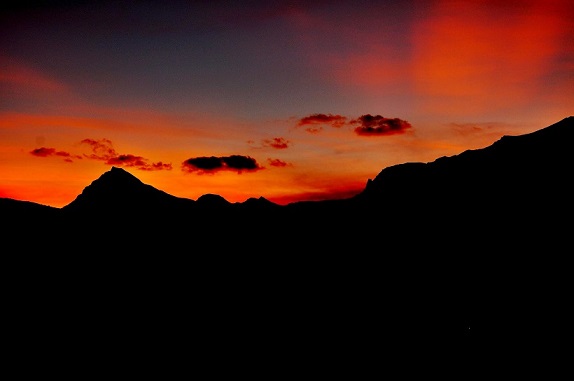 Sunrise @ Zing Zing bar

We started at around 08:00 hours and everyone had just one thought in the mind – Baralacha La @5030 mts . As we started, I tried to calculate the distance of the top going by the last milestone we saw saying – Baralacha La – 32 Kms @ Zing Zing bar. So, the estimate was 26-27 Kms. Weather was cloudy today, so most of us were riding with a rain coat on. The curves for this ascend are uniform that lets you maintain a nice momentum. Sreeram & Rohit were ahead and Priya & Wakeel were behind, while me, Ramu, Yasho & Kush were riding together. We thought of taking a short cut in between, Go-Pro was switched on, and completed a fast ride up. Nice rush of blood! Soon we reached Suraj Taal @ 4883 mts.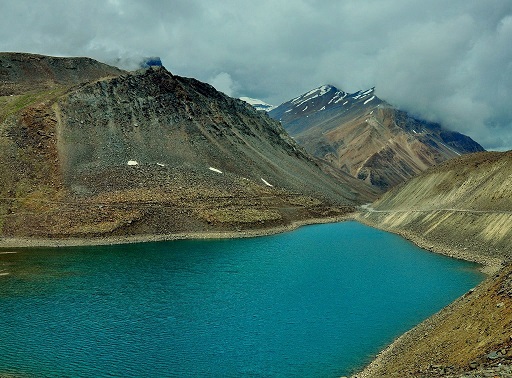 Glimpse of Suraj Taal

The winds were quite cold and we took out the jackets here. After climbing a few more loops, I saw the broken sheds where I had taken an 'Anjeer break' when I did this route last time around with my friend Sushant ( popularly known as tau ) . I remembered that Me & Tau did not take much time from here to reach the pass but my calculations from the morning were suggesting that we still had a long way to go.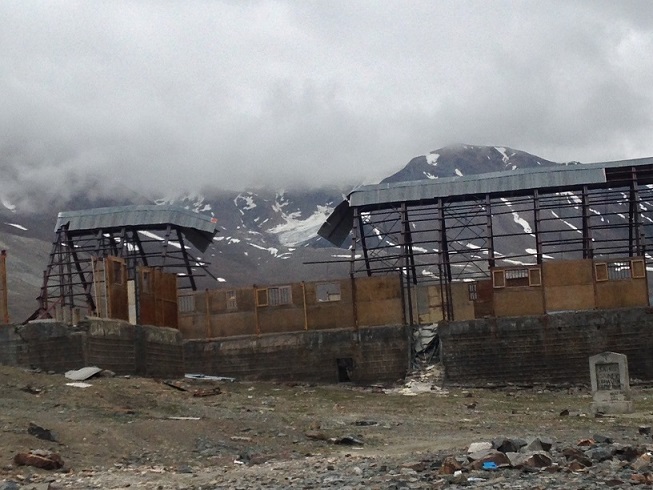 Anjeer Point

After climbing for some while, we actually reached the top that was a pleasant surprise for most of us, proving my calculations wrong! But Sreeram had already moved further ahead thinking that the top is still ahead. I can now say that Baralacha Top is only 15 Kms from Zing Zing bar (upper one). Expedition banner was out for the awesome pass, the Bralacha @ 5030 mts that gives a wide open view in front with snow laden peaks staring into our eyes.

Baralacha La : Panaroma view

Descent was fast to Bharatpur where Sreeram was waiting for us for a long time. We had lunch here. From Bharatpur to Sarchu @ 4290 mts, the road is mostly flat with many stretches going down. I was riding alone when I reached Sarchu with most people behind at some distance. Green pastures, flat surface in the middle of huge mountain peaks, andYoksar Nalla @4100 mts flowing along. To me this patch beats the Koksar -Sissu road. I waited here for others.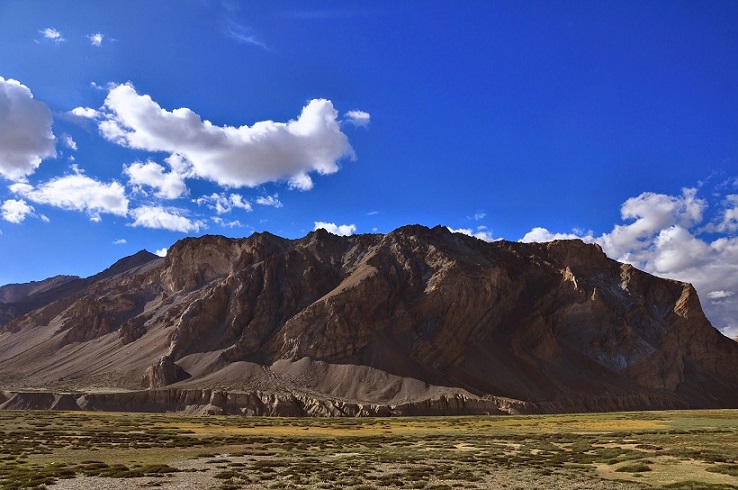 Sarchu : The vast land of green grass

The target of the day was Brandy Nallah @4120 mts (20 Kms) from here and it was already 16:30 hours. I pushed everyone to ride ahead without wasting much time at Sarchu., I rode fast to reach the camping site where nothing was visible. After 45 mins of searching here and there, I found the camping site behind the broken structures close to Brandy Nallah.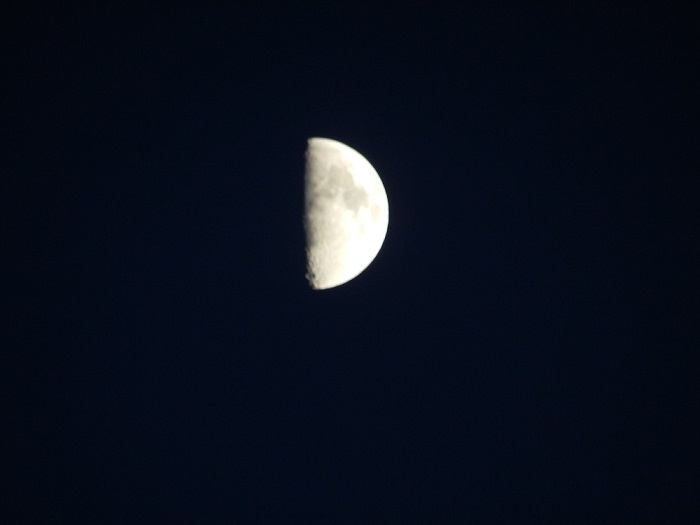 The Moon glow for Yoksar Nallah!

Night was quite beautiful with moonlight making the water ofTents were put up quickly; Kush played some music that at least I could not understand Yoksar glow in the dark and all the mountains trying to capture as much moon as possible.
Day 6 : Brandy Nallah to Pang (57kms), Rajni uncle between Nakee La & Lachu Lung La

Today was the day of days for this expedition, target was Pang (55 Kms) and unlike most days, there were more than one milestones for the day – Gata Loops@4190 mts(21 curves), Nakee La@5050 mts, Lachu Lung La@5150 mts. Hence riders started early for the day. 1st climb in the morning is usually easy to maneuver and as expected all riders were at the top of Gata Loopswithin 2 hours. Beauty of Gata Loops is that most loops can be seen from the top and it makes one feel very proud & happy to look down the top.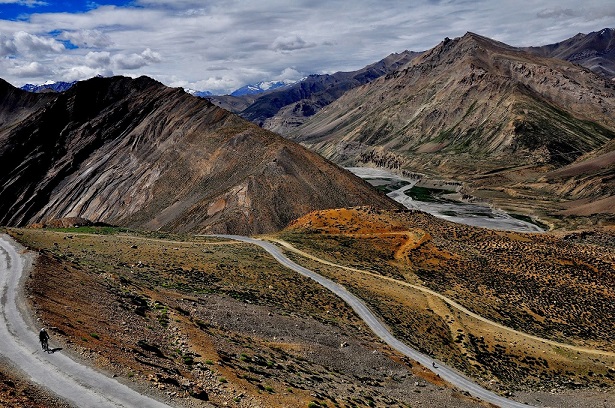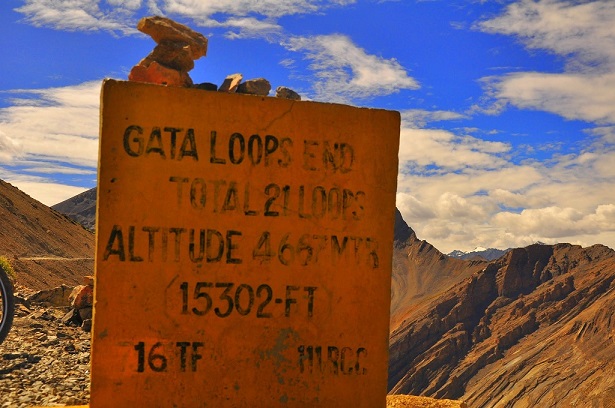 However, the joy could not be too long because next target Nakee La was to be completed with more of continuous ascent. Of all the passes on the way, perceptively, Nakee La makes you earn itself the most. You can see one bend in front and ride with full heart to reach there, only to see another bend up there again., as if trying to protect the pass from being visible. When we finally saw Nakee La from a bend that revealed and the feeling can't be described. As usual, the pass was celebrated with pictures, laughs, cheers, and we moved downwards to Whiskey Nallah for lunch.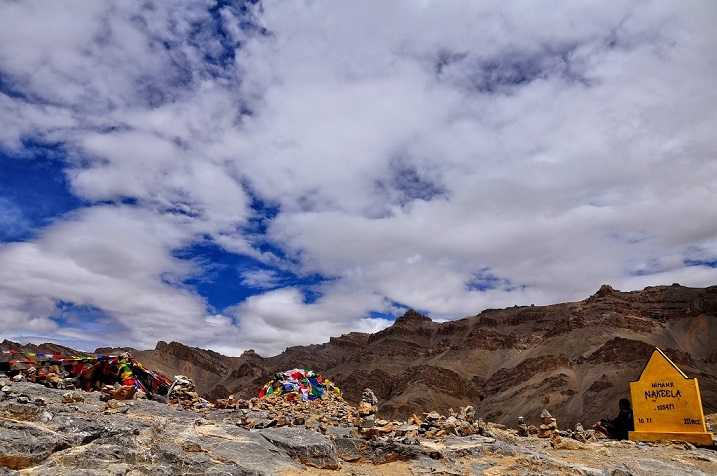 At Whiskey Nallah, you would meet 'Mr. Rajnikanth'. He recognized me when I met him. Its always a such a happy moment to see a man with fewer hands and a larger heart! This man stays at Whiskey Nallah (situated between 2 passes – Nakee La and Lachu Lung La ) for the longest period during the year, helping everyone that passes by. Today also, he was quick to mention that the weather might worsen, so we should either move fast or plan to stay here itself. People should come here just to meet men of real honour like him… inspirational he is! I don't know his name but would always call him Rajnikant uncle.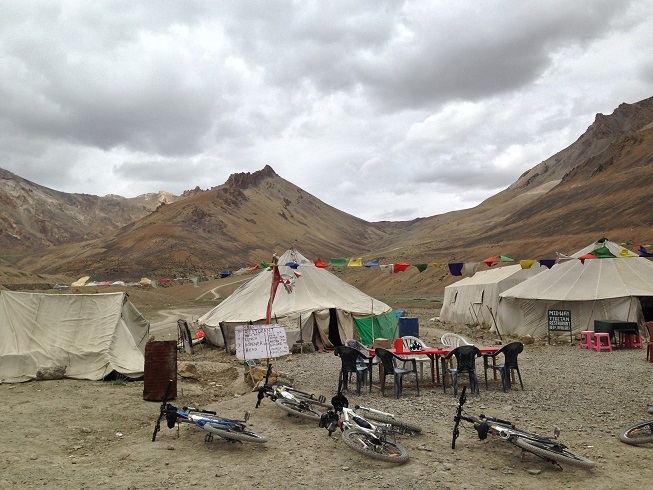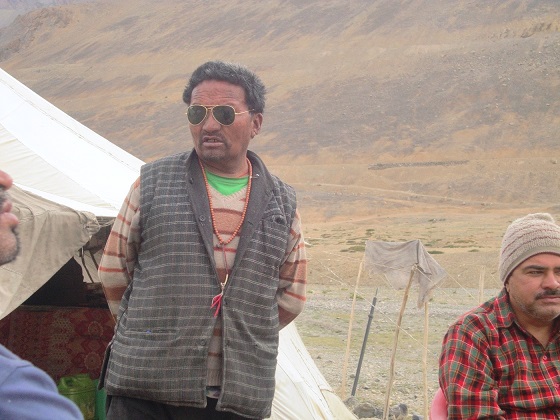 We moved on to cross the Lachu Lung la. While the pass has a nice ascent with not so steep gradient but it's never easy to ride up in the second half of the day with a drizzle on.. everyone marched ahead. We packed the cameras in plastic bags / covers to protect them from the increasing drizzle and kept riding up. I told everyone that riding up is the best strategy to manage the chill & drizzle. By the time we crossed half way, some of us were extremely tired. Rohit, Kush, Ramu , Yasho, all were pushing their limits while Sreeram was ahead and reached the top first (as usual actually). When we saw those blue, red, yellow, Budhist flags, it was a declaration of the 'Lachu Lung La'. Sense of achievement is defined by such moments!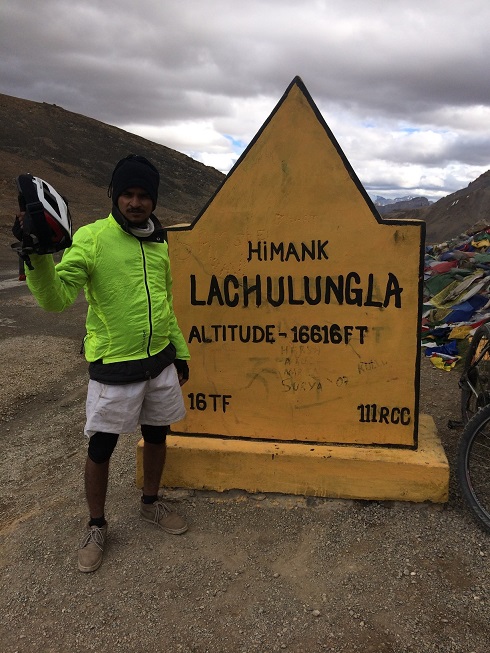 Today, the riders had achieved something after crossing hurdles, facing challenges, and above all pushing their own limits. I am sure from now on; these guys would not find anything impossible in their lives!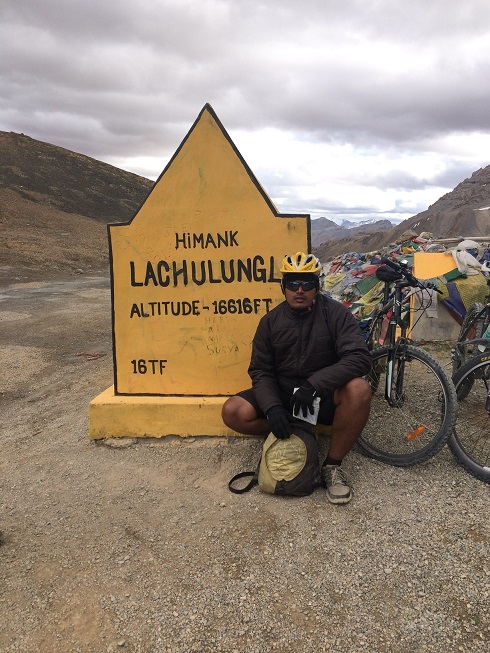 Descent from here to Pang@4600 mts is a beautiful ride taking you between large mountains, reddish soil, and a nice water stream alongside. We (me, Yasho, and Ramu) saw a group of local deer which was looking awesome. Unfortunately we could not capture them but none the less the sight would remain with us forever. Some 9 Kms before Pang, we had the first flat tyre of the trip. We were careful and maintained our bikes well every morning with proper air pressure check but how can you have a Leh trip without one or two flat tyres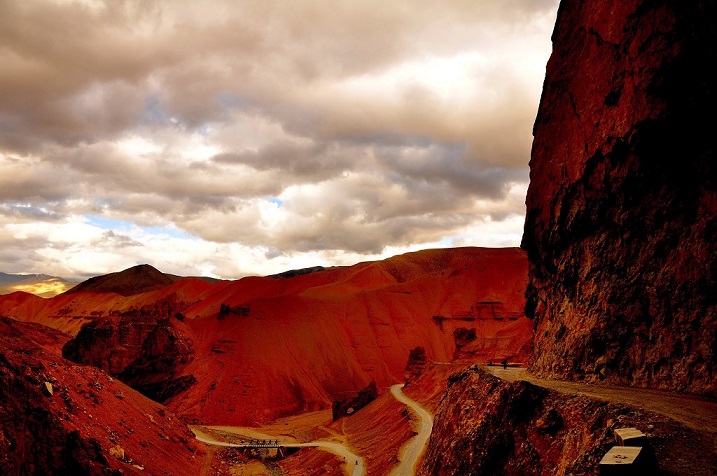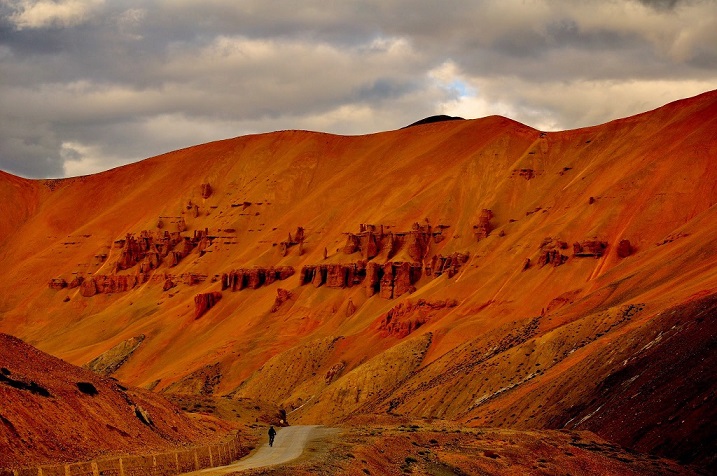 Day 7 : Pang (57kms) to Tso Kar@4835 mts, The lake that appears from nowhere

Today was a lazy morning. All of us knew that the day was easy till Tso – Kar. Climb from Pang till Moorey Plains@4700 mts is a short one. As soon as you enter the plains, it's a completely different world altogether. It's a sudden transition to a flat road with a vast cold desert on both sides of the road. One can't imagine such vast deserts can exist here among the high peaks all around. A little tinge of green here and there, was like a mirage of an Oasis but there was absolutely no water here. Just the feeling of breathing in that open air is unforgettable..

We took a right turn for Tso-Kar, before Debring and did an off-road for a good 7-8 Kms to reach the lake. The lake is not as huge as Pangong but the view is breathtaking! Multi colored ( Green / Blue / Yellowish) water, barren peaks all around, circular visibility, the lake was definitely Picturesque. Sreeram and others clicked many pics there.White pungent smelling powder was lying all around. It appeared as if the salt around the lake had sulphur deposits. We reached back to the point where we had camped ( around 3-4 Kms) by around 15:30 hours.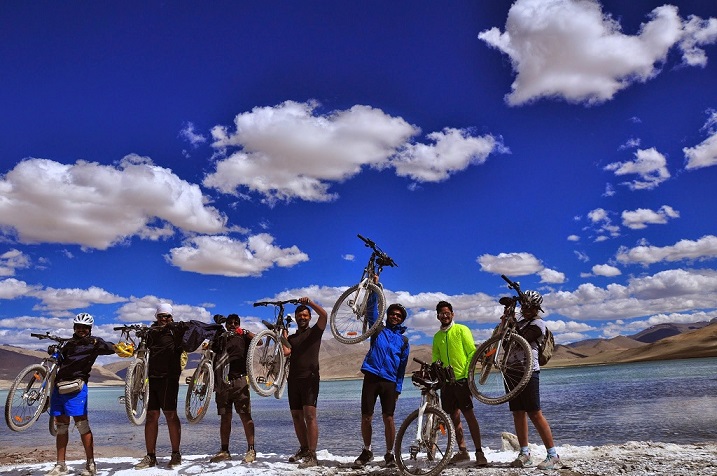 Everyone was busy soaking the beauty, some of us were writing, some walking down, some clicking pics… quite and satisfying … it seemed for all of us. The wind here is strongest that we had faced till now. We all had early dinner and went to sleep for the next day was a big one. I kept looking at the top of the tent fearing for it to fall due to the wind but the jumbo tent stood stable.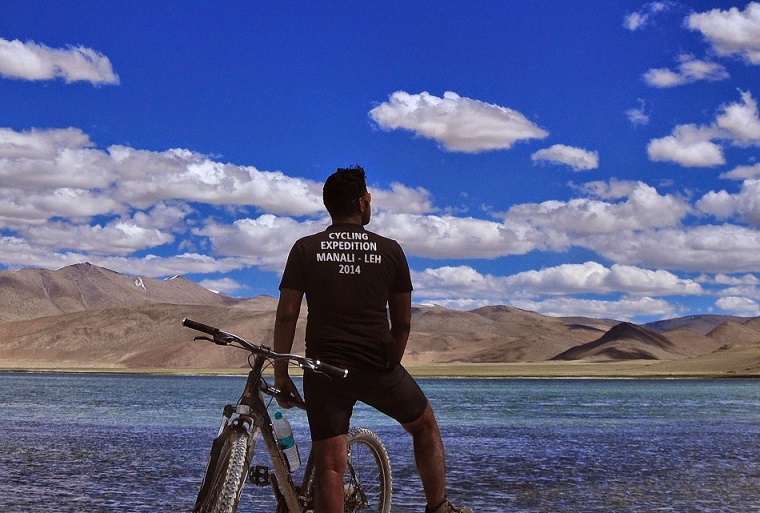 Day 8 :Debring to Upshi, Saddling Distance: 75 kms, max altitude: 5360m, Its all about Tanglang La today.

Today was the ultimate day as far this expedition was concerned. Tanglang La @5360 mts was the target and nothing else was on anyone's mind. In fact, Wakeel event dreamt of crossing the pass last night!

Plan was to start off as early as possible. Priya started first and everyone followed soon. I was the last one to start but soon I realized that there is some problem with our support vehicle. It wasn't getting started. What a day to go awry! The driver did not know many tricks to come out of this problem. I asked for some help from driver of some another tempo traveller who after much convincing, agreed to help tow our vehicle for a short stretch. We (me, Nillu – the cook and Om – our helper) were pushing the vehicle and finally with all the Indian jugaad at play, the vehicle started! Relief!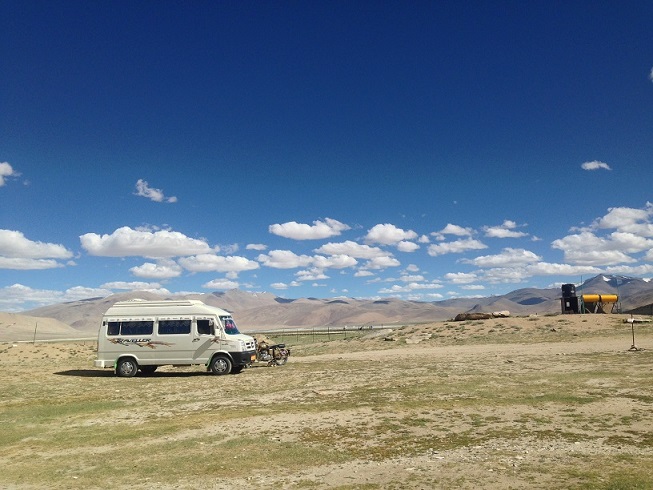 I biked with Ramu & , he kept moving.Yahso for 2-3 bends who went a little ahead of Kush. Today's climb was the ultimate test for many of us. Kush was having some problems climbing up today but with some motivation and 'anjeer'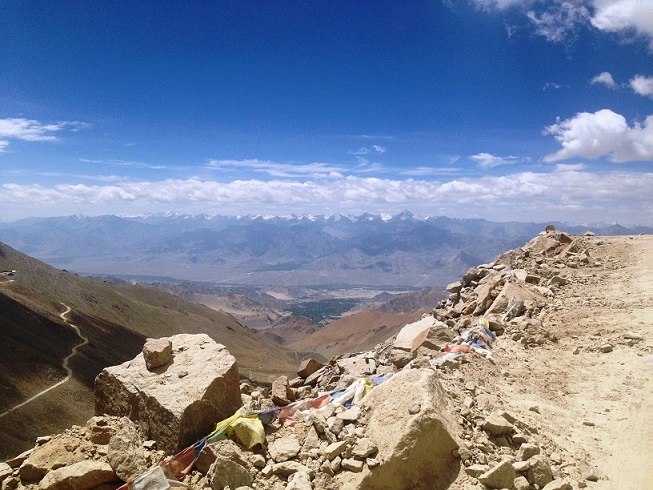 in pic : On the way to Tanglang La

What is peculiar of Tanglang La is that the top becomes visible from the very beginning of the climb but the never ending bends are enormous and test your patience. You maneuver one bend and think this one would end at the top but it takes a lot to reach to that final bend. The climb also dehydrates one a lot and it is extremely important for a rider to keep hydrating himself / herself continuously through out. Carry good amount of water with you and keep refilling. At such high altitudes, one must be very careful about hydration. Good thing is that when that comes, the top appears from nowhere and the rush of blood is immense!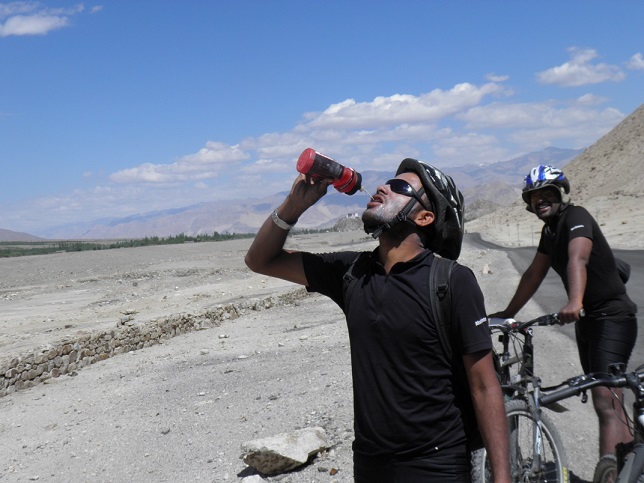 Getting Hydrated

One by one, the riders started reaching the stardom they had dreamt of but Sreeram, the brightest star, was first to reach here as well! Soon all of us were there and the feeling to look at the surroundings from Tanglang La is something I can only try to express in words. We were giving each other long hugs, some were punching the air, high – fives, victory shouts, and even tears rolling down some eyes. The moment was big…Even the man with ultimate peace of mind – Yasho raised his hands in the air to celebrate!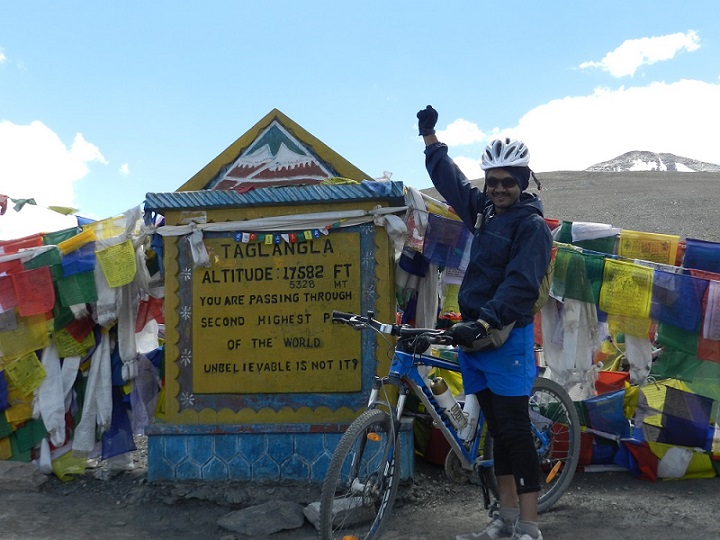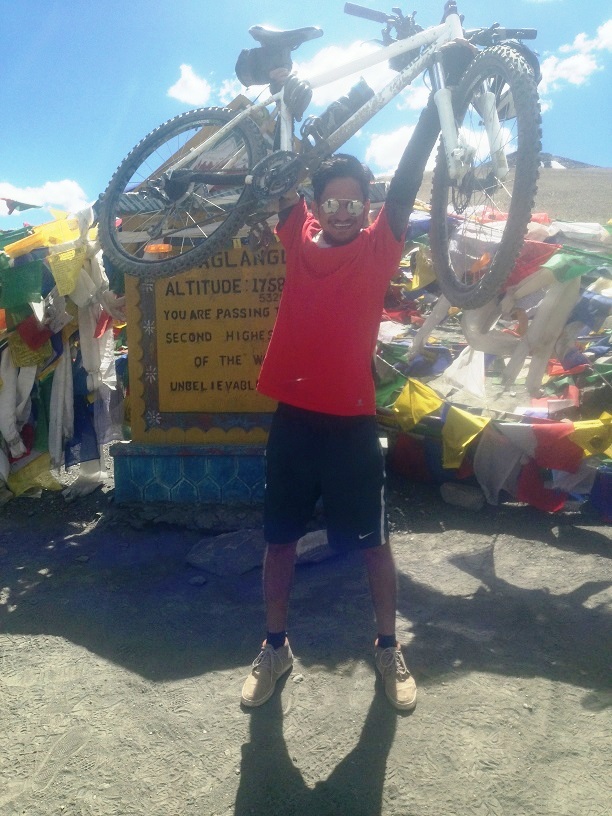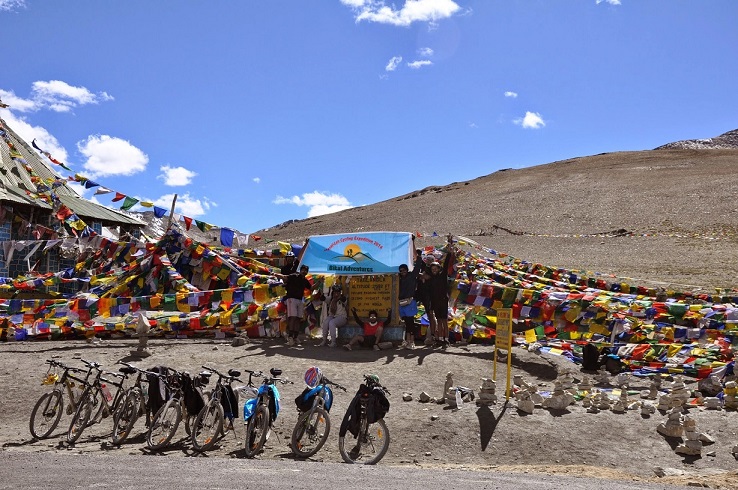 in pic : Tanglang La

Many pics were taken here and only when the time became almost constant, we moved from there towards Upshi@3505 mts. The path was awesome with continuous descent for next 40 kms. Each of us was feeling content now and we were having a lot of fun on our way down to Upshi. The red mountains on your sides with gentle water stream flowing as if to show you the way. The ride was really satisfying. You see a couple of villages on the way marked by Gompas. We reached Upshi where camping site are difficult to find. We got help from the Upshi check post in-charge who allowed us to camp inside the compound of the checkpost. Some of us also had some local food (momos) here. Upshi is a decent town and you can find hotels here after a long while (post Jispa there is nothing like this).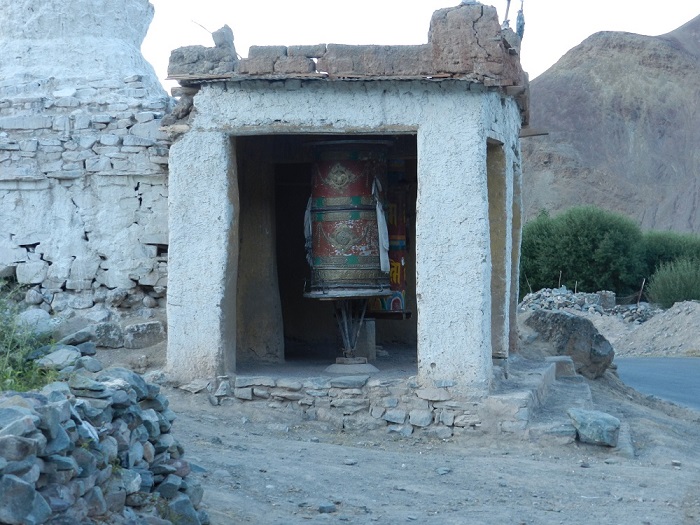 in pic : A Gompa

Day 9 : Upshi to Leh, The smoothest ride

This was a lazy morning as can easily be guessed. Post the breakfast, we started for Lehat around 09:00 hours. The way to Leh@3524 mts from Upshi is like a cultural heritage visit : villages, farms, Cantonment area, Thiksey monestry, Shey palace, and many Gomaps mark the way. Interesting blend is the ling army area which is extremely well maintained and looks pretty with insignias and colors all around.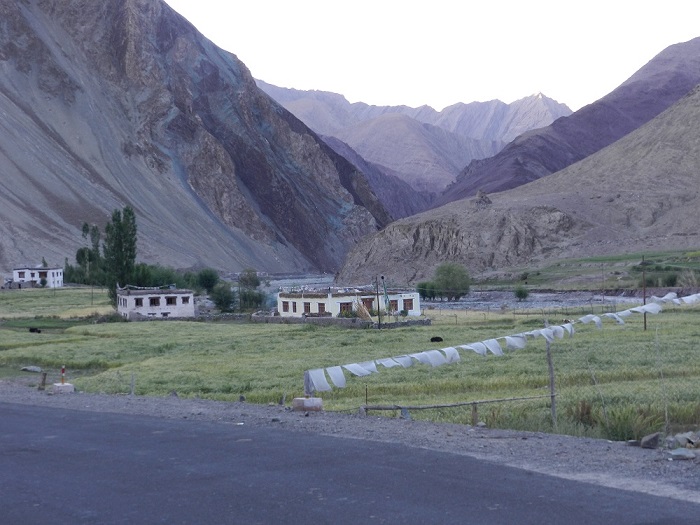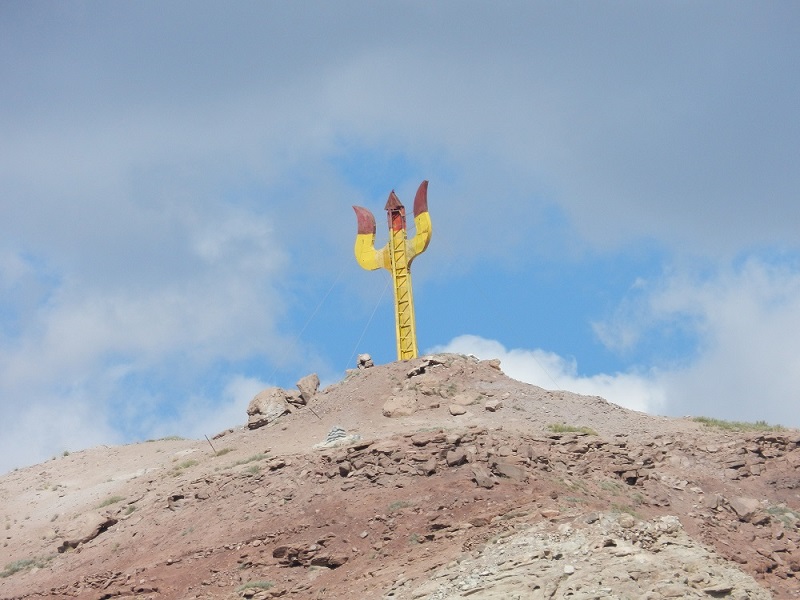 We reached Leh in the afternoon and everyone was relaxed. Post the freshening up, we had a hearty lunch filled with local cuisine : momo, thopka, thinmo, fried rice, etc.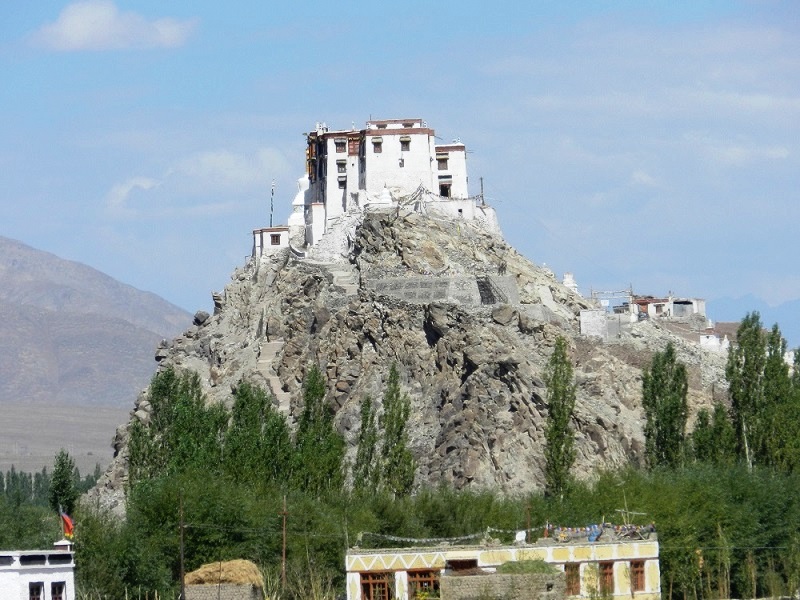 in pic : A Monastry enroute

everyone went to sleep a bit early because tomorrow was the final day!Evening today was relaxed (of course) in a hotel with apricots, tea, and some snacks. The apricot tree in our hotel (Naaz palace on Old Leh road) was almost completely unloaded by us

Day 10:Leh to Khardung La: Road to the 2nd highest motorable road in the world…One more battle that would definitely end this war!

To start with, some of us had a feeling that reaching Leh was enough and there is no need to do more but me & Kush pushed all to complete the expedition on a high now. India's highest motorable road (2nd highest in the world) was waiting for us.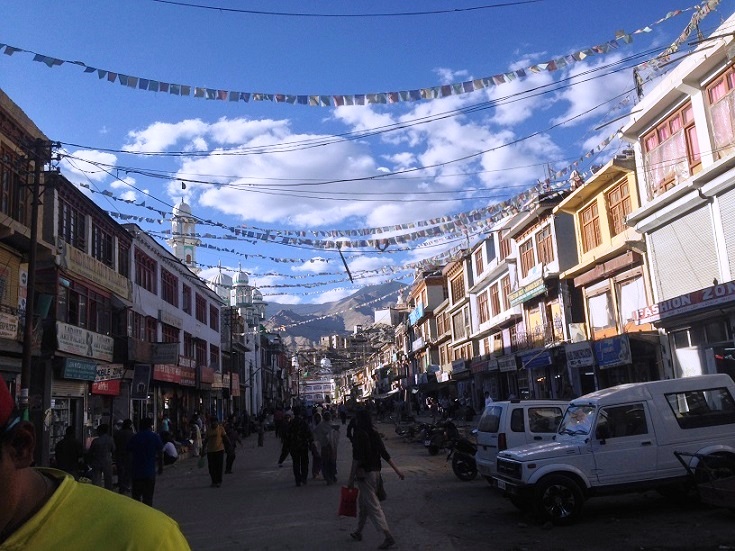 in pic - Leh city market

We started our climb up from South Pullu today. Actually there are south and north Pullus on either side of Khardung La…interesting.. While the distance was only 14 Kms from South Pullu to Khardung La@5602 mts, but since some of us were having 2nd thoughts today, it was more tiring. The road to make the matters worse was also terrible. I did not mention this before but what makes Tanglang La difficult is two things : 1. Lack of oxygen & 2. Pathetic road filled with stones (rodi). For Khardung La, oxygen was not an issue actually as by now we were all acclimatized very well but the road condition was similar. None the less we kept riding on & on..

As soon as I reached the top point, I saw that everyone was thrilled with a special kind of energy that I did not see till now. We were all jumping around here when some others who had come on motorcylces or cars were struggling to gasp some air! After all we had completed the expedition @ 5602mts there is no way that Khardung La, which till recently was the highest motorable pass of the world, won't excite you the most!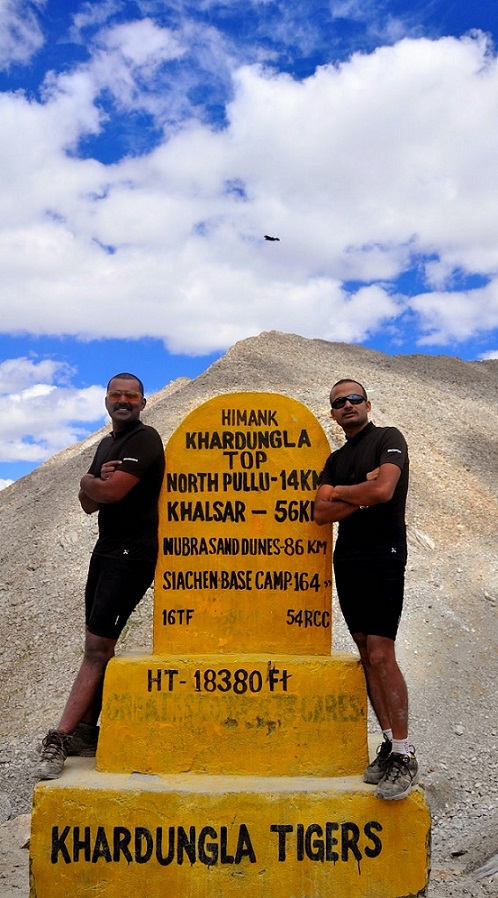 in pic: Wakeel & Myself

We took so many picture with those boards declaring the success and made a crazy topless video as well (guys only ), full Lords type.. Expedition was complete and the feelings were immense. Every time I do an expedition, I feel as if my consciousness has grown by another inch.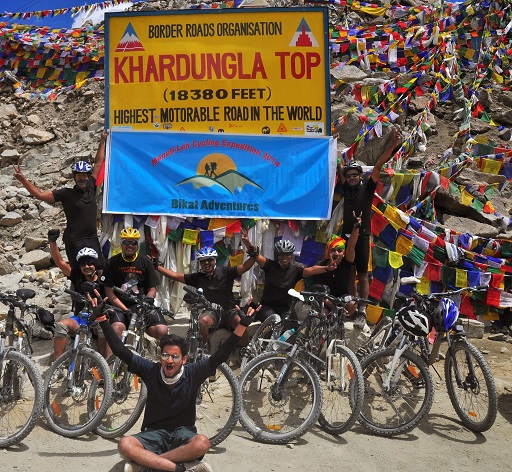 in pic: Group at Khardung La

We had the closing dinner at a restaurant post which Wakeel went back to Manali.

The expedition was special, in a different way for me. Last time I did it, it was about self accomplishment but this time it was about the achievements of each and every member of the group. Extremely satisfying it was!
---
---